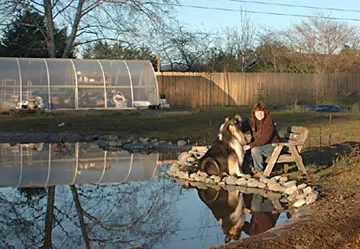 Dow's Prairie artist Susan Fox with her collie, Niki
Dow's Prairie artist Susan Fox [with her collie, Niki] has spent just one year in her current garden, but she's spent most of her life in Humboldt County. (To see her art, check out her show at Miller Farms in April.) Here's what she has to say about her life as a gardener:
What's the best thing about gardening in Humboldt County?
The variety of plants you can grow.
What's the worst thing about gardening in Humboldt County?
Not being able to grow some, like herbaceous peonies, which need a long winter deep chill -- but that might be changing judging from the weather this winter.
Why do you garden?
Are you kidding? No, really, it's like creating art with living things, so the outcome is always somewhat unpredictable. It's also great exercise and anyway, we gotta do something with the yard.
Who taught you how to garden?
I started out reading books by English gardeners like Penelope Hobhouse, Rosemary Verey, Christopher Lloyd. I visited a bunch of gardens in England like Great Dixter and Sissinghurst. We've stayed at a B&B in the New Forest in England quite a few times with a woman who is a demon gardener. She taught me to be ruthless.
How much time do you spend in the garden?
Not enough, probably. This is my second garden and I'm trying to be selective about how many high-maintenance areas I have. It's a new garden, so it can use all the time I can give it. By the end of March, I'll be trying to do something most days.
Are you organic? Not organic? On the fence?
As organic as I can be. Always have been. No chemical pesticides at all. Ever. I let botanic Darwinism take its course. I keep some Round-up type stuff on hand for real nasties like dock and buttercup, but use very sparingly as a last resort. And never, ever where there might be frogs. I'm totally organic on anything we intend to eat.
Most dreaded gardening chore?
Weeding the same darn thing repeatedly. And by the 350th bulb last fall, I'd kind of had it with bulb planting for awhile.
Favorite gardening activity?
Fussing over my David Austin and heritage old roses.
Worst pest, weed, or disease?
As it's a new garden in an area of the county I haven't lived in before, I'm not sure yet. It probably will be the French snails, same as for everyone else. Iron phosphate rules!
All-time favorite plant?
My Austin and heritage old roses. I dug up over a dozen of them at the old place and maintained them in pots for almost two years while we built our new house.
Least favorite plant?
Variegated phlox. The combination of the pinky-purple flowers and the green and white foliage defines tasteless vulgarity for me.
Most overused plant in Humboldt County?
Pieris japonica (a shrub in the Heath family).
Favorite gardening book?
The Well-Tempered Garden by Christopher Lloyd, who has unfortunately gone to the great garden in the sky.
Favorite tool, gadget, or toy?
Felco pruners.
Favorite garden somewhere else in the world?
Montisfont Abbey in England, home of the National Rose Collection. One sees the photograph of their Constance Spry rose with the white bench in front of it in lots of catalogs. It's Mecca for rose lovers.
If you could garden anywhere, where would it be?
Humboldt County is just fine, thank you very much.
What would you most like to change about your own garden?
I'd like to snap my fingers and have it all nicely mulched and ready for planting.
Favorite nursery, garden center, or mail-order catalog?
Miller Farms, hands down.
Biggest gardening mistake or regret?
Not getting all the beds mulched quickly enough.
Best gardening advice or tip you can pass on to other Humboldt gardeners?
Do a little every day so it doesn't get away from you.