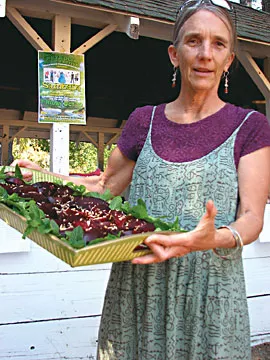 Josie Brown with her Beets Extraordinaire. Photo by Jenoa Briar-Bonpane.
When you leave quaint Ferndale behind for the curves of the rugged Wildcat, the Mattole Valley unfolds against the backdrop of a vast cerulean sea. Home to sufficiency-minded renegades, devoid of restaurants and geographically isolated, the Mattole Valley offers a recipe for creative, home-cooked, local cuisine borne equally out of necessity, political intention, environmental ardor, health consciousness and artistic vision.
While one rarely, if ever, hears the word "locavore" uttered in this region, the principles of the movement are embodied in the food choices of much of the Valley's hearty population. Showcasing this local food fervor, the 3rd Annual Mattole Valley Potluck recently threw down its annual culinary gauntlet. Each year, this humbly named event challenges participants to cook meals consisting exclusively of ingredients harvested in the Mattole Valley. Dishes are subject to the scrutiny of judges and served to a paying (and voting) crowd. Each chef is required to post a list of all ingredients used in their dish along with a precise description of each ingredient's source. This year, more than 60 guests paid in Petols (the Valley's local currency) to sample over two-dozen eclectic gastronomic delights.
While there were simple and elegant entries with just a few flavorful ingredients, like Pam Sturgeon's Asian Pear Mint Iced Tea, which rightfully claimed the prize in the beverage category, most dishes boasted 10-15 ingredients gathered from as many as six local sources. Amanda Malachesky's Black Bean Chili featured black turtle beans, Amish paste tomatoes, mixed peppers, sweet corn, summer squash, ground cilantro seed, oregano and basil -- all gathered from her home garden. Her savory recipe was augmented by seaweed from the ocean, grass-fed beef from Dick Scheinman, organic white onions from Petrolia's Little Dipper Farm and CSA, 2005 Pinot Gris from Bob Bush's vineyard and apple cider vinegar from Seth Zuckerman's plentiful orchard.
Long lists of ingredients and jovial chit-chat around weathered picnic tables revealed a fluid exchange of culinary resources between community members. Chefs traded sweet grapes for hefty beets. Apple cider vinegar was exchanged for the use of a food mill to grind dried corn into flour for an apple-filled piecrust bound with rendered duck fat.
The adventure of piecing together prize-worthy dishes from locally produced ingredients logically spurred conversations about what food elements are missing in the Mattole foodshed. In these musings, oil, flour and dairy came up repeatedly as staples longed for by participants during their diligent potluck preparations. Local sources of oil include animal fat or nuts and seeds but were scarce at this year's potluck, though last year's event did include dishes made with local sunflower oil and schmaltz (rendered animal fat). Though some Valley gardens are peppered with colorful flashes of thriving amaranth or corn, homegrown grains are relatively scarce. With no local milk producers in the Mattole Valley foodshed, the dairy-less potluck was an ideal feast for the cholesterol-weary.
Apparently, there was just enough wheat growing along the Mattole River to supply the prize-winning Mattole Marinara dish. Created by Jim Bowdoin and Roxy Kennedy, Mattole Marinara consisted of more than 15 vegetables and herbs cooked into a rich sauce that seductively spilled over their handcrafted wheat fettuccine. Undeterred by the dearth of wheat for flour, overall winner Jen Hayes hit the hills to collect native Bromus Carinatus (commonly known as California Brome) grass seed, which she ground by hand to make her Wild Blue Crackers. Hayes ambitiously sought to stretch beyond the Potluck's local food requirement by incorporating wild ingredients and by relying solely on the power of the sun, wood fire and her own biceps to craft her masterpiece. Wild grasses are abundant in the Mattole Valley; Hayes says she chose Bromus because "of all the native bunch grasses out here, it has the largest seed."
After drying the grass seed in the sun for two months, Hayes put the Bromus through a hand-crank grain mill on the widest setting and effectively hulled it. Then, she shook out the seeds and milled them again on a smaller setting to turn them into flour. She did the same thing with dried blue corn from her garden and combined it all with shredded, homegrown zucchini and a bit of sea salt harvested on the Lost Coast. The resulting sticky batter was cooked on her hot woodstove in well-seasoned cast iron skillets and worked down with the back of the spoon, reducing. Hayes perforated the concoction with a knife and set the pans in the Petrolia sun to dry for several hours. Once the crackers were dry, Hayes broke them into pieces and dutifully tasted them. "They tasted good," she said. "I wanted to eat them all. But of course I saved them (for the potluck)." When asked what ingredient she missed the most, Hayes quickly answered "Oil!". To accompany her award-winning crackers, Hayes whipped up a trio of unique, garden fresh spreads: Sweet Apple Rose Hip Dip, Smooth Butternut Squash Dip and Tomatillo Dip.
Another prizewinner, Beets Extraordinaire, made poignant and colorful use of a short and simple list of local ingredients. Creator Josie Brown combined boiled beet wedges with lemon juice, lemon zest, sunflower seeds and mint leaves for a luscious and hearty salad. Simple, in this case, did not mean effortless. Brown reports that she and her son shelled sunflower seeds "until exhaustion."
Harvesting food from one's immediate environment allows refreshingly intimate relationships to emerge between cook and ingredients. Hayes' Bromus seeds are one of the subjects of her passionate work as an Americorps volunteer with the Watershed Stewards Project. Brown harvested her lemons from the beloved lemon tree that her family credits with holding up their ample farmhouse as it jumped four feet eastward during the massive earthquake that rocked the Mattole Valley in '92.
The Mattole Valley Annual Potluck, and the locavore movement it both parallels and reflects, aims to foster these kinds of meaningful relationships between people and their food sources. Started in 2006, just months after the term locavore was coined in San Francisco, the Mattole Valley Potluck was created by the Mattole Self Sufficiency Project to pose a new self-sufficiency challenge to Valley residents.
All winners were awarded shiny Petols, with the grand prize recipient walking away more than $100 in silver. Next year, the event hopes to offer a "Second Generation Prize" to encourage and celebrate seed saving and the propagation of crops that grow particularly well in the region. Organizers also plan to expand the categories to include locally sourced and hewn fibers and clothing.
One hundred percent local fare that is as gorgeous as it is delicious is within reach. Invite a few friends over, open a bottle of local wine and soak up the accolades for your hardcore locavore creation. You can start simply in the comfort of your own kitchen with an adapted version of Josie Brown's award-winning recipe for Beets Extraordinaire. I've added local goat cheese.
Beets Extraordinaire
(serves 4)
Ingredients:
4-5 Beets (From Blake Richards Farm: sold at the Arcata Co-op or Farmers' Market)
Zest and juice of 2 large lemons (Farmers' Market)
1 Small bunch of mint leaves (Mint plants are sold at Wildberries -- plant it when you're done)
1/4 cup crumbled Cypress Grove Fromage Blanc (Wildberries, Arcata Co-op, etc.)
1/4 cup of sunflower seeds (Your neighbor's yard?)
Boil beets in enough water to cover, until tender, 35-60 minutes, depending on size. (If you have been blessed with local sunflower seeds, now is the time to shell them with the aid of a rolling pin and toast over medium heat until slightly browned)
Juice the lemons and grate the zest
Cool beets, slip their skins and slice into large wedges
Mix with other ingredients, top with crumbled chevre and plate on a bed of mint leaves.