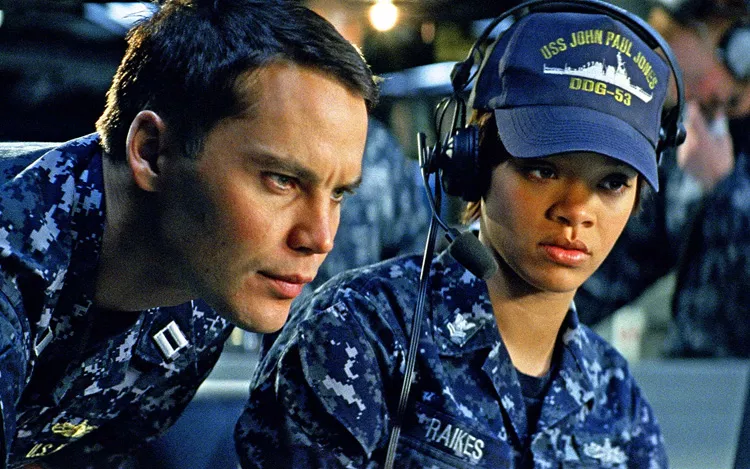 Taylor Kitsch and Rihanna in Battleship
BATTLESHIP. I put a lot of energy into trying to hate Battleship, even before the first trailer premiered. I railed against the absurdity of a board game adaptation, demanding Hollywood explain this flimsy, gratuitous attempt to capitalize on the childhoods of all Americans. Have they run out of books to adapt? Dreck to sequelize? Is this the best idea Universal could come up with? More to the point, weren't there any interesting board games they could have adapted? (See: Clue, the best and only acceptable board game adaptation.)
Despite my nitpicky rage, there was a hidden spark of curiosity. Like slowing down as you pass an accident scene, I had a morbid impulse to see the carnage for myself.
Incredibly, if you can set aside your desire for quality screenwriting and your hatred for clichéd casting, Battleship is very entertaining. Screenwriting brothers Erich and Jon Hoeber (Red) transform the gridded monotony of the original game into an explosion-filled, quasi-scientific alien invasion flick.
Off the coast of Hawaii, amid a joint naval exercise between Japan and the United States, the future of human existence falls into the hands of aimless, irresponsible Lt. Alex Hopper (Taylor Kitsch). After coming to Earth, the aliens encapsulate several battle cruisers in a giant, electromagnetic force-field. Once trapped in the dome, alien ships and battle cruisers take turns lobbing missiles at each other.
Meanwhile, back on land, Hopper's love interest (Brooklyn Decker) courageously clamors to keep the aliens from gaining access to communication beacons that would let them call in alien reinforcements. Other storylines are clumsily strewn about, either to distract from the flimsy central plot or add a "something for everybody" quality: love stories, tragic losses, moral triumphs, dramatic close-ups of a relatively pointless Liam Neeson.
Director Peter Berg (Hancock, Friday Night Lights) works in as many visual references to the original game as possible, but they generally miss their mark (pun intended). Still, he succeeds in making a fantastically and shamefully entertaining summer blockbuster. Buoyed by sexy familiar faces (Rihanna, Alexander Skarsgård), Battleship manages to stay afloat, as long as you don't think about it too hard. PG13. 131m.
--Devan King
THE DICTATOR. Sacha Baron Cohen is most likely a genius. When he's really hitting, his comedy is as challenging and funny as anybody's. He previously collaborated with director Larry Charles on Borat (2006) and Bruno (2009), crazy-ambitious experiments that tested the limits of narrative film and audience taboos. Both movies used guerilla documentary tactics to slaughter a great number of sacred cows of American culture. Cohen's ballsy, high-wire-act commitment to his characters made for terrifying, laugh-out-loud moviegoing. I even find Ali G Indahouse (2002) pretty fun. So it's a sad, tough thing that The Dictator falls so flat.
Conceptually, this new Cohen/Charles product is bigger and less forward-thinking than their previous efforts. They've done away with the fourth-wall smashing, and we never have to worry that our protagonist is in any real danger. This is straight Hollywood-style movie-making, complete with fantastical mansions in the desert and parades of Lamborghinis and exotic animals. Cohen's titular dictator even has a cadre of hot ladies who I assume are supposed to be commandoes as well as concubines. These trappings are potentially entertaining, but the riches-to-rags story tying it all together has been done and re-done so many times that it can't be saved.
To be fair, the filmmakers do twist the formula in some characteristically subversive directions, slyly using a Middle Eastern despot to skewer the continuing constriction of American civil liberties. Anna Faris turns in an atypically subtle performance, despite her character's being an arch stereotype. John C. Reilly is tremendous in a too-short cameo. Ben Kingsley's in there, but seriously underused.
There are a number of smart ideas here, and the movie can stand with the other Cohen and Charles collaborations thematically. But the payoff just isn't there. Their earlier movies were risky rollercoasters, bringing us along on a ride that was impossible to predict. I respect the filmmakers for going in a different direction with this one, but it just isn't as funny or divisive as I'd have hoped.
If I had it to do over again, I'd wait for this to come out as a rental and spend the money on Tenacious D's Rize of the Fenix. A comedy rock-and-roll album with a cinematic bent, it contains all the brilliant, lowbrow, super-profane hilarity I expect from a Sacha Baron Cohen movie. And it will rock your socks off.
--John J. Bennett
Previews
MEN IN BLACK III. Fifteen years ago, Barry Sonnenfeld directed the first MIB, one of the most clever and fun entertainments of the '90s. He hasn't made a good film since. Let's see if he can break that streak. PG13. 105m.
CHERNOBYL DIARIES. Bored American dipshits travel to Pripyat, Ukraine, site of the worst nuclear disaster in history. They wake the mutants. Serves 'em right. R. 90m.
THE BEST EXOTIC MARIGOLD HOTEL. British retirees (Judi Dench, Tom Wilkinson, Bill Nighy, Maggie Smith and others) head to India for some exotic R & R and find the amenities lacking. PG13. 123m.
On Friday at the Arcata Theatre Lounge, say "hello" to Al Pacino's little friend in Scarface (1983). Bring snack money -- Al's scenery chewing might stimulate your appetite. R. 170m. Sunday brings wholesome pleasures from The Sandlot, a 1993 comedy about baseball-playing tykes in the summer of 1962. PG. 101m. Just in time for next Wednesday's Sci-Fi Pint and Pizza Night, heroic earthling Flash Gordon (1980) zooms in to save the world, backed by Queen's shimmering rock-opera soundtrack. PG. 111m. Afterward, travel back in time to Flash's 1940s serial heroism via the feature-length compilation The Purple Death From Outer Space (1960).
Continuing
THE AVENGERS. Director Joss Whedon infuses this superhero all-star team with wit and humor without skimping on the thrills. PG13. 142m.
DARK SHADOWS. Johnny Depp and Tim Burton used to have something, didn't they? Not so much in this adaptation of a 1960s soap opera. PG13. 113m.
THE HUNGER GAMES. In a dystopian future state, teenagers get conscripted into a televised death match. PG. 142m.
THE PIRATES! BAND OF MISFITS. Stop-motion comedy from Aardman Studios is fun but doesn't quite live up to the magic of Wallace & Gromit. PG. 88m.
WHAT TO EXPECT WHEN YOU'RE EXPECTING. Five interconnected couples make babies and have gag-me-cute rom-com problems. PG13. 110m.
--Ryan Burns