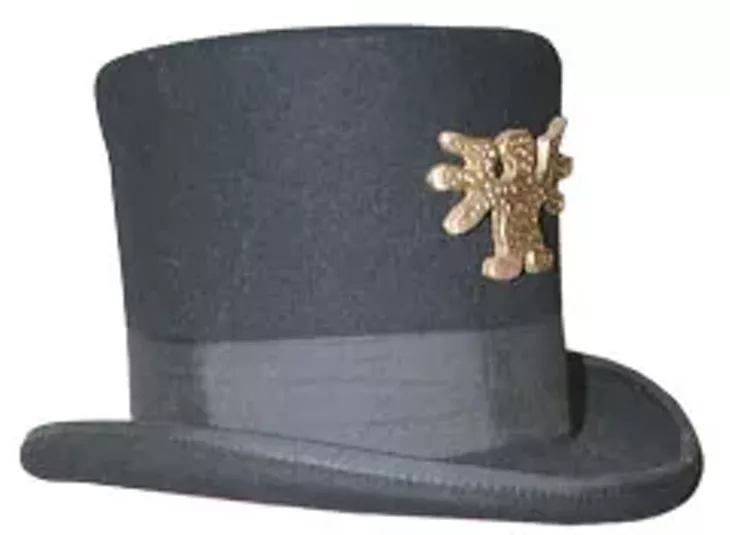 15 slides
The sale of Hobart Brown's Ferndale Victorian wasn't your usual trustee's auction. Out front of Humboldt Land Title Co. in Eureka, a trio of costumed Kinetic Rutabaga Queens adorned with bronze crowns held picket signs and a photo of Hobart. "Hobart's legacy must live on!!" they implored. One queen, Shaye Harty, conversed with Hobart's ex-business partner Richard Fergison, aka Eldon John, an Elton John look-alike dressed down for the occasion with just rose-colored glasses and a keyboard tie displaying his alter ego.
Fergison slipped into the title office when Hobart's son, Justin Hobart Brown and his partner Chelsea Hoff arrived. Justin and Chelsea had recruited some of those in attendance. In the days leading up to the sale Justin sent out a call to the greater Kinetic community saying, "Yep!! Try as I could to keep my father's dream alive, Hobart Galleries is set to be auctioned off to the highest bidder due to the unfortunate circumstances that have proved beyond my control."
A small crowd had assembled inside the title office. A uniformed security guard was stationed at each end of the counter. Chairs in the corner held a collection of people waiting for the auction to commence, among them Fergison and Ellin Beltz, a Ferndale resident who is a published expert on frogs and an official Kinetic Seer. Justin Brown's primary fear on the morning of the auction was that Fergison and Beltz, acting together, would end up with clear title to the building that houses Hobart Galleries and with it, Hobart's legacy.
Susan Galliani, branch manager and escrow officer of Humboldt Land Title, kicked off the trustee sale, announcing that day's date, Jan. 8, 2009, and the date of the deed of trust, Oct. 19, 2007.
She explained the rules: "Before bidding commences, we must know you have sufficient and acceptable funds to cover any bid you make, before you make those bids." She then invited bidders to step forward.
The room was full of people: The Queens had come in, mixing with interested Ferndale residents, journalists, Kinetic racers and hangers-on, but only three people stepped to the counter. Lowell Daniels, a graying gent with a carefully trimmed goatee, came forward with his wife Jenny, followed by Fergison, who leaned against the corner of the counter.
Galliani went on to detail the location of the property -- 373 Main St., Ferndale, Calif. It was being sold as-is, she said, to "satisfy a total indebtedness of $104,490.99."
Asking, "How much is bid," she answered for the note holder, Fergison, repeating the amount of the debt.
"Do I hear any other bids?"
"One hundred and five," said Daniels.
"I have a bid of $105,000 from Lowell Daniels; $105,000, going once ..."
"One hundred and six," said Fergison.
"Um ... No, you did not have any money," said Galliani, adding, "If you have an over-bid, you have to bring in the cash."
She continued, "So, we have $105,000 going once, $105,000 going twice." She asked twice more if there were any further bids; the second time, one of the Rutabaga Queens injected, "It's priceless," eliciting laughter from the crowd.
With the requisite, "$105,000 for the third and last time," Galliani concluded the auction, announcing, "Sold to Lowell Daniels." And with that, the building that has been the home to Hobart Galleries for over 40 years changed hands. The new owner wasn't the Elton John impersonator, nor the Frog Lady of Ferndale, nor the Rutabaga Queens, nor any other of Hobart Brown's would-be spiritual successors. Nor was it Hobart's actual children, the people who had grown up beneath his shadow. The new owner of the Hobart Galleries building, which for so long stood as a part of the great artist's legacy, now belonged to a businessman -- a fellow outside of the Brown universe who at least had it together enough to follow simple instructions.
Justin Brown's "unfortunate circumstances" -- the things that have separated him from some of the people who have claimed his father's artistic mantle -- mostly had to do with a pair of legal contracts. One was between Hobart Brown and Fergison, executed a few weeks before Hobart's death, which placed a lien on the building. The other was a disputed contract between Hobart's heirs and Ellin Beltz.
A lawsuit, Beltz v. Brown, went to trial Tuesday. Legal briefs in the case lay out Beltz' claim: She says she bought the building, the gallery and Hobart Brown's name from Justin and his sister Emily for $225,000. Although that money has never been paid, and the sale of the property was never completed, Beltz has had the keys to the building since November 2007 and has been running the gallery and renting out rooms upstairs since then.
Acting as trustee of the Hobart Brown Living Trust, Justin filed a countersuit, Brown v. Beltz and Cornell. (Dan Cornell has managed the gallery, and lived downstairs for years). That suit alleges that Beltz had no right to take possession of the building, and asks for what is essentially back rent and damages.
The parties in the suit were at the auction, and most of them were caught off guard by Daniels' purchase. Chelsea Hoff wondered aloud, "Who is he?" When an elderly gentleman explained that Daniels is a Ferndale businessman with no apparent connection to Beltz or Fergison, Hoff breathed a sigh of relief and started to cry.
Talking with a friend immediately after the sale, Fergison said he too was relieved. "I just said 'whatever is to be, will be' today. I was happy to either get the gallery or the money. It brought closure."
Speaking with a reporter outside, Daniels offered further details about his other holdings. He's the owner of several properties in Ferndale, the Victorian Village Inn, Redwood Suites (formerly Fern Motel) and Candy Stick Gallery, a building a few doors down from Hobart's that suffered a major fire in September 2008. Remaining non-committal as to his plans for his new purchase, Daniels said he was leaving the country on vacation and would not be back until Jan. 21.
"It was a total surprise to me that Lowell bought the building," said Beltz in an e-mail response later that week. (Beltz declined further comment citing the pending lawsuits.)
Judging from Fergison's failed attempt to bid, it's seems likely that Beltz was not merely surprised that a bidder showed up. As the title company official pointed out, Fergison was not allowed to raise Daniels' bid because he had not deposited a cashier's check to back up his bid. Since he held the lien that much was covered. All he had to do was cover the overage.
According to Hoff, Beltz' lawyer had previously refused a compromise purchase offer because Beltz assumed she could get the property for less post-foreclosure. Hoff pointed out, "When it came to the auction, she was present but she did not bid or even qualify herself to be able to bid. We feel that when Richard tried to bid, he was doing this as a business partnership with her."
If that's the case, it would seem the pair did not do their homework.
It also appears that Beltz has given up on holding on to the gallery. Following the auction, she withdrew $10,000 earnest money she'd put in escrow in connection with her prior unconsummated purchase plan.
"The ultimate thing would have been for the Kinetic Art Foundation to get the funds to buy it and keep it intact," said Hoff after Daniels left, "but second best was someone other than those icky people who have stolen from us to come in and get it. It was a good outcome for us."
Justin Brown seemed dazed after the sale. In a prepared statement in advance of the auction he shed some light on his feelings about "those icky people."
"The world was [Hobart's] playground," he wrote. "He was loved and admired by so many. Over the years there where those who wanted to be like him, wanted to live life like he did, to soak up his influence and sadly, those who wanted to be him ... who wanted to take any part of him that they could, to exploit his creativity, for their own gain and to take his things in an attempt, shall I say, to step into his shoes and magically transform into him."
He complained disdainfully of "one man who ingratiated his way into our family's legacy," and of a woman, "the last of the vultures that hoped to profit from a relationship with my dad." While he didn't name names, it's not hard to tell who he's talking about.
Hobart Brown cultivated an image as a playful artist, and it wasn't a show. He did not separate his life from his art; his home/studio was a living museum designed for visitors. He saw the Kinetic Sculpture Race he started as a bulwark against suicide. As he said repeatedly in explaining the Kinetic world he created, "We're adults having fun so that children will want to grow older."
The downside of his Peter Pan lifestyle was the money flow. Hobart readily admitted his lack of business sense. For years he tried to figure out a way to generate income from the Grand Championship Kinetic Sculpture Race, but he never did, nor did any of the various parties who bought the race from him over the years. A fair number of the loans and business deals he set up ended badly, sometimes with broken friendships, sometimes with lawsuits.
Where did the current litigious battle for his legacy begin? Ellin Beltz suggests starting with Brown v. Humboldt Kinetic Association, a suit filed by Hobart in Nov. 2005 to reclaim ownership of the Kinetic Sculpture Race and associated trademarks, including the Kinetic Chicken.
In 2001, Hobart sold the race he'd founded in 1969 to a newly formed association of nonprofits for $84,000, to be paid in installments. When the nonprofits eventually realized the race couldn't turn a profit, they stopped payments and Hobart sued. Beltz was part of the HKA (she'd served as a "race administrator" from 2002 to 2006), so she was among the defendants.
In 2007, a settlement was reached: Hobart agreed to pay back money received, around $24,000, with all rights to the race and the trademark returning to his name. Hobart's promised payment was to come from the sale of a piece of property on Cedar Street in Eureka on which he held a $70,000 note. That property was owned by Richard Fergison.
In a conversation over lunch at Curley's, the restaurant downstairs in Lowell Daniels' Victorian Village Inn, Richard Fergison recalled being introduced to Hobart Brown in 1988, not long after Fergison had returned to the United States from Tibet. "One thing led to another and we became friends. We had our ups and downs. He was a fantastic friend, but then I'd do something like get into business with him and we'd separate for years, but we'd always come back."
Their final legal connection took shape in August 2005, when they had attorney Jeanne Tunison-Campbell draw up a pair of wills. Hobart's will left everything to Fergison, aside from $20,000 to go to Justin. Fergison's was a mirror image -- leaving everything to Hobart but $20,000 to go to Richard's son, Thomas. Hobart also granted Fergison durable power of attorney should he become incapacitated.
For the last decade of his life Hobart spent winters in or around Perth, Australia, where he'd established a Kinetic Race, and where he had a circle of friends. He had a place to stay and work at a winery; all he had to do was get there.
"I took over and helped Hobart financially; he needed money," said Fergison, noting, "We tried to get Justin to buy the building, maybe even with a reverse mortgage, but it didn't work out."
The deal they came up with included his purchase of the Ferndale building with the agreement that the gallery would continue. "He wanted to keep the place going, to keep the spirit alive," said Fergison, who was to sell his house on Cedar in Eureka, a remodeled East Lake Victorian that he'd owned since 1987, to make that dream possible.
Richard and Hobart left for Australia at the end of August 2005, around the time Hurricane Katrina was hitting New Orleans. Fergison says he paid off all of Hobart's bills and credit cards before they left. "Anyone who knows Hobart knows he loved to spend money, but it was difficult for him to pay it back," he noted.
Fergison took care of Hobart down under for six months, incurring expenses in the process, and flew back to the U.S. with him at the end of March. At that point, he says, he set Hobart up in the Ferndale gallery/home they essentially owned jointly, arranged for his care, and left him there, in part to work on his Eureka house, preparing it for sale.
At some point Justin moved back into the museum to take care of his dad, who'd been in and out of the hospital. After that, Hobart sued Fergison in an attempt to regain control of the Ferndale property.
In May 2006, Hobart signed papers revoking his previous will, writing Fergison out, leaving his estate to his children, Justin and Emily. In subsequent legal maneuverings, Hobart agreed to a $90,000 lien on the Ferndale property, a figure derived from a collection of receipts and bank statements detailing Fergison's expenses during the time he cared for Hobart including the $24,000 paid to the HKA. That note, due six months after Hobart's death, ultimately resulted in the Jan. 8 property auction.
In some ways the sale marks the end of an era, but it did not end the legal entanglements surrounding Hobart's estate.
Speaking on KHUM a little while after the auction, Justin Brown offered a quick sketch of his legal entanglements with Ellin Beltz. "It was a contract that was misrepresented to me, I wanted out of it right away, we tried to [get out of it] and then she sued me."
Of course it's a bit more complicated than that.
Following Hobart's death on Nov. 7, 2007, there was uncertainty as to the future of Hobart Galleries. Richard Fergison was not the only one with a lien on the property, taxes were due, the roof was in need of repair, and Justin and Emily did not have the money to cover all those things.
That's when Ellin Beltz stepped in. Beltz had met Hobart not long after she moved to Ferndale from Chicago in 2002. He taught her the welding techniques he used crafting his sculptures and various Kinetic memorabilia. She described herself as his "apprentice."
Hobart deemed her a Kinetic Seer, a keeper of the Kinetic spirit tasked with keeping the Race going. From 2002-2006, she worked with the Humboldt Kinetic Association. In 2004, she traveled with Hobart to the Baltimore Kinetic Sculpture Race (and wrote about it for the Journal, where she was contributing freelance work).
When settlement of the Brown v. HKA lawsuit called for Hobart to make a $24,000 payment to buy back the race, it was Beltz who presented the money. She took the title, "Kinetic Philanthropist."
Almost immediately after Hobart's passing, Beltz came forward with a plan to keep Hobart Galleries alive. She would buy the building and the business for $225,000, aside from "items set forth in Exhibit A to the contract," items from the estate that either Justin or Emily wanted to exclude from the sale. Ellin would also take over rights to the name "Hobart Brown" for commercial purposes.
Emily signed the contract on Nov. 21, 2007. Justin hesitated. In retrospect, he claims he would never sign away the rights to his dad's name, but he did sign three days after his sister did. The way Justin tells it, the contract was under duress. It was a Saturday night and he was supposed to play bass with a band at the Gilded Rose in Loleta. When the gig was canceled, he went instead to the Bear River Casino to have drinks. That's where Beltz found him and asked him to sign what he says was presented as a draft of the contract. He says he refused initially, but she returned later, adding emergency to her demand. The gallery was on fire, and the firemen needed his ring of keys to get into various rooms and save the place. Justin signed the paper and handed over the keys.
He later would doubt that there had been a fire at all. But a Nov. 25 press release posted on the Hobart Galleries Web site (purchased by Beltz on Nov. 19, 2007) would seem to confirm the fire story: In announcing Beltz and her husband, Ferndale City Councilman Ken Mierzwa, as new owners, the release notes that the contract for the sale was signed as firefighters were taking care of a chimney fire above Hobart's Studio.
There was, however, unfinished business. The "Exhibit A" called for in the contract was not attached. Beltz drew one up later designating a few sculptures and paintings that would go to Justin or Emily along with the personal property in Justin's bedroom. Emily signed it on Dec. 24, but Justin never signed. Nevertheless, once Beltz had the keys, she took over possession of the building declaring it hers. Justin was effectively left out in the cold.
"It was obvious Ellin wasn't going to cooperate with me once she was in there," said Justin, in a conversation right after the auction. "She locked me out. That screwed me up; I had no place to stay, no assets I could access. I couldn't afford a lawyer. We finally got a lawyer to do it on contingency."
Justin was not happy. That unhappiness escalated to anger when he learned that Richard Fergison had taken up residence in what was once Hobart's room. At some point a heated exchange ensued leading to a restraining order that effectively barred Justin from his former home.
With Beltz still demanding he sign an "Exhibit A," he made one up from memory, visualizing the building's contents room by room and essentially laying claim to everything in it he could remember.
One would think that Daniels' purchase of the building would render Beltz' lawsuit moot, and that it would be dropped, but that's not the case. At a readiness hearing on Jan. 14, in advance of Tuesday's pending trial date, Beltz' attorney, Thomas Becker, stood firm: The trial will move forward.
Becker said he did not think the hearing would take long. "Since the property has been foreclosed, that leaves very little to deal with," he said. He also described the personal property included in the suit as "worthless, just a bunch of stuff."
A previous motion by Becker had bifurcated suit and countersuit, they would be dealt with separately, and he asked the court to reverse the motion. Justin's lawyer, Jamie Flower refused, saying that it will take time to "marshal amounts of damages," for the countersuit and figure out how much back rent is due his client.
Resolution of both suits may be further complicated by what's happened since then. In the days immediately following the auction, the Kinetic Rutabaga Queens got permission from all concerned to lead tours of the building to raise money for this year's 40th annual Kinetic Sculpture Race.
The Saturday after the auction, while Beltz and her husband ran a book sale on the sidewalk outside, one Queen or another showed visitors the galley then took them upstairs to see Hobart's living quarters, his studio and the "secret rooms" above. Throughout they told stories about art pieces that factored into the artist's colorful history, among them a nude self-portrait of Viola McBride, the former owner of the building who essentially brought Hobart to town.
The following weekend, when the Queens returned to lead more tours, they found the gallery basically emptied, the paintings and sculptures gone. The McBride painting had been removed, along with paintings and sculptures from Hobart's living quarters.
Beltz v. Brown went before Judge John T. Feeney Tuesday afternoon. As we go to press it remains unresolved. Brown v. Beltz is pending.
Those involved in the Kinetic Sculpture Race, including the Rutabaga Queens, are trying hard not to take sides, at least publicly, although they'd like to see Hobart's legacy carry on. Ownership of the Race went to Justin and does not seem to be at issue. Some with Kinetic Universe would like to see Hobart's home/museum preserved, and the Queens have hinted they have some grand plan, but barring some philanthropic angel, it's seems unlikely. The K.U. organization has enough trouble pulling together the annual Kinetic Race, which, incidentally, is scheduled for this coming Memorial Day weekend, as usual.
As one longtime racer put it, "The Kinetic Race doesn't need a headquarters, it doesn't need a building. The Race will go on one way or the other."
Does a Hobart/Kinetic museum have a future at 339 Main Street? KHUM deejay Mike Dronkers put the question to Lowell Daniels the day of the sale. "They could do it, but it would have to make sense to them and to us," Daniels replied. "It would be really cool if they could, but it's not a charitable thing. I can't do it on that level."
Does Hobart Brown need a museum so that people will remember him? Not really. He'll always be remembered as the Glorious Founder of the Kinetic Sculpture Race. His whimsical sculptures will endure. And he'll live forever in the heart of anyone who saw the twinkle in his eye when he was having fun (so that kids will want to grow up).