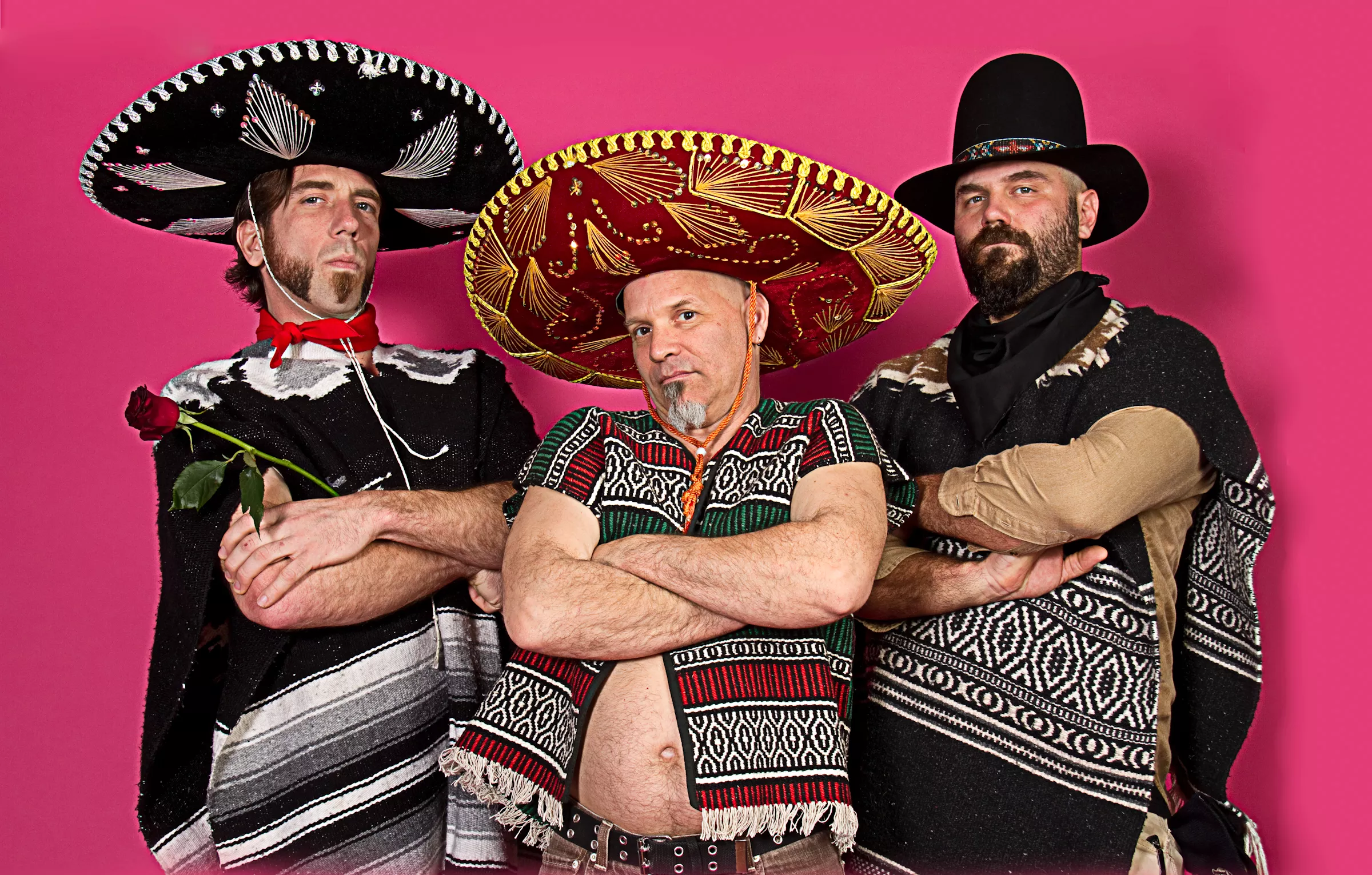 photo by Terrence McNally - ArcataPhoto.com
¡El Raco Taco!
Saturday is the 5th of May, aka Cinco de Mayo, another of those quasi-holidays like St. Patrick's Day pushed by marketing departments that wants to sell more beer, or in this case, beer, margaritas and tequila shots. Ask a reveler on bar row what it's about and, unless you chance upon a history major, they'll probably tell you it's like the Fourth of July -- Mexican independence day or something like that. It isn't. The few who celebrate it south of the border call it El Dia de la Batalla de Puebla (The Day of the Battle of Puebla), marking the anniversary of a dramatic victory 150 years ago when Mexican troops beat back a much larger French force. Unfortunately, the French ultimately won the war and Emperor Maximilian ruled Mexico, at least until our Civil War ended and we sent some of our boys down to kick some French butt. Or something like that.
But enough history. Let's party.
The hippest, most ironic take on the faux holiday has to be ¡El Raco Taco!, a show at the Arcata Theatre Lounge on 5/5 with five bands for just five bucks. It's a kick-ass cross-section of local rawkousness including my favorite local alt. somethings, Strix Vega, who have been stretching out and seriously shredding of late. Splinter Cell is a trio of veteran rockers with a sense of humor, whose collective résumé ties them to just about every band in town. Indianola is a new band fronted by guitarist Ben Allen with CJ Stewart on bass and Graham Miller on drums promising "heavy riffs and melodic guitar that will surely make you nod yo head," or maybe bang it. Then you have two branches off the family tree of Que La Chinga, a classic local twisted-stringband-meets-rock country/punk outfit that split up five years ago. Bret went on to a career as a Neil Diamond clone, then founded the dark, fearsome garage psyche outfit Drifter Killer. Kiel and some of the other Chingas formed Side Iron and went on singing slightly country-ish rock songs about whiskey, women, etc. Haven't heard much of them lately, since they apparently went underground to woodshed for this triumphant return. Put all those bands together and you have a perfect backdrop for your tequila shot barrage, or, god-forbid, downing a giant margarita with a bottle of Corona upended in it. Incidentally, if you're thinking the Good, Band and Ugly trio of rockin' banditos above is not quite p.c., remember that the photographer, Mr. T McNally, is half-Mexican.
For a slightly more authentic Latin American experience there's "Salsa and Samba," a family-friendly benefit for the Morris Elementary Language Immersion School Saturday evening at Azalea Hall in McKinleyville. They've strayed from the Mexican theme with Brazilian dance/drum troupe Samba na Chuva and the super-high-energy AfroCuban dance band Ponche!
Just 'Cause presents "Funky Full Moon II: A Cinco de Mayo Dance Party" Saturday at the Ocean Grove. The Latin/soul/funk/disco/etc. vinyl extravaganza features DJ Knutz (of Just 'Cause) along with the usual Soul Night suspects: Matt 'n' Adam, King Maxwell, Jaymorg, and DJ Mantease, who scored a mess of new (old) cumbia records for the occasion.
The Jambalaya has the Bay Area band LoCura with its mix of flamenco, reggae, cumbia, ska and Cuban son, something the band calls "Califas Flamenkito." Mucho caliente! (No, I don't habla.)
The HSU Guitar Ensemble has a semi-Latin program planned for its concert at Fulkerson Recital Hall that night with tunes for the Spanish guitar ranging from classic sonatas and flamenco to boleros and gypsy jazz.
AkaBoom Sound and DJ Gabe Pressure spin reggae, rock steady, dancehall and presumably a bit of reggaeton for a "Cinco de Mayo Reggae Party" at the Arcata Veterans Memorial Building.
It's not like they want to honor the other side in the battle of Cinco de Mayo, but Northcoast Preparatory and Performing Arts Academy has its annual "Elegant French Dinner and Dance" that night at the Arcata Community Center with Chef Marceau Verdiere back from Europe for the occasion and roots/rockin' The Delta Nationals once again providing music for dancers. (Request "La Bamba.")
The folks at Blue Ox Millworks are celebrating a different holiday that Saturday with their 11th Annual May Day Living History and Artisan Fair, an all-day thing with skill demonstrations by old time blacksmiths, wood workers, ceramics artists, etc. and old time music by Compost Mountain Boys, Pilot Rock Ramblers, The Tumbleweeds, Striped Pig Stringband, Mirth First and JD Jefferies among others.
Trinidadian folk/rock singer/songwriter Jeffries is rolling out a new CD, Mixed Classics, with a series of shows. For Friday's Trinidad Art Night he's at Trinidad Trading Company and Salty's. Tuesday's big release party at Mad River Brewing also has harpist Howdy Emerson and Sage, an all-ladies barbershop quartet (or "beauty shop quartet," as JD puts it).
The Compost Mountain Boys are doing double duty that Cinco Saturday, also playing at the annual Campus Center for Appropriate Technology "May Day Spring Compost Festival" at HSU. Our Weight in Gold and No Good Redwood Ramblers join the fun. (The Compost Mountain Boys also play Thursday night at Shamus T Bones.)
Humboldt Brews has a Cinco de Mayo party with Orjazzmic Sextet. Latin jazz? Maybe a little. It's free, so, whatever.
There's nothing remotely Latin about The B-Stars, a S.F.-based hillbilly/honky tonk, retro-boogie band playing Saturday night at the Riverwood Inn. (Loreen has been known to serve some fine Mexican food, however.) A reminder: Tommy Castro and The Painkillers play at the Riverwood Monday, but unless you bought advance tickets, forget it. As predicted, it's sold out.
It's jazz time down SoHum way Friday night as Persimmons Gallery returns after a winter hiatus. Owner (and ace jazz drummer) Michael Curran leads The Persimmons Quartet with Francis Vanek on sax, Jim Wilde on guitar and Damian Roomets on bass, expanding to a quintet with special guest vocalist Joannie Rose.
Meanwhile at Fulkerson Recital Hall, HSU's AM Jazz Band, directed by Sky Miller, mixes jazz classics by Miles, Dizzy and Billy Strayhorn with less familiar tunes by Sid Wyche, Bobby Timmons and Ray Wetzel.
Wednesday, the Arcata Playhouse adds tables and cocktails to become a "jazz lounge" with The Randles/LaBolle/Wu Trio (Tim/Shao Way/Mike) playing cool jazz and original tunes.
Tribute of the week honors go to Brooklyn-born folkie Kris Delmhorst, whose latest album, Cars, explores the music of the new-wave band The Cars. The history is explained at krisdelmhorst.com: "Summer of 1984, 13-year-old Brooklyn girl takes babysitting money uptown to Tower Records, finds Heartbeat City on cassette. Drawn in by slightly racy cover art, unnerved but fascinated by lead singer's punchy warble, she finds herself defenseless against intricate layers of pop hooks. Bounces album from Walkman to boom-box and back until tape is destroyed while dubbing for best friend. More babysitting follows." Fast-forward to last year when Delmhorst revisited the Cars catalog with guitars, fiddles etc. She'll play some of those songs as well as some of her own songs (with help from Hayward Williams) on Thursday at the Arcata Playhouse.
That same Thursday at Redwood Yogurt, local folkies John Ludington, Chris Parreira and Lyndsey Battle sing a few songs, probably not any by The Cars.
Sunday night at the Alibi, it's the return of The Shondes, a band out of Brooklyn playing what Entertainment Weekly calls, "giddy garage melodics with [a] Sleater-Kinney twist." I'm guessing The Shondes, whose name is Yiddish for "disgraced," might not agree. (Must every grrrl group be compared with Sleater-Kinney?) Last time the band was here, drummer Temim Fruchter offered this less-giddy description: "We're a queer/trans rock quartet mixing classical, feminist punk and Jewish music with radical politics to make you dance and break your heart!" DJ Anya opens on what is usually Hella Gay Dance Party night. Dance. And break your heart.