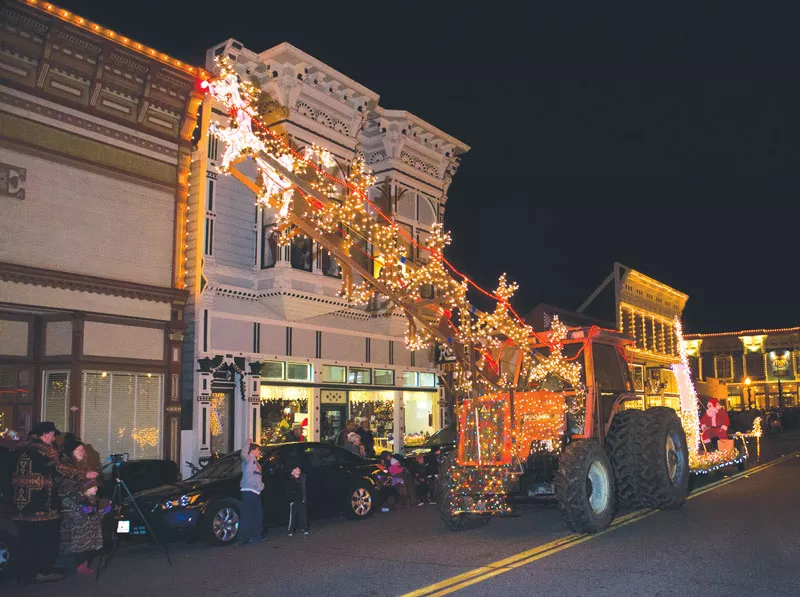 PHOTO BY MATT KNOWLES AESTHETIC DESIGN & PHOTOGRAPHY.
Despite what Martha Stewart would have you believe, this is not the season for tasteful restraint. Because we are pulling on ugly sweaters, strapping antlers on the dog, putting batteries on the dancing Santa and taking snapshots of the Elf on the Shelf (sometimes inappropriately — sorry little guy). Santa is with us; nothing subtle about head-to-toe red velvet. We are also loading up trucks and tractors with lights and rolling them down the street while we honk out "Jingle Bells." Martha and her tasteful twig wreaths wound with vintage taffeta ribbon can kick coal lumps. Kidding, Martha! (Seriously, she's been to prison.)
Prepare for the glare in Fortuna first. On Friday, Dec. 12, bundle up and bring a lawn chair to Main Street at 6:30 p.m., when the truck parade rolls out from the Redwood Village to the tune of carolers (free). Another truck convoy hits the road from Redwood Acres Fairgrounds and travels down Harris Street on Saturday, Dec. 13 at 6 p.m. (free). And on Sunday, Dec. 14 at 7 p.m., John Deere goes reindeer for the tractor parade as all manner of farm vehicles twinkle down Ferndale's Main Street (free). Wear some layers and bring some cocoa. Extra whipped cream. Hey, go jolly or go home.
— Jennifer Fumiko Cahill