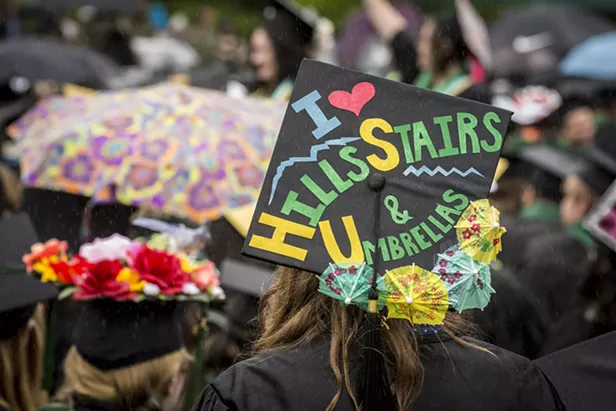 Mark Larson
Ellinoa Blake, a critical race, gender and sexuality studies graduate, wears a mortarboard hat with one of HSU's informal mottos, which was very appropriate for this rainy day commencement ceremony.
Mark Larson
Once the rain began, HSU staff scrambled to cover up the speakers while others passed out free plastic ponchos to commencement attendees.
Mark Larson
Unprepared for the weather, HSU student Dylan Reed used a program for protection from the rain.
Mark Larson
HSU journalism professor Vicky Sama reads the name of journalism graduate Siulolovao Vuna, as Natural Resources Dean Steve Smith provides umbrella support and CAHSS Dean Ken Ayoob passes out the diplomas.
Mark Larson
Rainfall during HSU graduation ceremonies has been a rare event over the past four decades. This left-over diploma covered in raindrops was photographed after the College of Arts, Humanities and Social Sciences commencement on Saturday morning, May 14 in HSU's Redwood Bowl.
Mark Larson
Communication graduate Diana Casteel placed a quote from Nelson Mandela and a thank-you to journalism professor Kirby Moss on her mortarboard.
Mark Larson
Art history majors would recognize this umbrella's "Starry Night" image by Vincent Van Gogh.
Mark Larson
Journalism graduate Rebekah Staub displayed her diploma as she left the stage in a downpour.
Mark Larson
Sociology graduate Bryant Perry lets his nephew Izaiah Woods try on his mortarboard hat after the commencement ceremony.
Mark Larson
Family and friends provided these leis to help celebrate Sociology major Bryant Perry's graduation.