Photo by Amy Waldrip
A sweet spread of pan dulce from El Pueblo Market Bakery.
Bread and sugar
When fire shut down El Pueblo Market on Broadway in Eureka, it left a sweet roll-sized hole in our hearts and stomachs. While we wait for the market and its wall of baked goods to reopen — soon, we hear, though there's no firm date — we're feeding our pan dulce cravings at its Redwood Acres kitchen, tucked in the right side of the main building (3750 Harris St., Eureka).
Knocking and entering the side door with the pastel El Pueblo sign taped to it feels like visiting a sort of carb speakeasy. You might have to call out for someone to come out from the back, be it owner Engelberto Tejeda or another baker, but that gives you time to browse the rolling racks that nearly fill the tiny storage space.
For those who revel in the simple pleasure of bread and sugar, there are bright, crusted conchas, of both the plain fluffy and denser cinnamon varieties, as well as long chocolate crumble-filled elotitos ($.75). The soft pumpkin empanada has enough cinnamon to pretend it's whole wheat and will win you back from pumpkin-spice jadedness ($1). Round out your order with a flaky, sweet oreja ($1) — Mexican cousin to the French palmier — and a wedge of dense, eggy cheesecake ($1.50) that's none too sweet and firm enough to eat with one hand while you continue with other tasks. Like selecting your next sweet. That ought to hold you over.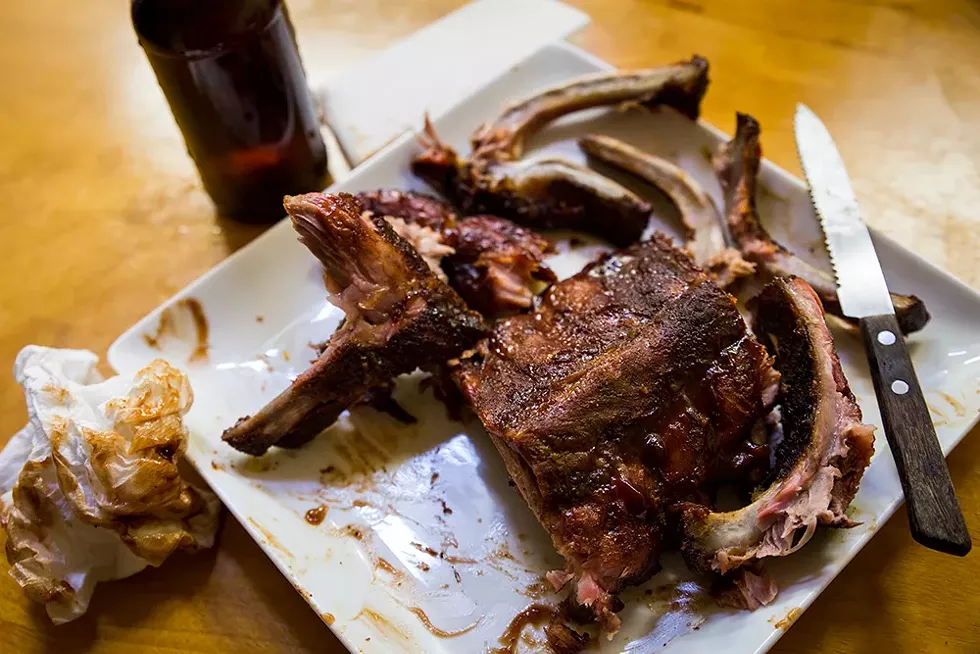 Photo by Sam Armanino
Out of the smoker at Z&J Asian Subs.
A mess of ribs
If fighting over politics isn't intense enough for you, may I suggest ribs? (Really, go ahead and search "Brooklyn barbecue.") Even within the guidelines of competition judging, our personal and regional aesthetics make the whole business something like drawing from a deck of wild cards. Still, the pros will generally tell you that for competition ribs, the meat should cling lightly to the bone, tender but not slipping off by itself.
And yet some of us grow giddy pulling the meat clean from a bone in one tug of the teeth and swiping the fallen pieces in the drippings of sauce on the plate. No shame in that. If this is you — or if, like me, you suffer from anxiety at the sight of pork left on bones by fellow diners — it's time to live your truth. The smoker beside the drive-through kiosk of Z&J Asian Subs (2336 Third St., Eureka) is lately turning out racks of St. Louis-style ribs, with their shorter bones and succulent belly meat crusted in brown sugar and sauce ($25 full rack). The trick is knowing when to pick them up.
The whole process takes somewhere around six hours, between the first round of smoking, steaming wrapped in foil, saucing and resting. Show up early in the afternoon and the meat is firmer, more like a competition rib. Call up and reserve some for pick-up closer to the 7 p.m. closing time (except on Sundays, when the shop is closed) and a pothole on the way home could knock the meat off the bones. Any time of day they'll be smoky with a sweet, juicy interior worth getting a little messy for. Not judging.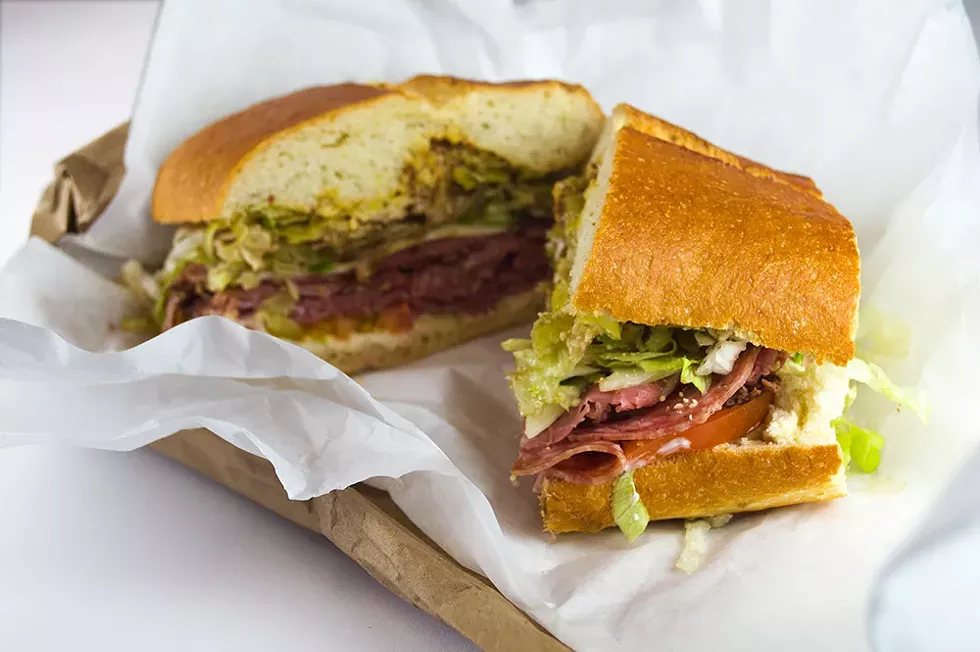 Photo by Amy Waldrip
Open your mind to pastrami on your Italian sub.
Sub conscious
Graduations, birthdays, christenings, communions and shotgun weddings — any event worth filling the yard with folding chairs in my hometown back east meant a 6-foot sub. Laid out on a long table would be a seemingly endless loaf of Italian bread stuffed with layers of salami, ham, pepperoni, provolone and peppers doused in oil and red wine vinegar, with shredded iceberg lettuce cascading from the sides.
You'd carefully take a geode-layered slice, supporting your paper plate with one hand underneath, and make your way to a folding chair, trying to keep your heels from sinking in the lawn. The trick was to sit at the very edge of the lawn so you could get two bites in before somebody talked to you.
Is this a thing you can get here? Almost. From the tiny bar-adjacent storefront that is Deo's Sandwich Shop (428 Grotto St., Eureka) — a location that's been turning out sandwiches for some 45 years under a handful of owners — comes a monster of a classic Italian sub, roughly the size of your head ($10). But open your mind to relatively new owner Joe Sandoval's variation: salami, pastrami, provolone, sliced tomato, pepperoncini, fistfuls of shredded lettuce, seedy mustard, mayo and balsamic vinegar (because we're fancier on this coast). The warm, spicy, smoky pastrami works with the traditional Italian flavors and the bread is more substantial and crusty than those backyard wedges. To say seating is limited is an understatement; get your sandwich to go so you can be alone with it, get those bites in before anybody talks to you.
Don't be greedy. Share your tips on good eats around the county with Jennifer Fumiko Cahill, arts and features editor at the Journal. Reach her at 442-1400, extension 320, email her at Jennifer@northcoastjournal.com or reach her on Twitter @JFumikoCahill.