Photo by Jonathan Webster
Since we're sharing the sausage-making of journalism this week (mmm, sausage), let's clear up a few frequently asked questions about the Hum Plate column.
Why are all the reviews positive? We don't write reviews in the conventional sense of rating an establishment on quality, atmosphere and service. Doing so according to standard ethical guidelines, like the Association of Food Journalists', would require numerous visits and ordering most of each menu, which simply isn't practical for a paper our size. Instead, we share what we've genuinely enjoyed, whether at a street stall or an upscale restaurant. If something doesn't make us want to tell everybody about it, we don't cover it. While scathing reviews can be dishy fun to read (and write), they're not so helpful when looking for a recommendation. To paraphrase the poet and critic Frank O'Hara, the bad restaurants of our county will go out of business without our help.
How do you choose the restaurants? Mostly we follow up on tips from readers, staff and friends. (Hit me up at the contact information below.) We don't take pitches from restaurants and whether they advertise in the Journal is irrelevant.
Do you eat for free? Nope. The Journal pays for everything, tip included. We don't inform the restaurants ahead of time, either. Nobody's wearing disguises and after 15 photos the staff might figure out something's up, but we do our best to be served the same as any customer and we're pretty successful.
How much do you eat? None of your damn business. Now on to this month's picks.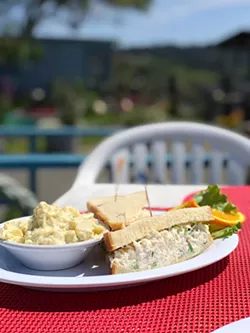 Photo by Jonathan Webster
Keep your crab sandwich simple.
Crab sandwich with a view
When the day opens up with blue skies, warm breezes and sunshine on the calm waters of Humboldt Bay, nothing could be better than heading out to the water's edge, where kayakers are paddling in the waves, and making a hard turn into the parking lot of Gill's By the Bay in King Salmon (77 Halibut Ave.).
There you can find a seat on the patio and survey the nautical-themed garden with its landlocked rowboat, fluttering sweet peas and ship ropes, while the more intrepid glide by in their wetsuits and boats. If sitting with your back to a harpoon launcher makes you skittish, head for the corner. Novelty may lure you, siren-like, toward the grilled crab sandwich with cheese but stay the course to the plain, cold crab sandwich ($17.50). By my eye, it's at least a full cup of crabmeat tossed with mayonnaise and chopped green onion on soft, mild sourdough and accompanied by equally straightforward potato salad, slaw or fries. It's a simple arrangement that lets the sweet, briny flavor of the meat shine.
There are those who will whistle at that price for a sandwich — those who have never watched a full episode of The Deadliest Catch or picked a crab clean from claw to claw for someone else without nibbling as they went. You'll be happier if you accept that Dungeness crab, caught by professional fishermen making their living and served to you by smiling restaurant staff doing the same, costs money. Consider what you'd pay for its Kennedy cousin the lobster, shipped frozen and not nearly as delicate in flavor or texture. Then take a deep lungful of sea air, squint at the boats in the distance and thoroughly enjoy your sandwich.
Photo by Jennifer Fumiko Cahill
Breton buns are back.
Yaass, kouign-amann
A few years ago, the kouign-amann (pronounced "queen ahmahn") stumped the contestants on The Great British Baking Show, causing a dramatic series of light frowns and polite head scratching. The origami-folded bun with the buttery flakiness of a croissant and anchored by a caramelized sugar bottom that calls to mind the crunch of crème brûlée was a deep cut from Brittany circa the mid-1800s. Its hardcore French pastry fanbase has since expanded with a global revival. And now the little Breton bun has arrived in Humboldt.
The Beck's Bakery crew has been experimenting, says owner Rhonda Wiedenbeck, and finally hit on a recipe that works with local grains. The end product is a crown of layered dough that's tender and moist at its center with a crisp, buttery exterior ($4). So much butter. And the bottom is dark and glassy brown — just a little sticky. So far it's only available at the Arcata Farmers Market stall since they don't keep on a shelf the way the bakery's crusty loaves do. Bon chance, mes amis.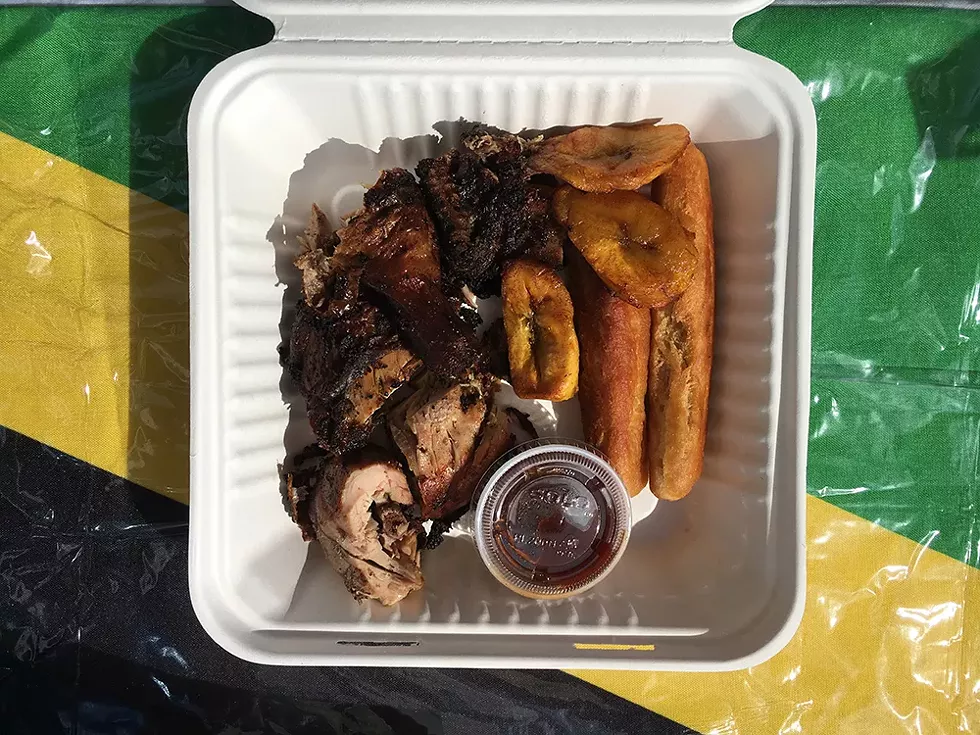 Photo by Jennifer Fumiko Cahill
Jerk chicken at the Arcata Farmers Market.
Jerk Chicken on the Plaza
There are those who hit the Arcata Farmers Market as the first pop-up tents are snapping into place, stuffing their canvas bags with the week's produce and heading home to, I don't know, cook ahead for the week or whatever it is efficient people do. The rest of us arrive late and linger, circling the vendors at McKinley's feet for an early lunch. If your nose picks up jerk chicken, stop.
The Jerk Kitchen table, draped in a Jamaican flag, might be obscured by a line of people waiting and watching owners Joanne Kerr and Dell Bryan bring a cleaver down on smoky leg quarters and dish up stewed oxtail. Bryan, who hails from Jamaica, makes his own wet jerk sauce and marinates the chicken all day before barbecuing it low and slow over a wood fire. The end product is juicy and seasoned throughout, with a fragrant, earthy char full of allspice, garlic and pepper. An order of chicken comes with soft, sweet fried plantains and festival — hand rolled cornbread fritters that are doughy and firm inside with a crusty fried exterior ($10).
The market is Jerk Kitchen's only steady location aside from the occasional appearance at The Jam for special events, so jump on it. Listen, you just bought a bushel of some green vegetable the leaves of which are tarp-thick and will need a soak and a picking over and a long boil before you can think about eating them — my God, it's like you just took on an entire new job. Take a lunch break.
Share your Hum Plate tips with Jennifer Fumiko Cahill, arts and features editor at the Journal. Reach her at 442-1400, extension 320, or Jennifer@northcoastjournal.com. Follow her on Twitter @JFumikoCahill.