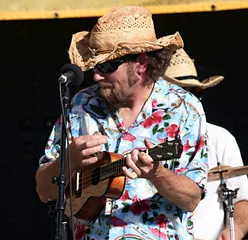 The commitment to people's music was evident in the layout and performers of the 2009 Humboldt Folklife Festival. The week-long series of folk concerts and dances culminated in a free Saturday festival in Blue Lake. Wandering musicians, vendors, workshops on musical techniques, dancing and singing fostered both appreciation and skill. Add in a staggering amount of local musical talent performing on three stages around Dell'Arte and the whole place hummed with intimate authentic music.
Given the many skilled musicians at the festival, it may seem cruel to pick just a couple of groups for specific praise, but I was captivated by Kindred Spirits and UKEsperience who performed on the outdoor backyard stage on Saturday. I think the weather, the vegetarian sushi and cold beer contributed to my disposition, and I wasn't alone: The bands played to a genial crowd of frolicking children and grinning adults splayed on towels.
Steady like a heartbeat, Kindred Spirits played rural rhythmic hill music. The drummer locked in the percussion using brushes and what looked like a colander strapped upside down on top of his snare for a kind of slippery drum sound. The guitarist/mandolin player sat with his taciturn face seemingly immune as his fingers blistered out licks. The upright bass player powered through the changes with a nice fat tone. And a lead singer/guitarist groaned and hummed through the mix, just insistent enough to be heard and distorted to perfection.
UKEsperience slid onto the stage and set up with a percussionist, trap drummer, two ukuleles and what seemed to be a bass ukulele. This was the first time I'd ever seen UKEsperience and I was taken with the quality of their sound. The bass player loves long precise notes -- inviting the ukuleles to throw down with tantalizing twang. The sound is reminiscent of Hawaiian, with a little hillbilly bar music, and enough conga drum to ensure that the boogie is front-and-center. At one point the band invited to the stage all the ukulele students who had participated in an earlier workshop (taught by band members) for a massive ukulele jam ending with heavy applause. The absolute highlight of the day (for me) was a blues number featuring distorted solos played on a slack-tuned ukulele manipulated with jaw-dropping soul and skill.
The folk of the Humboldt Folklife Society seem to be pretty open-minded. The musicians and organizers welcome any thread of rural traditional country music -- even if the country might be Hawaii, or rural Nigeria. Acoustic, warm, real music. Played with passion, fumbles and power. The kind of music that can, and should, be taught to the next generation