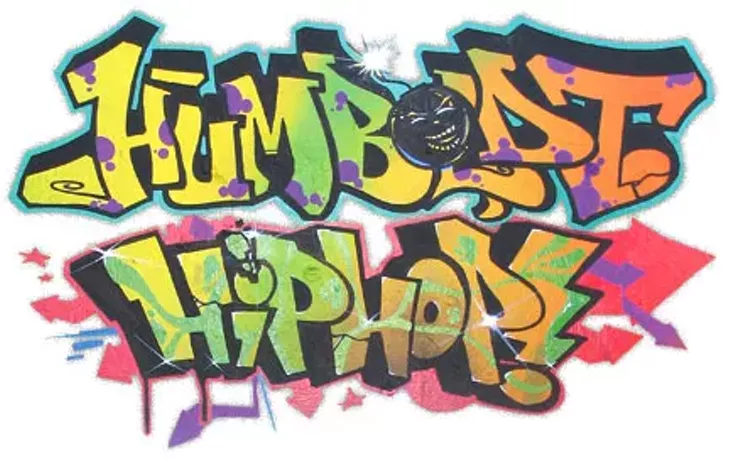 8 slides
The Father
They used to call Garth Culti-Vader "The Humboldt Father" because of his supply of ganja clones. Standing tall with his 14-month-old son Taurean between his legs, he grins and says, "Now it definitely has a different meaning." It's obvious that Garth is a dedicated dad: At this summer's Reggae Rising, in front of thousands of fans, he brought Taurean out on his shoulders at the end of his performance.
It was a significant moment. Garth Vader, eyes covered with wraparound shades, loomed extra-large on the edge of the stage, flailing arms covered with tattoos -- a bombastic Humboldt gangsta. And then at his crescendo, he smiled at the crowd with Taurean clenched lovingly in his arms.
Garth rhymed in Humboldt before almost anyone else. Like most of the MCs in Humboldt County he started rapping as a teenager influenced by the sounds of New York and Los Angeles artists. In the 30 years since the Bronx River Housing Project dances where DJ Kool Herc initially articulated what we now know as hip hop, the sound has changed and the business of the music has matured.
At this point, the hip hop movement is pushing middle age -- along with many of those who participate in it. What happens to a music scene when the formerly teenage MCs get older and become parents? What happens to an underground art form now that its performers can be seen on MTV. Can we trust hip hop made by people over 30?
One of the biggest changes has been hip hop's rise in popularity. Formerly underground art forms are now seen on T-shirts and commercials and are big business. Hip hop has moved from the urban birthplaces to become global -- a means of communicating the importance of place, be it Brooklyn or Redway.
Garth Vader is a quintessential Humboldt MC. His crystal clear flows grace more than a dozen musical projects and reached an apex on his 2003 album Humboldt Knights, where he documented the life of a hard-struggling marijuana grower for whom life has not been kind.
Which brings us to Humboldt's notorious underground herbals ¬Ý and their relationship to the local hip hop scene. At a casual glance, it might appear that cannabis is the only thing on the mind of Humboldt MCs. Most of the albums that come out of here are suffused with explicit stoned references, and some local artists are dedicated poets of pot. Vader, Potluck and Kush all dedicate song after song to ganja and most albums come with at least a few tunes dedicated to the local product.
At the same time, hip hop is a poetic space rife with exaggeration and storytelling, an art form full of people singing about the lives they wished they lived. Geographically, Humboldt's legacy and rhetorical cachet cling to almost anything coming from this area, and for artists who grew up here, or who moved here, the reputation of smoke-stained music coming from Humboldt can operate as a nice hook to sell music.
But you shouldn't mistake Garth Vader for a one-dimensional weed MC. As an underground artist with a family to feed, he has found appreciative niche audiences for his music. His tunes grace a legion of extreme sport DVDs, from stunt motorcycle videos to extreme snowmobiling, where Garth's rhymes provide a soundtrack for motorcycle flight and terrible crashes.
Culti-Vader is a hustler in the Horatio Alger sense -- a post-capitalist lyricist whose skills don't quite earn enough to pay his bills. Major label fame is unlikely, so he promotes his music along unique paths, selling the soundtracks for outlaw identity. Much of his authenticity comes from his years as a Humboldt MC and the stories he spins.
His lengthy history with the local scene gives perspective to talk about the changes. "There is a lot more hip hop now, Humboldt has a breaking crew," he notes, referencing The Humboldt Rockers breakdancers. "And the sound has changed, it's a lot cleaner."
While acknowledging that technological innovations have changed the nature of hip hop, Vader argues that the region has a unique sound. Pressed to define it, he suggests, "It is a mountain sound, as opposed to an industrial feel. Live instruments ... the vibe of the lyrics ... we aren't talking some bullshit bling bling stuff."
It's not hard to trace the blues tradition in hip hop. It isn't far from the rhymed couplets of Robert Johnson to the anxious urban narratives of storytellers like Ice-T, Tupac Shakur and Nas, who themselves identified precursors in African-American narrators like Iceberg Slim.
Garth is in that same tradition -- he is a blues MC. While marijuana culture is an obvious component of his verses, his ganja tales are balanced with songs that are surprisingly earnest. Tracks like "Feelings" and "Fucked Up Wayz" offer a rare glimpse at an MC whose verses document the heartbreak behind the hustle.
"I'm just putting out my life," he explains. "I used to always bottle it up. I would be a lot less healthy if I didn't rhyme." Not only is he expressive, Vader is also prolific. Since he started making up rhymes as a young teen, he has been producing raps to get his ideas out and telling the stories of his Humboldt life, creating song after song of catchy emotive music.
These days, the biggest change in Garth's life has been the arrival of his son. He is literally on record with one of the most bone-chilling attacks on missing fathers -- "Fathers Day," on Humboldt Knightz , where he calls out his absent father by name and expresses all the anger an abandoned child can muster. It isn't a big surprise that he is committed to being a good dad for his son. He cracks a smile when talking about raising Taurean: "I just hope he is happy."
In addition to being a full-time dad, Garth has been busy with guest rhymes on recent Potluck and Subliminal Sabotage releases. He is excited about the upcoming release of his next solo album, Unpredictable Individual, featuring members of Onyx, Sadat X, Tech N9ne and Spice1 as well as his Subliminal Sabotage buddies.
Vader embodies some of the contradictions of Humboldt hip hop. Despite videos filled with motorcycle stunt riding and big buds, he seems to embody stable family values and earnest poetic expression. Maybe the real rebellion is to defy the expectations and be both a serious MC and a good dad -- the only question is whether or not the public will buy it.
The Veteran

The first time Nac-One smiled during our interview was when he started talking about his daughter. With a gleam in his eyes, he described how Mystique (her MC title) verbally defeated a high school competitor during a rap battle. "Every line she spit was raw," he said proudly.
Nac-One sports a crisp B-boy style -- felt hat, nice sneakers and a clean look that speaks of deadly seriousness. In his home studio, graffiti art surrounds you and you feel that hip hop is in his soul.
His roots run deep in the Bay Area graffiti and hip hop scenes, a fact made clear by the fact that his early albums are on cassette tapes . Along with DJ Gigster, Nac founded the famed FSC graffiti crew and also found a comrade in musical invention. Nac-One has been creating music with Gigster, independently and on Bomb Hip Hop Records, a label well known for making break records.
With a giant catalog of music to showcase, he points to the 2001 FSC Oneness mixtape , a collection of funky samples and complex positive rhymes that's a good example of his sound. 2004's Natural Reaction showcases the evolution of his rhyme skills and a booming presence that you will remember if you've seen Nac open up a show.
"It sucks when you tell people you are a hip hop artist and you see the sour milk look on their face," says Nac-One, explaining that the images of rappers on television doesn't quite match up with his life of being a good dad for his kids, waking up early to clean the house, making beats in the middle of the night and practicing for days before shows.
He complains that "the new generation has no connection with the underground," explaining that when working people "have to get jobs and shit" it limits their ability to make music. "It's not like just being in the house studio with your boys," he says.
But struggling to make music has tempered his sound, making it more intense, and these days Nac-One makes music that is particularly grown-up. "I'm sticking to my guns with my style," he says. Rocking conscious, complex hip hop, he has his hands in a couple of nice projects. Most exciting is the New Mutants , a soon-to-be-released mixtape collection of Humboldt underground stars including Franco, Ink, Zack Funk and the Fantastic Fam, a crew formed right at home.
Recognizing that his children were raised with hip hop all around them, it was only natural for Nac to create the Fantastic Fam, a crew of MCs comprised of Mystique and Mischief Mike, Nac's son, both dead serious MCs getting hardcore with their time on the microphone, showcasing tightly entwined rhymes and a roughneck family style.
Including your children in your music is one version of Humboldt musical values. Rocking his old-school aesthetic and rolling with the punches, Nac-One comes across as an earnest, nice guy -- almost too nice. In hip hop that can be a liability. Nac-One, like many artists in Humboldt, could perhaps make more money if he were a bit more cutthroat with his lyrical content or mercenary in his business practices. Instead, he has chosen the higher path, to make music that his grandchildren can be proud of.
Beat Controller
If you passed the unassuming artist GMG in the supermarket you might guess he was the I.T. wizard at some local workplace, or maybe a plumber. In fact, the 33-year-old has dedicated his last eight years to mastering the art of creating hip hop music, making beats and laying down backing tracks, primarily for Fortuna's Dirty Rats family.
Not long ago, with a few solid years of beat-making under his belt, GMG decided that he didn't really like his sound -- it just wasn't "clean enough." So he went to recording school and studied to be an engineer. After mastering a few recording programs he returned to Humboldt with a new bag of tricks.
Asked what has changed about his sound since going to school, GMG gets animated. "Now it's all about separating the beat," he says. "I make sure that all our sounds are separate, so we can specifically match the sound for what we need. Now our beats are more controlled; the kick and the snare are controlled."
The dialed-in GMG sound can be heard on Kush's new Dirty Rat Records album, Green Thumbs and Cauliflower Ears . Crisp percussion and a broad sampling palate give GMG's beats a professional feel. Songs like "Bring it back" mix orchestral strings and martial drum breaks to give Kush and Callous space to get serious with their rhymes. The result is a musical product as good as any in the nation.
GMG is a professional whose attention to sound can be heard on myriad recordings. He's made beats for the Kush and Wong album Mic Eugenics , the recent Dirty Rats record Spitshine and for the heavily slept on artist Ink, whose album Humanoids from the Deep offers Humboldt's funkiest funk.
You can also see GMG in action at any Dirty Rats show: He's the guy crouched behind the boards, loading up beats and cuing the dozen or more MCs who roll with the Rats when it's their turn to grab the mic.
Recently his music-making time is experiencing new pressures. He and his girlfriend have a baby on the way, and he's been thinking about balancing the needs of his family and his career.
"Your time with your beat-making, with your work and girlfriend have to balance," he says. "I'm totally the one who does not balance it. The baby thing has really changed me." One unforeseen outcome of the impending birth has been an unprecedented period of productivity. "For the last two weeks, I've probably made a beat a day," he says, noting that the "ideas get weirder, maybe deeper" as the day of birth gets closer.
With almost a decade making hip hop, GMG is a consummate beat controller who perceives the changes in hip hop as opportunities. With the birth of his upcoming child, we can expect to see that sound evolve into something quite interesting.

The Core
An afternoon spent with engineer/guitarist Piet "Demolition" Dalmolen and keyboardist/producer B. Swizlo, listening to an unreleased mix tape by Swizlo and the Subliminal Sabotage crew, Future Hits of that Humboldt Shit, offers a musician's take on the maturing sound of Humboldt hip hop. The musicians lounge in their gritty Arcata studio surrounded by stacks of amplifiers and half-empty bottles of water.
Swizlo and Dalmolen, together with drummer Pete Ciotti and bass player Steve Webb, make up Nucleus, a popular rock and funk band that doubles as the musical crew behind Subliminal Sabotage, the North Coast's fantastic hip hop/live instrumentation combo. It works like this: Add a handful of young SoHum-bred MCs and a few guest musicians to Nucleus and you have Subliminal Sabotage.
"Demolition" is the engineer behind six Nucleus albums and a handful of Subliminal Sabotage- related hip hop albums (not to mention a few other projects). Swizlo is something more than a producer: He is also the crew's motivator, organizer, hustler and life-coach extraordinaire.
When Swizlo joined the Nucleus crew two years ago, the band had a strong history as a trio with six years of road seasoning and hundreds of gigs. Swizlo brought his connections with the Humboldt Freestyle Kings, a roving crew that included Garth Vader and young Southern Humboldt MCs Elision, MCP and Mika Sun.
Sub/Sab has been lighting up stages for more than a year, most notably playing last year at Reggae on the River and at this summer's Reggae Rising. There the expanded family grew, with guest MCs, back-up vocalists, a flute player, cellist, percussionist and DJ, a model they freely admit is borrowed from Parliament-Funkadelic.
Subliminal Sabotage evolved out of the diverse styles of the musicians spurred by the political economy of hip hop. They've moved beyond the need to clear samples, by laying down original music, playing their own instruments and creating a breakbeat-laden sound fertile for MCs and completely free of any legal woes.
Settling in to make music in this community has also meant deeper roots for the musicians. Swizlo owns a clothing company, and Dalmolen pays the bill as a studio engineer. Ciotti and Webb run a local pizzeria; both of them are expecting their first children. "The drummer and the bassist are having babies and Piet and I are finishing albums, having babies of our own," jokes Swizlo.
They stress that this is an experienced crew with a lot of music to share. Their output to date is a serious stack of CDS: six albums that showcase Garth Culti-Vader, 10 by Swizlo, solo albums by Elision and MikaSun and numerous compilations.
Next on the path the release of Swizlo's Future Hits of that Humboldt Shit . Nucleus is about to drop Love and Gold , a stunning example of rock 'n' roll infused with soul beats that makes the band a great backdrop for hip hop. MCP's long-anticipated solo album, I'm in love with death , is almost complete, as is the new Garth Culti-Vader album, Unpredictable Individual .

Freestyle Champ

In terms of raw talent, Humboldt's leading MC may well be Franco. While he often performs with the Dirty Rats, he has earned his stripes as a devastating freestyle battle rapper. Popularized in the 2002 Eminem movie 8 Mile , freestyle battling is one of the oldest and most intense of the hip hop arts. Two MCs face each other on a stage with 30 or 60 seconds to lyrically dissect their opponent, tossing rhymed insults in an advanced version of the dozens.
Subliminal Sabotage MC Elision says, "I have all these freestyle DVDs, and I saw Franco's DVD [ Best of Franco ] and he beats all the people who win on the other DVDs!"
Watching Franco respond with lightning speed to insults in dense rhymes is impressive, in part because he works completely off the top of his head. You can see how his relentless multi-syllabic flows leave his opponents shaking their heads, conceding the battle with their body language.
In August of this year, Franco went to Cincinnati to compete in the nation's top underground freestyle rap battle, Scribblejam. In order to get in, he had to win a qualifying battle in San Francisco, which he took easily. At the Cincinnati battle, he defeated MC after MC, winning four bouts before losing in the final round to L.A.-based rapper NoCanDo in a tight battle.
Thus positioned, he returned to Humboldt able to claim the title of second-best freestyle MC in the nation. Franco is diminutive, a slender guy who has heard more insults about hobbits than Elijah Wood.
Humboldt-grown, Franco has a lot of memories of hip hop in the area. He has been writing raps since he was 17 and claims he started freestyling as soon as he started speaking.
While his flows shine on every Dirty Rat album, his most recent production is a solo album currently available only on vinyl, appropriately titled Even if the Record Skips. It showcases an incredibly lush sampling sound (GMG created most of the beats) and a rapper with an innate command of rhythm. Some MCs fight beats -- Franco seems to respond fluidly to the track no matter how fast or slow it might be.
While Scribblejam makes his reputation ironclad among other rappers, he is still a few career jumps away from bigger fame. Part of the difficulty is outpacing your audience. "I like rhyming to jazz because it is more technically difficult," he explains, acknowledging that his job is to move the crowd. "At the same time, my music is about having fun."
There are some difficulties that come with being an underground artist, Franco admits.
"I need to make some more money," he says. "I'm actually looking for a real job right now. There isn't much of a demand for rappers." It's a cruel game that leaves those with the most talent on the bench, but being underground comes with
a price-tag. While Franco may be headlining freestyle battles around the nation, he still has to pay his bills.

The Professionals
The foremost celebrity rappers of Humboldt County (if there is such a thing) are a funky duo called Potluck. Comprised of MCs 1Ton and Underrated, Potluck outstrips other local hip hop crews because the duo regularly tours the U.S. and sells albums nationally. Last year saw the release of their fourth album, Straight Outta Humboldt , with the duo performing more than 150 live shows, including tours opening for the Kottonmouth Kings and Tech N9ne.
In their wood-shrouded professional recording studio, they discuss the changes they've seen in their time, first as DJs and now as MCs. Covered in oversized athletic gear, Underrated describes his musical evolution. "The more we have done it, the more we have been able to be ourselves," he says. "When you start, you don't even know what is going on. You just like doing it so much. You kind of realize you can be your own style, and learn to be yourself."
There's also a lot that hasn't changed for them. Underrated still makes most of their beats, using samples from vinyl bought at local record stores.
"We've spent thousands and thousands of hours on each piece of equipment we have," 1Ton explains, attributing that familiarity as a contribution to their commercial success on tunes that are West Coast-catchy with sing-along choruses. They also remain true to their Humboldt roots, dedicating a healthy percentage of their tunes to ganja and partying.
Potluck's recent albums are on Suburban Noize, a label run by the weed-obsessed So-Cal band The Kottonmouth Kings, which makes them feel safe producing tunes like "Marijuana 101" and "Dank Alumni." Asked about cannabis as a marketing element for their music, 1Ton quickly jumps in, arguing that, "It closes as many doors as it opens."
The Suburban Noize connection means the duo is able to utilize the power of Koch, the most successful independent distribution network in the U.S. "We sell records in Minneapolis and Kansas City because we've toured there and because we have distribution," explains 1Ton.
While songs about the local weed sell nationally, it's not the only thing they have on their minds. "Our topics are a reflection of us," says 1Ton. "Obviously we're gonna talk about something different today than we would have talked about five years ago because we've grown five years of maturity and [had] five years of experiences." Straight Outta Humboldt offered them a chance to talk about topics like racism, in a track called "My Life," and even reflect on their own mortality in a rap titled "Funeral."
Noting a foot injury that Underrated sustained during a show -- "it's cool," he reassures -- 1Ton leans forward, and with a serious look broke forth on the importance of long-term health.
"In 2006 we did the most shows we've ever done in a year -- being on the road that long, it just broke down my body," he says. "I think I had a moment of clarity, at that time I was like, if I wanna do this for the rest of my life, I gotta start taking better care of myself.
"Just being in Humboldt, they teach you that you've got to take care of your body. Period. Doesn't matter how old you are. The stores like the Co-op and Eureka Natural Foods and all that stuff, that's been in Humboldt for years."
"Your body is a temple, and you've got to take care of it. Corporate America will try to infect you with all these different chemicals. You gottta take care of yourself... Eliminate fast food, eliminate soda, try to get up and get some exercise. Be smart about it."
Maybe it's a point of change that an artist who built his career on Crown Royal and blunts is giving out health tips. But if you want to survive in a game that has chewed up its fair share of talent, you need to think about the long haul, and it's obvious that Potluck have their eyes on the national hustle.
Talent and vision make Potluck a great rap band. Relentless touring and a willingness to take risks have positioned them as a growing independent hip hop force. Selling records while maintaining independence makes them stars.
The Future

Humboldt hip hop is a product of this place and time. As musicians in a rural area defined both by college and redneck audiences, the artists here are creating music that is unlike any other hip hop.
The chance to live a full life and to document your experiences with music is important. Humboldt hip hop musicians are creating the sounds unique to this place, often literally including their children. The crucible of family and fraternity coupled with the redwoods and ganja make Humboldt hip hop distinctive.
Despite the regional skills and marketing possibilities, the future of Humboldt hip hop is up for grabs. While the televised version of the hip hop lifestyle might be champagne and half-naked women, in Humboldt the artists are holding down second jobs and laying down tracks after the kids have gone to sleep.
Every artist covered in this story shared their frustrations about being taken seriously as artists, and the level of work that it takes to succeed. Garth Culti-Vader, Nac-One and Potluck are struggling to balance tradition with innovation. And while the musicians get older and take root in the community, their experiences become about diapers as much as ciphers. The music produced reflects those changes and offers a new template for the next generation of artists, contributing to the ever-changing phenomenon that is hip hop.

Maxwell Schnurer is an assistant professor in the Department of Communication at Humboldt State University. He is the co-author of Many Sides: Debate Across the Curriculum , contributor to Terrorists or Freedom Fighters: Reflections on the Liberation of Animals and the 2006 AK Press book Igniting a Revolution: Voices in Defense of Mother Earth . He is a semi-frequent contributor to Adbusters , Bad Subjects and the Times-Standard . He can be contacted at freedom@humboldt.edu.