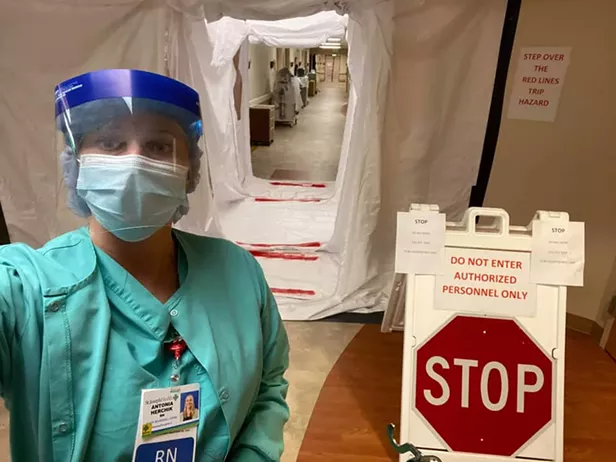 Humboldt Roller Derby
Saplings coach Tone Cold aka Antonia Herchik, normally a medical surgical nurse, is now part of a designated respiratory unit for patients suspected of SARS-COV-2.
Humboldt Roller Derby
Roarshock Tess (aka Tess Yinger) says, "My job during COVID-19 is to maintain meaningful connections with my students during crisis. My official title is 3-5th grade teacher, so each day we have a morning meeting, work on academics, share a movement break, and do read aloud together after lunch. I work with my colleagues to plan distance learning options for students. I spend a lot of time these days helping connect families to resources they may need, and doing tech troubleshooting!"
Humboldt Roller Derby
Cloverkill (aka Clover Kelly) is an Associate Professor in Forestry at HSU, and shared that "it's been hard to stay in touch with students, but I've been so impressed with their willingness to do work and reach out for help when they need it!"
Humboldt Roller Derby
Atreyu (aka Michelle Cartier) says of teaching at Humboldt State University, "Just finished up a zoom session with my class. Still playing the part and dressing up for the role. Still showering and throwing on that button up shirt seems to be key at these times. Otherwise, it's always the weekend, and already summer. School at home is tricky. Luckily i get to work with filmmakers and artists. We tend to be fairly familiar with the tragic/used to making things out of troubled times."
Humboldt Roller Derby
Tytan (aka Tyler Vance) is a surgical technologist and says "even though we aren't doing elective cases we are still doing surgeries and C-sections!" Tytan loves working in surgery and being on the front lines for the community.
Humboldt Roller Derby
Li'l Mads (aka Joni) says, "I work as an administrative assistant at an elementary school in Arcata. I mostly work from home now, providing information to parents, and helping out as tech support in the online classrooms, etcetera. I also sometimes go into the school to deliver supplies and laptops. Working from home is challenging, and I miss my colleagues and the students! At least I get to see all their faces on Zoom!"
Humboldt Roller Derby
Brawn Luc Picard, aka Natalie Arroyo, is on Coast Guard orders during this time, saying "I'm grateful to have this opportunity to support my community and country during this challenging time. Stay strong, Humboldt!" — with Natalie Arroyo.
Humboldt Roller Derby
Skating official Siryn Says on being in nursing right now: "I work at St. Joes in Cancer Support Services caring for folks with Head and Neck cancer and those with Colorectal or anal cancer. I also teach nursing at CR so had quite the time working with local clinical partners to ensure all our nursing students were able to complete all of their required clinical hours this semester. Also transitioning all nurses courses to the online environment." Siryn has also been sewing and donating an incredible volume of cloth facemasks, saying, "I lost count of masks, but my mom and I made hundreds! We shipped all over the US and donated many locally. We are now making surgical caps/bonnets for EMS and other medical personnel who are required to wear them." — with Jessica Howard.