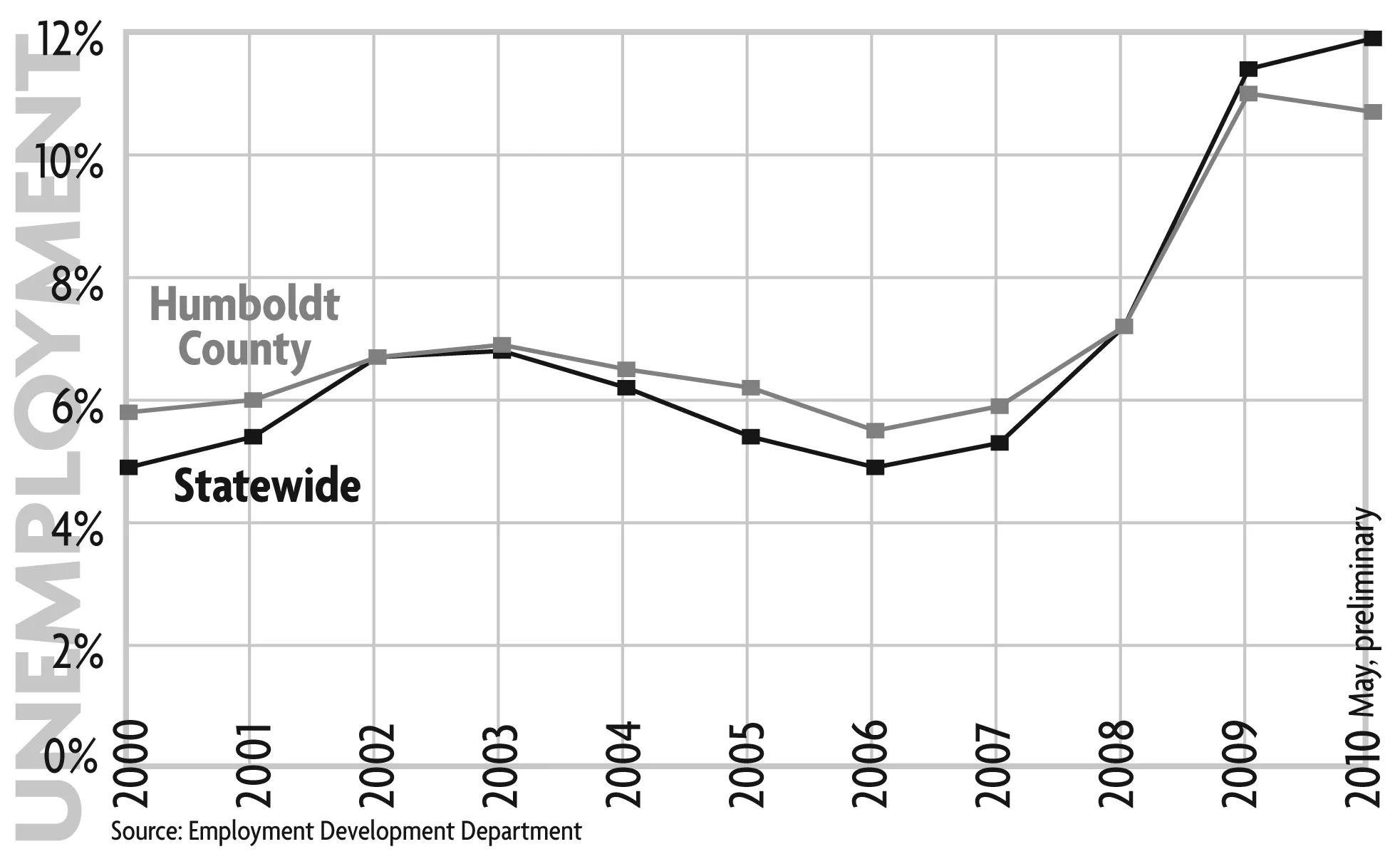 A warning to the superstitious: You might want to knock on wood or reach for your rabbit's foot after reading the next sentence. The local economy has shown signs of stabilizing, even (dare we admit it?) improving over the past few months. Unemployment, which has been mercilessly climbing since mid-2006, when our local economy peaked, actually went down in May, albeit negligibly -- from 10.8 percent to a preliminary 10.7. But still, compare that to our neighbors: Del Norte is up to 13 percent; Shasta's at 15.4; Siskiyou, 15.6; and Trinity County is at a cruel 17.8. Humboldt was one of only three counties in the state to have a lower unemployment number this May than last, according to the state Employment Development Department. Out of 58 counties, we're currently ranked 12th for total unemployment, meaning 46 counties in the state are worse off than we are.
No doubt this news will surprise many local residents who are used to hearing -- and perhaps espousing -- the trusty Humboldt job market lament, which goes something like this: Ever since timber and fishing collapsed, our job market has been in the shitter. That may have been true for a good long while, but things have been changing in recent years. "Historically, if you study the trend, there was always a gap," said Dennis Mullins, research analyst at the Labor Market Information Division of the California Employment Development Department. "Humboldt was always higher than the statewide [unemployment] rate. But over the last two years, Humboldt has been closing that gap as we diversify our economy." Throughout 2009, Humboldt's unemployment rate leapfrogged the state rate; this year, however, we've stayed consistently lower.
Mullins gives much of the credit for our workforce diversification to efforts by county government, particularly the Workforce Investment Board's "Targets of Opportunity" project, which has helped to identify and nurture employment sectors that show growth prospects, including niche manufacturing, health care and agriculture. Judging by job statistics, this approach appears to be paying dividends. While Humboldt County lost roughly 400 jobs this past year in construction, manufacturing and financial services -- all of which are tied to the still-anemic housing market -- we've more than made up the difference with gains in leisure and hospitality (up 300), health services (up 200) and professional business services (also up 200).
Redwood Region Economic Development Commission Executive Director Gregg Foster said he's seen a change in attitude from the small business owners who use the agency's services. "Some of 'em were really struggling," Foster said Friday. "I'm seeing more optimism from them now. They're not talking about hanging on; now they're talking about, 'We think we've turned the corner.'" Foster recently got a voicemail from a small business owner asking for a loan to buy new equipment for his business. "When I get those kind of calls, I get encouraged," he said.
But before we get too giddy, we should point out the ominous indicators that remain in the economic landscape. Chief among them are home foreclosures and the struggling government employment sector. Foreclosures remain at near record-high levels, both locally and nationally, and that can have a prolonged dampening effect on the economy at large, according to Humboldt State University Department of Economics Chair Erick Eschker. High foreclosure numbers indicate that a lot of people are financially strapped by their house payments, which makes them less likely to spend money elsewhere, Eschker said. (Local retail has yet to see a significant rebound.) And while home sales were higher this spring than last, many economists are speculating that the improvement was driven artificially through President Obama's first-time-homebuyer tax credits, which expired in April. Nationally, sales of new single-family homes collapsed in May to the lowest level on record, dating back to 1963.
Also worrisome for the county is our relatively high number of local and state government workers, including HSU employees. We've lost about 500 jobs in that sector in the last year, and Eschker doesn't expect a rebound anytime soon. "We haven't seen the worst of it yet," he said. Because government jobs rely on tax revenues, there's always a lag in the effects of a recession, Eschker explained. From the furloughs at HSU to vacant positions going unfilled in many county offices, local government workers are still feeling the effects of last summer's statewide budget cuts, and this year the decisions in Sacramento won't be any prettier.
Looking to the future, Eschker puts far more emphasis on "cautious" than "optimism." Traditionally, recessions as deep as the one we've just been through are followed by robust growth, he said. Yet so far, both locally and nationally, improvement has been slow, which gives him pause. "I think the two most likely scenarios [for this year] would be steady [but] disappointing growth ... or, less likely, we could see a double-dip recession." If foreclosures continue to climb, Eschker explained, we could enter another, smaller recession in the second half of this year.
Of course, the economic picture painted by government-sponsored statistics is woefully incomplete here in Humboldt County, where the largest commodity, marijuana, lives nearly entirely off the data grid. The Marijuana Control, Regulation and Education Act, which will appear on November's statewide ballot, may well prove to be the harbinger of Humboldt's economic future, though its effects -- pass or fail -- remain open to speculation.