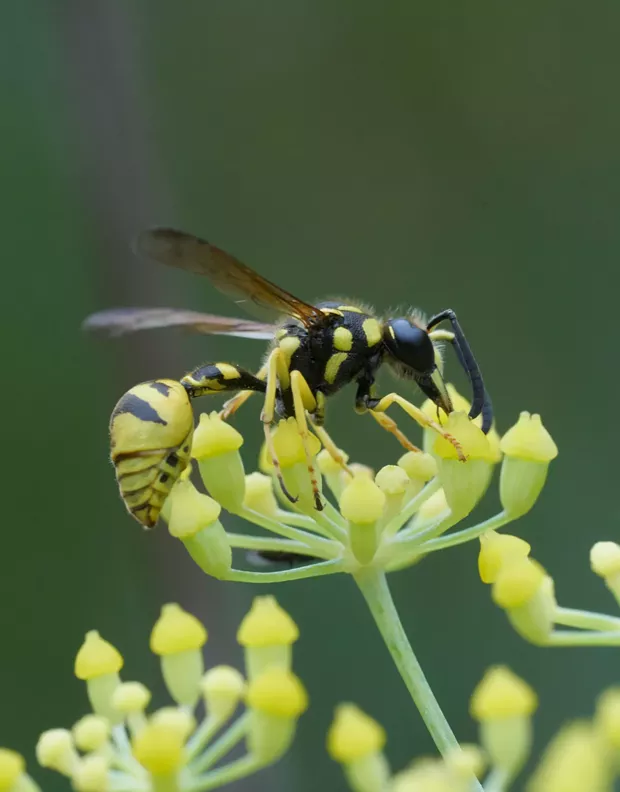 Anthony Westkamper
A potter wasp.
Late in the year, sources of nectar are scarce and those species that depend on it concentrate around the dwindling resource. Wild anise, a few thistles and other small flowers support that insect population and therefore increase an photographer's opportunities to see species often dispersed over a much larger area, so a short walk along the river bar can turn up a surprising variety.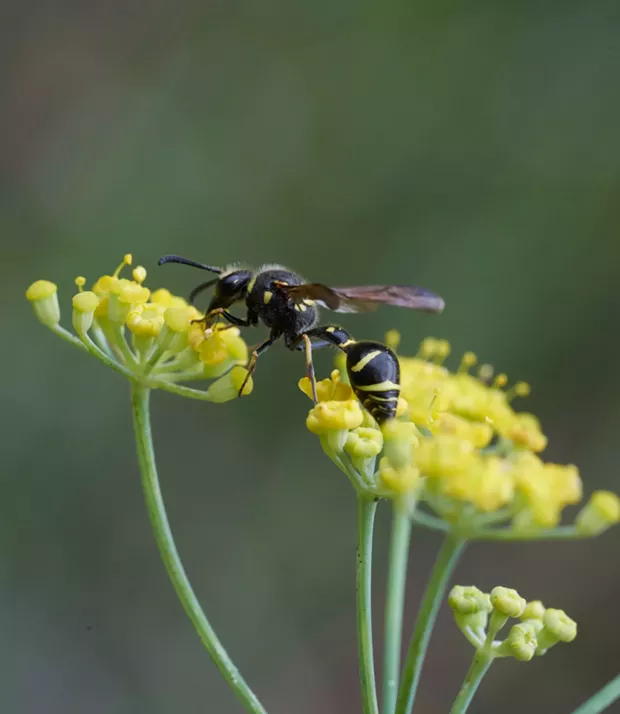 Anthony Westkamper
Another species of potter wasp.
A few years ago, I was delighted to find a potter wasp (family Eumenes), a creature I'd read about but never seen. These medium small wasps capture, and sting tiny caterpillars repeatedly giving measured doses in exactly the right places to completely immobilize but not kill. Then they entomb them in a mud cell made in advance and lay their eggs on on them assuring fresh food for the next generation. I was delighted to photo two markedly different varieties both within 50 meters of each other. As adults they feed almost exclusively on nectar, leaving their high protein insect victims for their babies growing in their little cells. They will overwinter there as larvae or pupae to emerge next spring and perpetuate the cycle.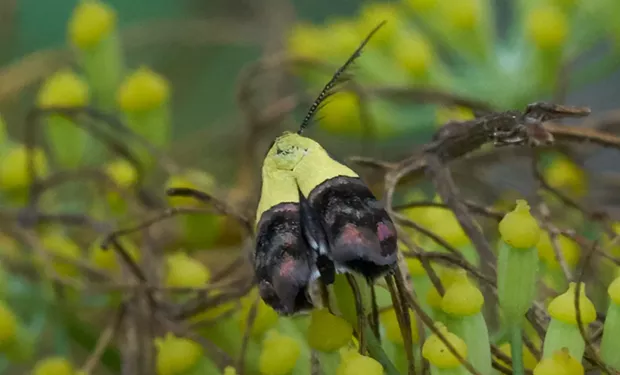 Anthony Westkamper
Rectiostoma fernaldella, a small yellow and blackish moth.
Among the brilliant inflorescences I spotted an equally yellow moth landing, and managed to get one shot of it before it took off. A few minutes with the book
Moths of Western North America
and I think I've found it,
Rectiostoma fernaldella
.
Anthony Westkamper
Pattern winged fruit fly family Tephritidae.
The day was rounded out with a tiny green eyed fruit fly of the family Tephritidae, characterized by the remarkable patterns on its wings.