Anthony Westkamper
A fairy moth resting on an ocean spray leaf.
On Wednesday, I was delighted to see some of my favorite tiny moths milling around the tips of tall bushes along the road. Our local fairy moths (
Adela sepentrionella
) are remarkable for their extravagantly long antennae and the fact that they are the only member of their family to feed on a perennial flowering plant, ocean spray (
Holodiscus discolor
), as larvae. The tiny black adults feed on nectar from both daisies and poison oak among other things. I think the milling behavior is similar to some species of butterfly which instinctively fly uphill concentrating them at ridges as a way to increase the chances of boys meeting girls.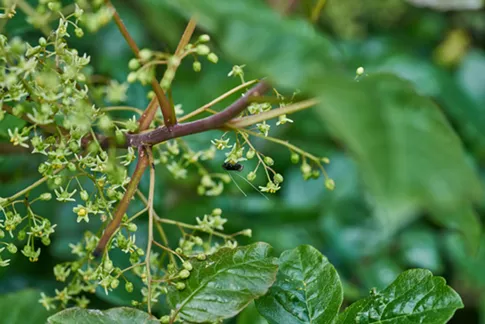 Anthony Westkmper
A fairy moth feeding on poison oak blossoms.
One advantage complete metamorphosis gives some insects is the ability to change their food as seasons change. Moth larvae mostly eat plant leaves but their coiled hollow watch-spring proboscis completely limits adults to sipping nectar from flowers if they eat at all.
Anthony Westkamper
California night stalking tiger beetle from above.
As an antidote to the tiny cheerful fairies, a large black beetle I'd never seen before trundled across the road in front of me. It had a Darth Vader demeanor about it. When I got home I spent some time with photos and field guides. It must have been suffering from insomnia because right there in the bright day I'd stumbled across a California night stalking tiger beetle (
Omus californica
). Its outsized mandibles attest that like all members of Cicindela (tiger beetles) it is a dedicated predator.
Anthony Westkamper
Face shot of California night stalking tiger beetle.