Anthony Westkamper
The view downstream on the Van Duzen, with the willows off to the right.
There are two things I enjoy about studying insects. The first is its predictability. Checking my files I found it was time for the common green darner to migrate through here.
This year I've seen almost no dragonflies. I suspect it is because "my" spot on the river was discovered by several folks with ATVs, picnic tables, boomboxes and beer coolers.
Of course, one problem with science is that proof is devilishly difficult, and coincidence is not causation. Just because those folks are there does not mean they have displaced the insects. There could be other causes, like exceptional rains last winter or record temperatures this summer. This is not a laboratory where controlled experiments can be run, so at best my surmise is merely a guess.
Anthony Westkamper
Common green darner (Anax junius).
The situation with the common green darner (
Anax junius
) is different. It is a transient species who migrates in and out of our area. The history of this summer is largely lost on its populations. So the other day I went a-hunting. Sure enough, the big green, blue and maroon predators are here in abundance. I've seen a couple of dozen at a time, which is more than I've seen in the past.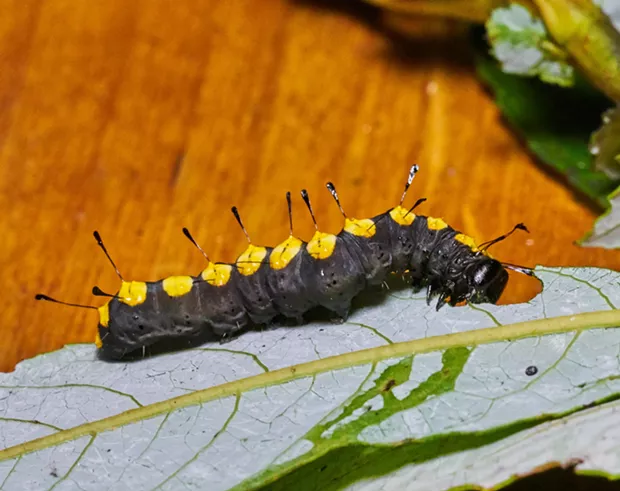 Anthony Westkamper
Note the setae sticking up on the back of the paddle caterpillar (Acronicta funeralis).
The second thing I enjoy about entomology is its unpredictability. The day was cold enough to be unattractive to the folks with the four-wheelers, so I just sat next to the big willows that mark the end of my ramble and gazed downstream. Gradually, something drew my attention away from the river to a single leaf about 3 meters away from me. It was a 4-centimeter black caterpillar with a string of bright yellow dots down its back. When I got close, I made out a series of setae (bristles) that resembled little oars in two rows along its back.
My new camera got a real workout trying to get the best possible shot of the creature as it ate away at a leaf, but the day was breezy so I cut the end of the branch off, bug and all, and took it home to take some shots in a controlled environment.
Anthony Westkamper
The paddle caterpillar (Acronicta funeralis).
I'd seen this species in some reference and finally found it online. This was the funerary dagger moth larva, aka the "paddle caterpillar." The books say
Acronicta funeralis
is a widespread species but this is the first time I've encountered it. Despite its evocative name, this remarkable juvenile turns into a rather plain moth. Rather than try to raise it to adulthood, I walked the half mile back to the willow from which I had removed it and returned it. When I left, it was busily munching on a leaf.