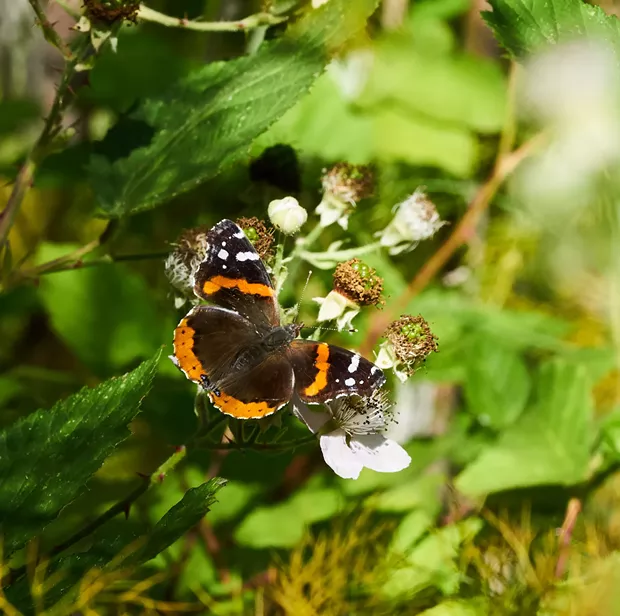 Anthony Westkamper
Red admiral on Himalaya berry flower.
Hurray! The recent warm days have brought out the butterflies. One of my favorite butterflies is the red admiral (
Vanessa atalanta
). It was pictured on the cover of my first little bug book the,
Golden Guide of Insects
. That was before the advent of bar codes and ISBN numbers. Unfortunately, it was not common in my area and since I've been photographing insects it has remained elusive. That was until this week. I happened on one nectaring on Himalaya berry flowers and got a couple of good shots. Slightly larger than its close relatives the painted ladies (there are several species of those), its caterpillars feed on members of the nettle family.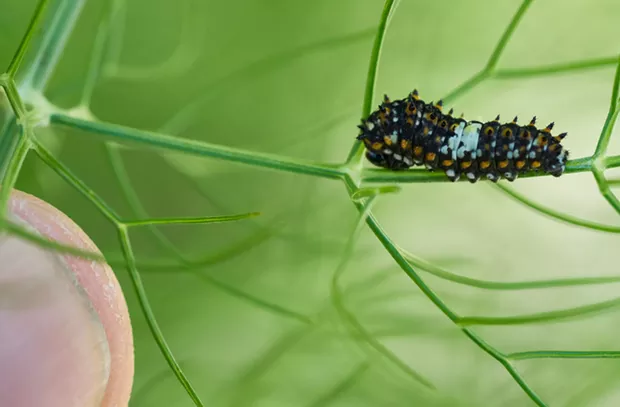 Anthony Westkamper
A bird-poop-emulating anise Swallowtail caterpillar. Note thumb to show scale.
Another butterfly that has proved hard for me to photograph is the anise swallowtail whose larva feed on wild anise, and members of the carrot family some of which may lend their toxicity to the insect. Most folks understand the remarkable transition from caterpillar to butterfly, but this species takes it a step farther. When it first hatches as a tiny larva it is colored black with a white band, resembling bird poop. Presumably this helps protect it from predation. In later instars (the period between moltings) it grows to a large green caterpillar with conspicuous black markings, finally leaving its cocoon to become the large striking yellow and black adult.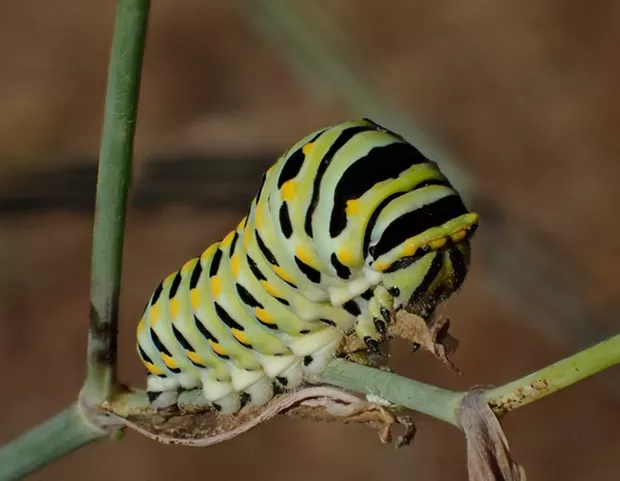 Anthony Westkamper
A fully grown anise swallowtail caterpillar almost as big as my little finger.
Unlike those two, the Anise Swallowtail's larger relative the Western tiger swallowtail (
Papilio rutulus
) is a showboat. Large and brightly colored it is easy to get close to and often holds its wings flat allowing for a good portrait. Its larva feed on a long list of things. This is the largest butterfly species locally and has been common the last three years.
Anthony Westkamper
An adult anise swallowtail.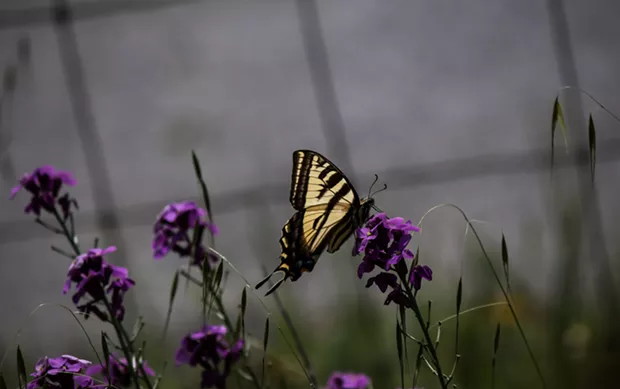 Anthony Westkamper
A western swallowtail on a wallflower.