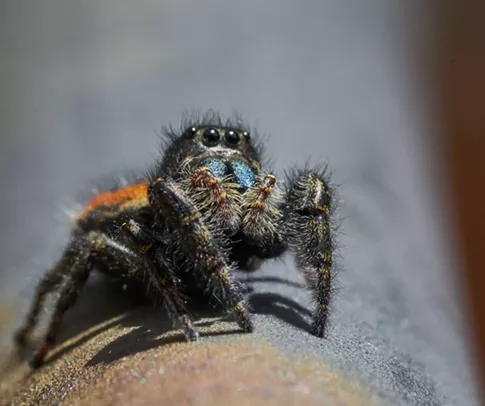 Anthony Westkamper
Red jumping spider portrait showing iridescent chelicerae where venom is made and stored, and large eyes giving them excellent vision.
Saturday was sunny, windy and cold. I was feeling a little under the weather, so I bundled up and went outside, camera in hand. Even on a gray day my spirits are lifted when I am greeted by my favgorite species of spider: the red backed jumping spider,
Phidippus johnsoni
. I've written about them before
here
.
Anthony Westkamper
A red backed jumping spider eating a crane fly. (Ain't that a bite in the ass?)
I can't think of a better ally to gardeners, as these critters are pretty catholic in their quest for food, eating anything they can drag down. One article I've read says they usually hunt things about half their size. While this may be true in general, they do hunt larger prey as well. It is important to note these are pretty much innocuous and not closely related to the dangerous Australian Red Backed spider.
Anthony Westkamper
A red backed jumping spider eating a caterpillar that was munching my plum tree's leaves.
A couple of days ago I noticed a dozen or so faded orange butterflies flying, one at a time, too high and fast to identify properly. I've seen this before and guessed they might be Painted Ladies (Vanessa cardui) a well known migratory species. Today I watched as one sought and finally found a good perch giving me the opportunity to snap a picture and make a positive ID. Often billed as the most cosmopolitan butterfly they can be found on all continents except South America and Antarctica. They share a trait with us humans. Unlike other butterflies they can and do mate throughout the year and are not restricted to a specific breeding season, which may be at least partly responsible for their worldwide success.
Anthony Westkamper
A painted lady butterfly in the backyard.
Finally, a bumblebee mimic fly of the family syrphidae was feeding on nectar and pollen of the little English daisies in my lawn, allowing me to get a closer picture than ever before. The Syrphid family is very large and has a great many wasp and bee mimics in it making perfect confidence in identification from a photo tricky, but I think this is a specimen of the bulb fly (
Merodon equestris
), whose larva feed internally on bulbs of the lily family.
Anthony Westkamper
A honeybee mimic bulb fly on a lawn daisy.