Anthony Westkamper
Cross orbweaver, note white spots making an inverted cross on the back of her abdomen. Its body is about 3/4 inch long.
With Halloween in mind, I set about looking for something creepy to photograph. According to some
recent research
, we humans are apparently programmed from a very early age to react to spiders and snakes. Looking for something dramatic to shoot, camera and flashlight in hand, I took a nocturnal tour of my backyard. This the season for big spiders. The local females have grown large, accumulating enough body mass to support making a healthy brood of eggs to overwinter and hatch in the spring. The two I see the most of lately are the cross orb weaver (
Araneus diadematus
), which is a European import that's made itself at home in many states and my yard, and the native redwood spider (genus
Callobius
).
Anthony Westkamper
A redwood spider on redwood bark, its body about an inch long.
The redwood spider is one of the "hackelmesh spiders," or lace weavers, known to make lacy webs. At least one related species is notable in that the female cares for her young up until they eat her.
True to their name, I often find redwood spiders on my redwood trees, hiding in short silk-lined tunnels in the furrows of the bark. Although I have yet to see what they eat, they evidently make a good enough living there to perpetuate the species. They are tidy housekeepers, not leaving old insect carcasses laying about. They also seem to like my well house, along with another kind of large spider with long, thin, banded legs. According to BugGuide.net, these are of the genus
Pimoa
. Their webs are made of very fine fibers woven in sheets, like a hammock.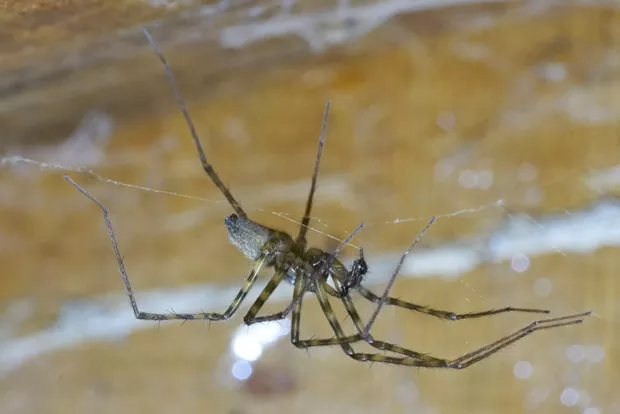 Anthony Westkamper
A male pimoa with a leg span of about 1.25 inches.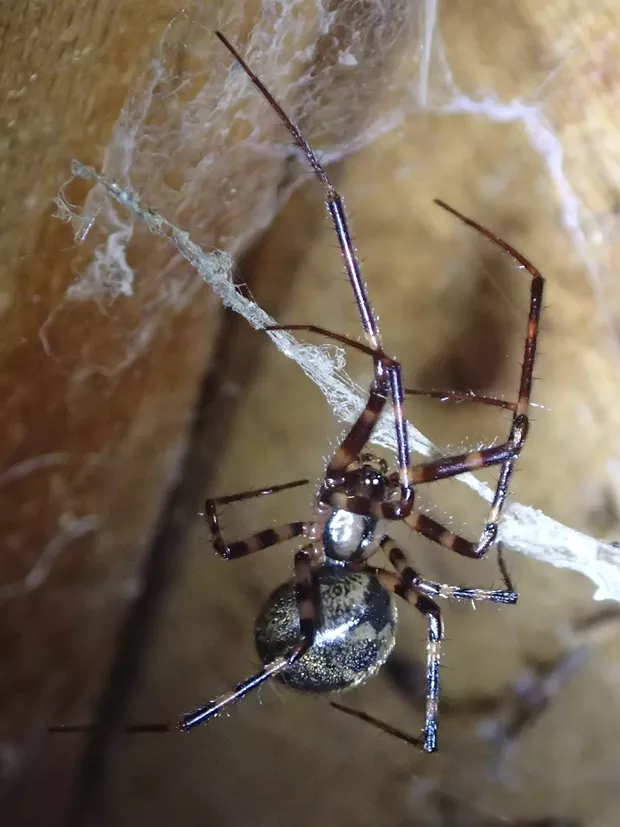 Anthony Westkamper
A female pimoa. Note her large abdomen for making babies. Her leg span is about 1.5 inches.
Protecting the inside of my garage is a different critter altogether, the cellar spider (genus
Pholcidae
), which may be another import. This family is notable for extremely long slender legs and the habit of vibrating their bodies vigorously in their webs when threatened. They are sometimes called daddy long legs spiders, causing a bit of confusion since both harvestmen (
Opliones
) and crane flies, members of the insect family Tipulidae, are often called by that name.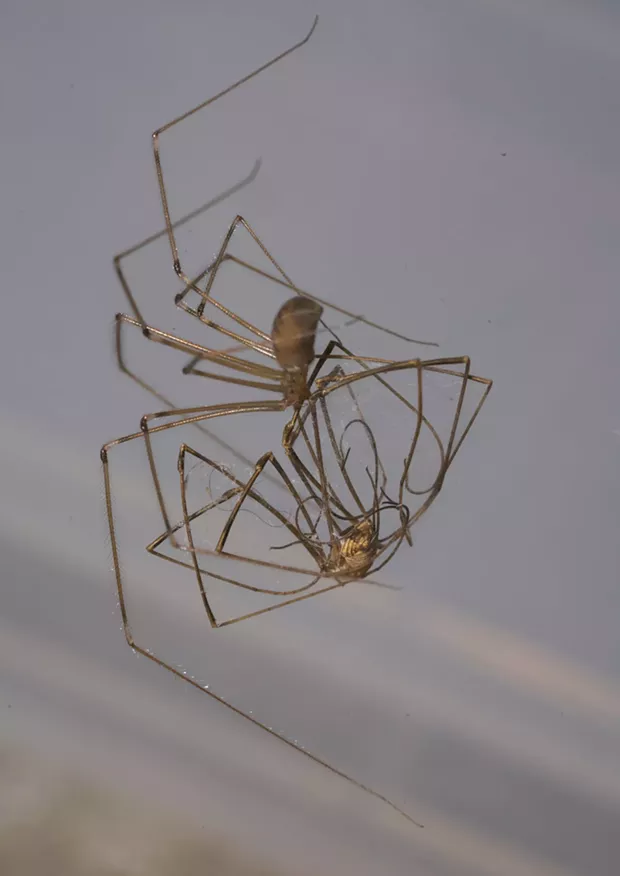 Anthony Westkamper
A cellar spider captures a harvestman, making for a confusing tangle of legs and names.
So, I'll call them cellar spiders, daddy long legs, and crane flies, or, respectively:
Pholcidae
,
Opiliones
and
Tipulidae
. (Yay for Latin names!) These are truly creatures of the dark, coming out to play when the sun goes down. Happy Halloween!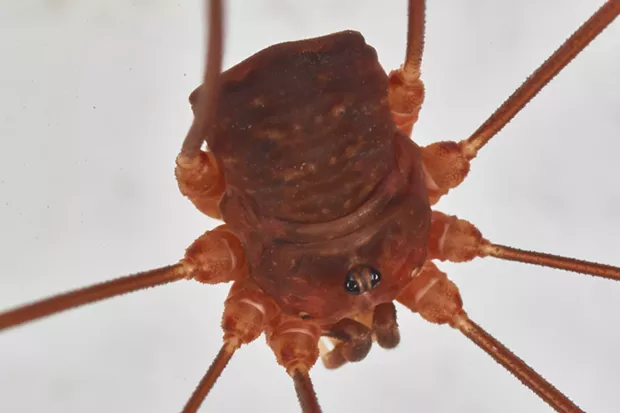 Anthony Westkamper
A close-up of a Harvestman shows two eyes positioned like a turret. Spiders have either six or eight eyes.