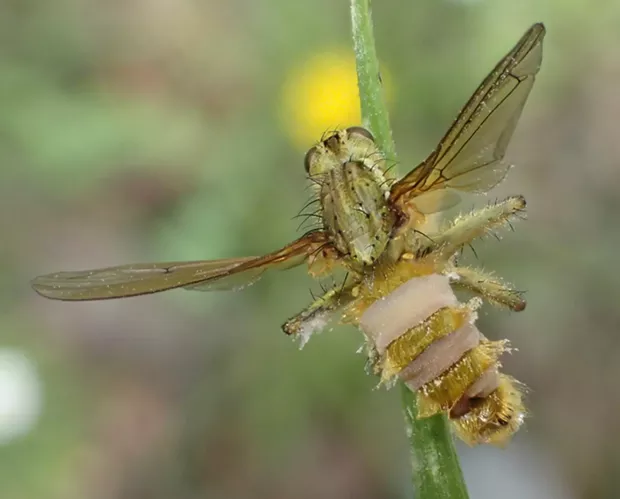 Photo by Anthony Westkamper
Dung fly, its nervous system invaded by fungus, locks up and dies. Look to tall blades of grass.
It rained this morning, giving me an excuse to not mow and enjoy the little English lawn daisies a little longer. Small flowers attract small critters and there was drama aplenty among the blades of grass.
First off, the zombie dung flies (
Scathophaga stercoraria
) are back right on schedule. The fungus
Entomophthora muscae
infects some species of flies, driving them to land on a tall blade of grass, lock up, and die there to distribute spores continuing the fungi's life cycle. Wikipedia has a succinct article on it
here
.
Photo by Anthony Westkamper
Thick headed fly killed by fungus.
A little farther and I found a thick headed fly of the family conopidae, apparently deceased by the same disease. These are known to be parasitoids of wasps and bees.
Just a bit more and a tiny fly on one of the English daisies moved strangely, so I investigated. The tiniest crab spider (family thomisidae) I've ever seen was dragging it over the edge of the flower by the neck. The spider's body was smaller than the head of a pin.
Photo by Anthony Westkamper
Tiny fly captured by tiny spider on tiny lawn daisy.
A fly so small sometimes I wonder how they can exist, landed on the tip of a blade of grass. I took the picture, and it flew away. Only upon reviewing it on my computer screen did I notice it is being parasitized by an even smaller mite.
Photo by Anthony Westkamper
Fly not much bigger than a pin head parasitized by mite.
All of this was happening within 30 feet of my front door. When I returned, right next to the steps a tiny grey and orange snake was basking on a fallen bottle of insect repellant — a Northwestern ring-necked snake (
Diadophis punctatus occidentalis
). Hardly thicker than a pencil as soon as I got the picture it dove under some leaves and was gone. I was surprised to learn this tiny and timid snake is venomous to their prey, like slender salamanders and smaller snakes. It is not dangerous to humans. I hope it sticks around so I get to see it again.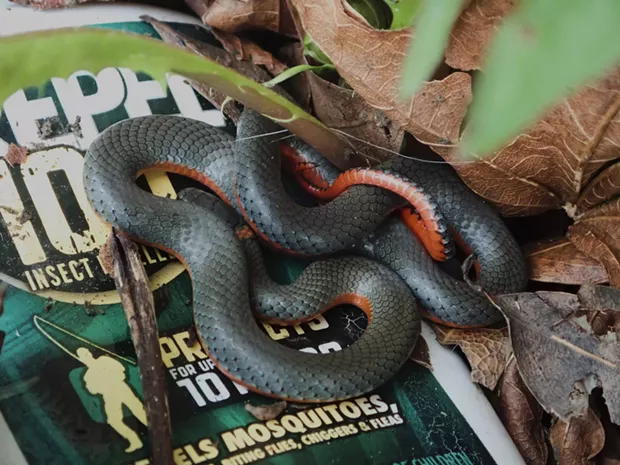 Photo by Anthony Westkamper
Northwestern ring-necked snake by my front porch.