Anthony Westkamper
An echo blue, or Celastrina echo. Its wings are about the size of a thumbnail.
I for one have had enough rain to last me a while. Many insects don't have very long to get down to the business of procreation and continually postponing it due to rain can be worse than deadly. In nature, insects only live for one purpose: reproduce, that's it. So, now the weather has turned, it's no surprise that the bugs are out in all their finery, struttin' their stuff, trying to attract an acceptable member of the opposite sex.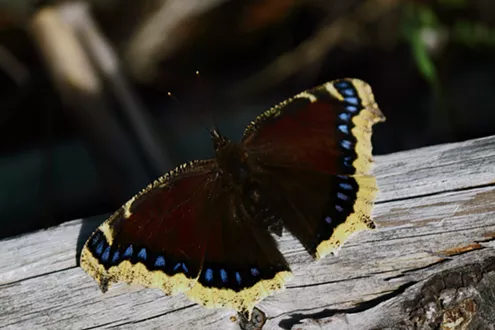 Anthony Westkamper
Mourning cloak (Nymphalis antiopal), named for its somber colors, is also found in Europe. This species can overwinter and comes out to fly on sunny winter days.
Anthony Westkamper
Red admiral (Vanessa atalanta) is always tricky to get close to.
In one day I've seen several mourning cloaks, a red admiral, an echo blue — all in full peacock display mode. A single Tule bluet (damselfly) cruised through the poison oak jungle, a gaggle of tiger beetles chased each other across the sandy spaces of river bar, and ... well, nature takes its course.
Anthony Westkamper
Blue/green tiger beetle. I'm not sure if this is a different species than the gray western tiger beetle (Cicindela oregona) or just a different color variant.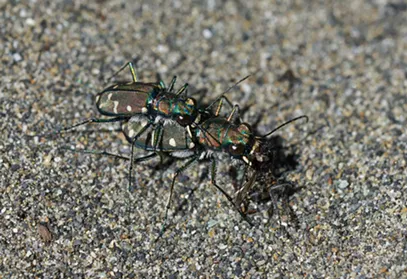 Anthony Westkamper
The female tiger beetle multitasks, dining on a fly.
What has bulging eyes, gray bumpy skin, eats bugs and hops? Why a toad bug, of course. Although they are fairly common, and well known, there isn't much written about them. Members of the order Hemiptera or "true bugs," you find them in sandy areas near water. They really do resemble tiny (1-centimeter) toads, and they do hop, usually just as I'm snapping their pictures, leaving me with an extreme closeup of sand. It wasn't until I looked at a few successful photographs on a monitor that I realized how bumpy and intricately patterned they are.
Anthony Westkamper
The aptly named toad bug.