Page 2 of 2
Anthony Westkamper
Elegant Sphinx moth with a ruler.
Cameras in hand, I was ready for a ceanothus moth, once locally common. I was in for a surprise. The clear wingspots on the front wings of her visitor told me this was a polyphemus moth (
Antheraea polyphemus
), a species I'd read about but never seen. Both the ceanothus and polyphemus are members of the family saturniidae, or giant silkworm moths, which includes some of the largest moths in the world. This one was easily as large as a small bat. They are beautiful and harmless creatures, lacking even mouthparts with which to feed. They do all their eating and growing as caterpillars, and after metamorphosing into adults they have one task only: seeking a mate to perpetuate the species. This one was a male. You can tell by the luxuriously ornate antennae that they use to follow the pheromone trail of the female.
Anthony Westkamper
Polyphemus moth perched on my neighbor's hand.
The next morning Sal Steinberg called letting me know the moth was still on their porch. I returned to get a few shots in the light of day. Naomi demonstrated how, when gently prodded, it flared its wings to display the eyespots on its hind wings. Entomologists believe this may act as an alarm response to frighten potential predators. I was concerned this specimen might have exhausted its limited energy reserves and would die there. Suddenly, it took wing and flew gracefully and rapidly disappearing into the surrounding woods to pursue its destiny.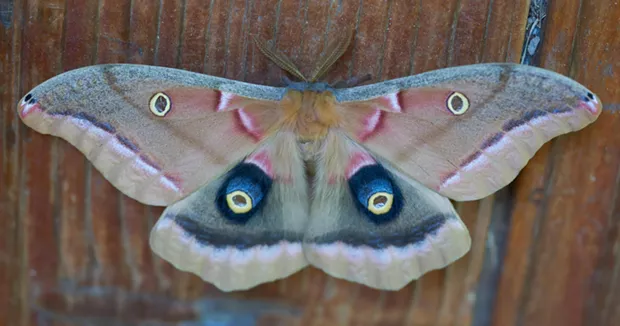 Anthony Westkamper
Polyphemus moth showing its rear wing eyespots.
I spent some time with my moth books and online resources, and came to the conclusion the moth in my yard was the "elegant Sphinx moth" (
Sphinx peregelegans
). Although not closely related, these moths are both named for mythic creatures. The larvae of the Sphinx family (sphingidae) rear up striking a Sphinxlike pose when threatened. Polyphemus is the name of the cyclops blinded by Odysseus in Homer's
The Odyssey
because of those transparent eyespots on its wings.