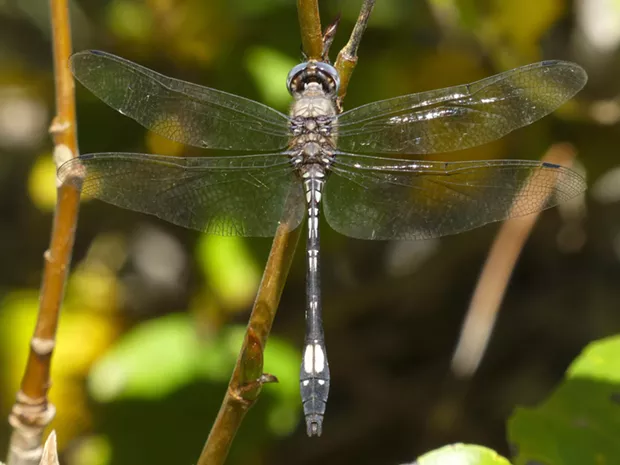 Photo by Anthony Westkamper
Pale faced clubskimmer.
I started looking for one of my favorite dragonflies, the pale faced clubskimmer (
Brechmorhoga mendax
), in July. That's when my files showed them flying along the flat stretches of the river where I see them dipping the tip of their abdomens into the water, depositing eggs. This year the first I've seen were in mid October. I didn't know what species it was until it perched in an alder conveniently near me. I think their black and white markings look kind of elegant, like a slim guy in a tuxedo.
Photo by Anthony Westkamper
A variegated meadowhawk.
The variegated meadowhawks (
Sympetrum corruptum
) have returned. This small, common, migratory species is notable in that it over winters here and can survive frosty nights. I have been noting this unusual behavior since 2010.
Photo by Anthony Westkamper
A delicate California spreadwing.
I've seen a lot of California spreadwings (
Archilestes californica
), a damselfly with blue eyes, that holds its wings extended to the sides when perched, rather than over its back.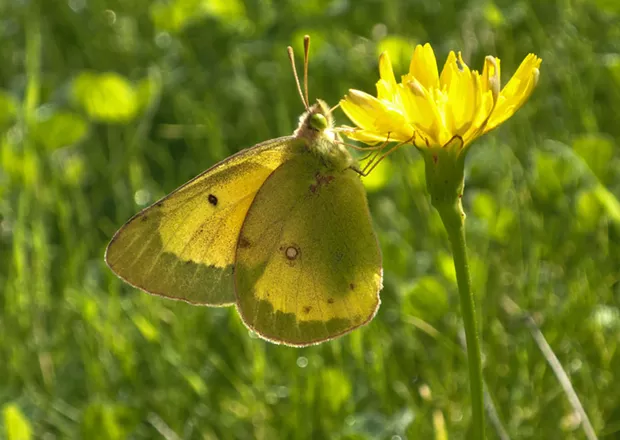 Photo by Anthony Westkamper
A clouded sulfur butterfly.
Along with woodland skippers, mylitta crescents, buckeyes and clouded sulfur butterflies common in the fall, I saw my first common checkered skipper (
Pyrgus communis
) of the year. The skippers are a family (hesperiidae) of mainly small butterflies notable for their rapid flight, stout bodies and having hook-shaped ends on their antennae. There has been some dispute regarding whether they were most closely allied to moths or butterflies. The current thinking is that they belong with the butterflies. For all of that, they don't seem to mind either way.
Photo by Anthony Westkamper
A common checkered skipper.