Photo by Anthony Westkamper
A rove beetle; note the squares in the background are 1 millimeter each.
Taking a break from splitting firewood, I noticed dozens of tiny creatures flying in the sunlight. Curious, I captured first a gall wasp, then a tiny rove beetle and, finally, a creature too small for my eyes to discern anything other than a black speck crawling on my hand.
Photo by Anthony Westkamper
A feather wing beetle on my hand.
A session with my dissecting microscope yielded a photo just good enough to post on www.BugGuide.net. Within an hour I got a reply. It is a feather winged beetle. At about 1 millimeter, this is fairly large in the ptilidae family, which contains the smallest beetles in the world. Evolution has pushed some of them so far into the world of the tiny they have lost many common organs, including a heart. This is probably near the limit of insect design. They are basically shells filled with nervous and reproductive systems, and enough muscles to get around. It amazes me that a thing this small can coordinate enough to fly and navigate.
For the next three evenings I used every lens, gadget and bit of imaging software I could to get a better image of the tiny animal.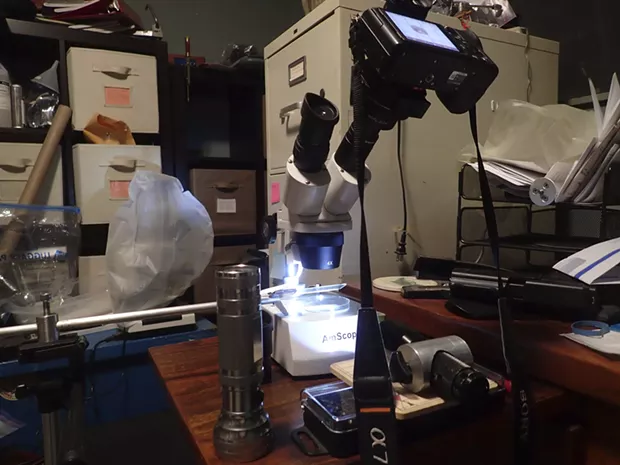 Photo by Anthony Westkamper
The rig I used to capture the six images necessary as fodder for focus stacking software to render the next photo.
Things balance out. In the warmer months the larger insects are out and about which require a lot less fussing to get a good shot. In the winter, the bugs are small but the nights are longer, allowing more time to get that just-right shot and more post processing to bring out the fine details.
Photo by Anthony Westkamper
A feather winged beetle, pushing the limits of all my kit.
This is just about the limit of my equipment. I need bigger bugs.