Anthony Westkamper
Sawfly larvae on underside of leaf.
Going out late at night allows me to see things many people might prefer not to. Lately, I've discovered several dwellers in the dark of which I was unaware.
What appeared to be several good sized caterpillars munching on wild honeysuckle turned out to not be future moths at all, but sawfly larvae. Closely allied with bees and wasps these creatures hide in the leaf litter on the ground during the day, only coming out after dusk to eat your plants. While they do resemble some moth larvae, you can tell them apart because they have more than four "prolegs." All insects naturally have six regular legs. On caterpillars and sawfly larva, those are the ones at the front. The prolegs which they will loose when they become adults, are the ones at the rear. Moths and butterflies have four or less, while sawflies have more than that. There are other differences regarding the shape of the larva's head, but I find prolegs to be the easiest distinguishing characteristic.
Anthony Westkamper
Highlighting leaves to find critters.
If you want to run right out and get a black light to find out what's making a late night snack out of your plants I'd suggest a regular flash light instead. Only a few of the ones I've seen actually fluoresce, but shining a bright light through the leaf allows you to see the ones on the other side as well, kind of like having X-ray vision.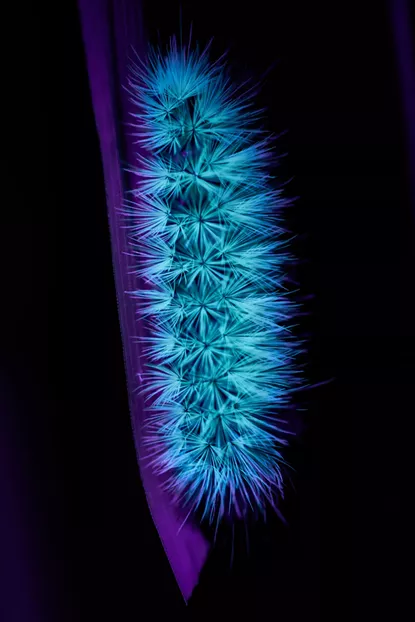 Anthony Westkamper
Fluorescent caterpillar (white tipped ctenuchid).
The black light also made a real caterpillar stand out. An online acquaintance steered me in the right direction to identify that one. It turned out to be the larva of the white tipped ctenucha moth (
Ctenucha rubroscapus
). The day flying adults usually appear in late July, through early August.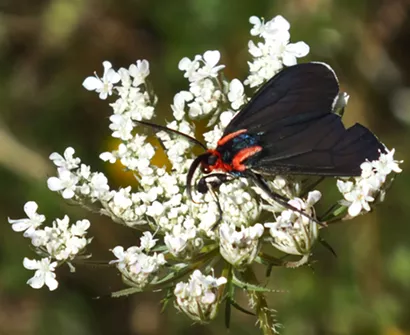 Anthony Westkamper
Adult Ctenuchid moth (white tipped ctenuchid).