Photo by Anthony Westkamper
Crane fly on my front porch shows halteres.
A reader recently suggested I write about a particular anatomical feature of the order diptera, which contains about 60,000 known species including flies, mosquitoes, crane flies, midges and gnats. Unlike most other flying insects with four wings, members of this group have only two. Evolution has reduced their rear wings to tiny club-shaped structures called halteres, or halters, that vibrate in synchrony with the wings and act as tiny gyros, providing information about roll, pitch and yaw to facilitate stable flight.
Another feature that sets this group apart is an expanded mesothorax (the central section of the thorax that is the central body part of the insect), often giving them a humpbacked appearance and room to house massive flight muscles.
Photo by Anthony Westkamper
Hover flies may be the ultimate in aerial agility.
Coupled with asynchronous flight muscles that can contract several times for each activation nerve pulse, these features have adapted them to live up to their name "flies." Members of diptera are some of the most powerful and agile fliers in nature.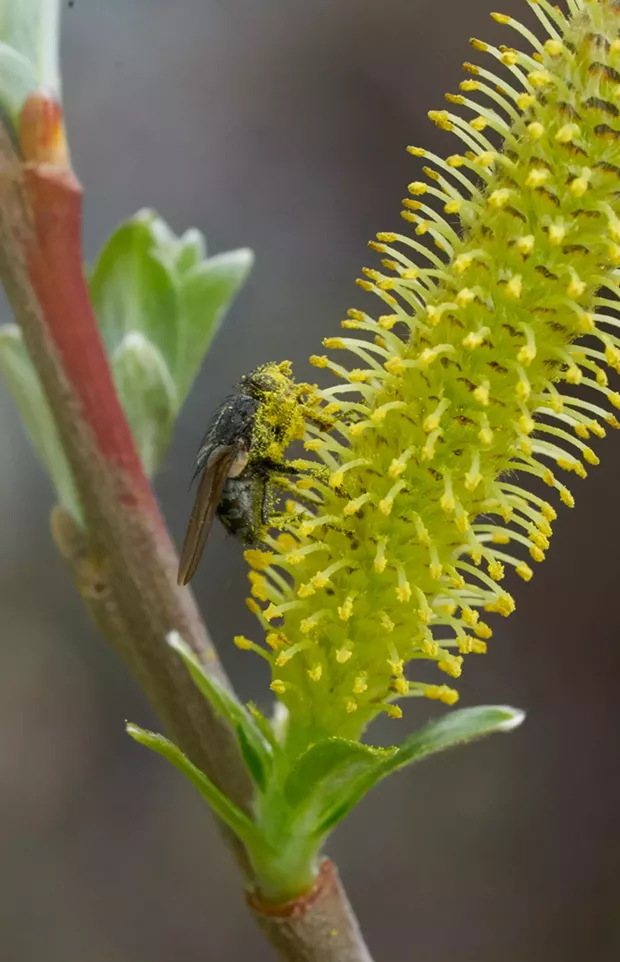 Photo by Anthony Westkamper
A fly providing pollination services for a willow.
As the group with the most diverse array of lifestyles, flies are a double-edged sword from humanity's perspective. Causing untold misery by transmitting disease and destroying food crops, this order certainly contains the worst of the worst. However, many members provide truly invaluable services in nature, such as pollination, biological control of many pests and disposal of all manner of crap (quite literally).
Photo by Anthony Westkamper
A giant robber fly dines on a yellowjacket taken on the wing.
An often violated but generally useful naming convention is when insects have the syllable "fly" in their name as a separate word, it indicates they are dipterans. Non dipterans have it included as a suffix in the name. Thus the dragonfly and butterfly are not flies, but crane flies and fruit flies are.
Photo by Anthony Westkamper
A horse fly.