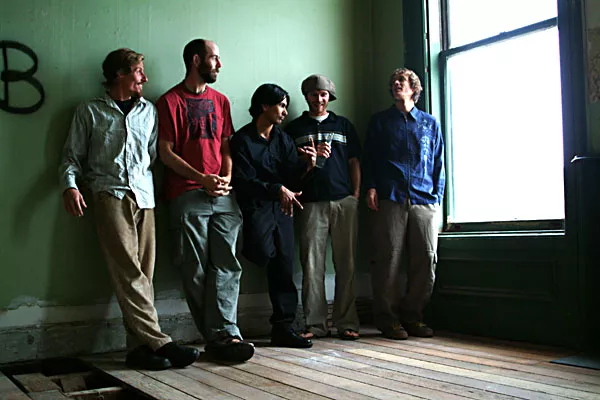 Absynth Quintet. Photo by Nate Luna
You've heard of the Northwest String Summit, the annual gathering of sting music bands and fans near Portland. Humboldt has its own version, on a much smaller scale: The String Thing. Chief instigator is Ryan Roberts, who plays guitar in Absynth Quintet, a stringband that falls somewhere along newgrass/gypsy-grass lines. He hopes to make the Thing an annual event.
"We wanted to have a string summit of our own," said Roberts. "We play string festivals all the time, but there wasn't one in Northern Humboldt. There's Bluegrass and Beyond [at the Mateel], which we're all playing next weekend, but that's a Southern Humboldt thing. The Arcata Theatre seems like the right venue. At first we were thinking we'd get a couple of out-of-town bands to mix it up, and that might be a long term goal, but for this first one we decided to focus on what we have here."
And what we have here in Humboldt is some good shit. Of course Absynth Q is playing, and there's a semi-import, harmonizing guitarist Angela Rose and cellist Kate Stone from Mendocino's Blushin' Roulettes. Bluegrass stalwarts The Compost Mountain Boys provide a more traditional approach, and The Bucky Walters have their own looser update on stringband music.
"I picked bands that represented what I think of as Humboldt County stringband music," said Roberts. "You have the elders in Compost, then you've got Kate and Angela's old timey haunting vocals thing, which I adore. They're from Mendo, but it's still a Northern Cali flavor in lyrical content and all. Then you have us playing, I don't know, accelerated spazgrass, or gypsy-Americana swing, or jamgrass or whatever. Then The Buckys are somewhere between us and regular bluegrass with their own take and approach. And we have Michael Walker and The Tell You Whats; Michael definitely has his unique approach." And he'll be aided by members of Absynth, aka the Tell Yous.
The plan is for collaborations along the way. "We all know each other, and we've all played together one way or another -- that's what made this whole thing come together as easily as it did -- so the plan is to switch it up as much as we can," Roberts concluded. So what shall we call it? Switchgrass? How about humgrass? It all comes down Friday, Sept. 11, at the Arcata Theatre Lounge. That's Arts Arcata night, so they'll offer some sort of free preview for Arts-A strollers before the main event.
As local bluegrass fans know, The Compost Mountain Boys have a regular once-a-month Thursday gig at Humboldt Brews. Sept. 10 is the next one. You can also hear the above-mentioned Bucky Walters Saturday afternoon at the Kneeland Music Festival (by the Fire Protection District office). Charlie Pecora, Way Out West and Old Dog will be up there too. Consider either show a String Thing pre-preview.
Wasn't St. Croix reggae star Army just here? Well, he's back with his 7th St. Band, playing Thursday, Sept. 10, at the Red Fox with Ishi Dube opening.
Seems like the flow of reggae never stops: Richie Spice and his brother Spanner Banner hit Nocturnum Saturday night with support from Jah Culture (Jah Sun and Stevie Culture) backed by Gravity, with DJs Selecta Prime and Itchie Fingaz on the turntables (and vid-deck).
Leftover Salmon frontman Vince Herman has been making regular stops in Humboldt since his old band folded, mostly with a folk/roots/rock thing he calls Great American Taxi. They're back for another taxi ride Friday, Sept. 11, at Red Fox Tavern.
Looking for cutting edge electronica and dubstep? Nocturnum has GrimeLogic Friday, with music in both rooms including S.F. beatmeisers Djunya, Mr. Rogers, Mykies Mcfilthy, Ripple, Subaddiction and Zapper, plus Sector 9 from L.A. and locals Psy Fi and Dojo, Mike D, Grasshoppa and Cadence.
You've heard of the woodworking firm Wallace and Hines, carvers of fine bars, including the one at Plaza Grill in Jacoby's Storehouse. Karrie Wallace of The Fabulous Bluejays does not make bars, but she has a new duo, Wallace and Phines, in which she teams with new-in-town bassist, Steve "Wildman" Phines for blues and such. They'll be playing in the lobby of Jacoby's Storehouse Friday for Arts Arcata.
Saturday marks grand reopening day for Redway's Persimmon Gallery after being closed for some time due to a major burglary. Says Persimmon proprietor Michael Curran, who will be playing drums with various friends, "It's a benefit for our new security system." Music runs from 5 p.m. on, starting with local songwriter Toby Halton, then moving on to vocalese from Bill Allison's Redwood Jazz Voices at 7, country blues by Damian Roometz with Sophia Zidel, SoHum jazzers Humboldt Time featuring vocalists Karen Dumont and Lisa Baney, "then we'll end the show with the Tommy Lockett Trio with the jazz fusion/funk bassist, Dave Wilson on guitar and me on drums," said Curran.
House of Floyd returns to the Eureka Theater Saturday night, once again tripping over to the Dark Side of the Moon with lasers, smoke machines and all that psychedelic biz. Expect this one to start and end early.
That could give you time to head over at the Red Fox that night for post-jazz jams by Jacob Fred Jazz Odyssey on what they've proclaimed "the greatest album release tour ever" in support of their fine *One Day in Brooklyn* release. For their West Coast dates they're traveling with electro artist Brendan Angelides, aka Eskmo and Welder, who seems to be some sort of digital split-personality.
Coming to the Red Fox next Tuesday, Sept. 15, a new project headed by jammin' turntablist DJ Logic and keyboardist Jason Miles called Global Noise. There's a star-studded album, Global Noize, and a slightly different touring version headed our way that includes Indian vocalist Falu and Groove Collective saxophonist Jay Rodriguez, with George Porter Jr. from The Meters working with young drummer Adam Deitch on funk rhythms; Logic doing his illogical scratching over all. Sounds global, cool and very funky.
Having just returned from a NW tour, alt. rockers Strix Vega are about to head for the Midwest, but first they play Mosgo's Saturday evening with alt. folky friends Chris Parreira and Mark Staley. (And don't forget, Mosgo's is an all ages venue.)
Ed Mudshi is here from Marseille (a city on the south coast of France) to play some "punk ultra-balizé" Saturday night at the Li'l Red Lion. Not sure what ultra-balizé is, but it sounds cool. I'm guessing there's at least one other band, sorry, I don't know who.
Formerly local slam poet John Dooley, now a Portlander, returns to his old haunts with his friend Gary Glover. Together they are Hydropods, a spoken word/music collaboration that recently took home an award for "Best Poetry" in the 2009 American Marijuana Music Awards. The duo performs music/poems from their new album, Gorilla and Poems of Pretense, at Muddy's Hot Cup Saturday, promising "to take your mind to places you normally wouldn't let it go without an armed escort."
Kansas City songwriter Dana Cooper's new album, Made of Mud, comes out officially on Sunday, but I'm guessing he'll have a few copies along when he plays a house concert locally on Saturday night. Call 839-7063 if you want to go.
Last but not least, some blatant nepotism: My favorite band on Earth, Cloaks, a pair of Arcata expats now living in Portland (that would be my son Spencer Doran and Ryan Carlile) are on a West Coast tour with like-minded PDXers The Slaves. They're playing an Arcata house show with the Starving Weirdos Wednesday, Sept. 16, at an undisclosed location. E-mail starvingweirdos@yahoo.com and they might disclose where. (You know I'll be there.)