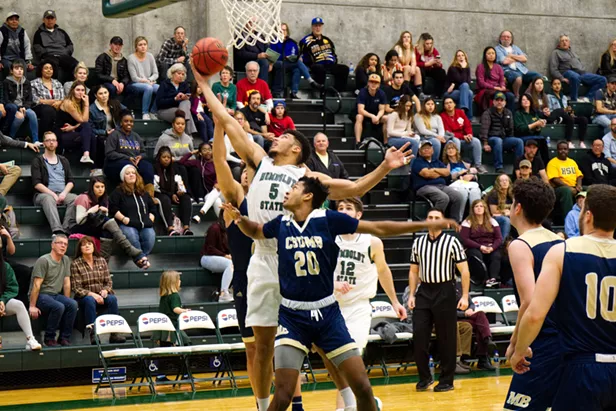 Matt Filar
Justin Everett goes for offensive rebound in men's basketball actlion at Lumberjack Arena.
Jose Quezada
A rain-soaked Eureka Logger crowd at Albee Stadium celebrated a mud splattered victory Saturday night over previously unbeaten Las Lomas, 21-0, in the semifinal round of the North Coast Section D-III playoffs.
Elliott Portillo
The Loggers of Eureka High School opened up their season with a convincing victory over the Liberty Lions in the first round of the Arcata Invitational Basketball Tournament at Arcata High School
Candice Lackey
McKinleyville High School won its opening game against Lower Lake in the opening round of the McKinleyville Tip-Off Tournament sponsored by the Rotary Club.
Jose Quezada
A shot at the Division IV State Championship football game fell as the Menlo-Atherton Bears scored with 8:06 left in the fourth quarter, seconds after the Eureka Loggers had tied the game at 20-20.
Jose Quezada
Tough defense prevailed as the Humboldt State women's basketball team clawed its way to a 72-42 victory over Cal State Monterey Bay at Lumberjack Arena.