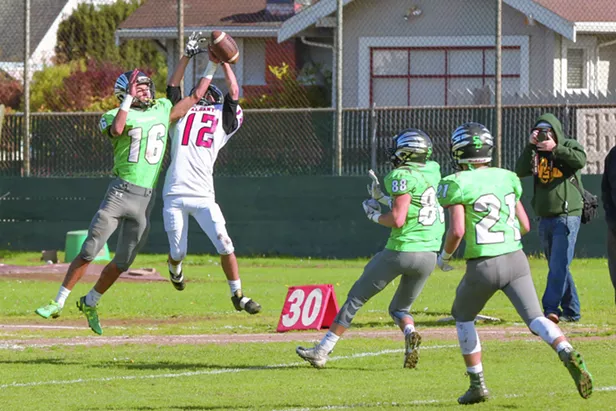 Sharon Falk-Carlsen
St. Bernard's Academy Crusader Sebastian Taylor goes up high to break up a pass. The Crusaders defeated the Albany Cougars 61-28 in the first round of the North Coast Sections playoffs.
Sharon Falk-Carlsen
Ema Brenes heads the ball forward to a teammate. The St. Bernard's Crusaders and the McKinleyville Panthers girls soccer squads needed double-overtime for the St. Bernard's Crusaders to finally win, 3-2, at Panther Stadium.
Tiffany Thomsen
A Senior Save the World Project by Gabe Sanderson raised funds for St. Jude's Children's Hospital. The project featured a volleyball tournament in which teams of freshman, sophomores, juniors and seniors competed against one another, with the winner then playing a final match against the Fortuna Varsity Girls volleyball team.
Tiffany Thomsen
Joey Pontes finds a hole in the El Molino defense as the Fortuna High School Huskies go on to win 51-14 in North Coast Sections playoff action Nov. 3.
Jose Quezada
Luis Romero finds a seam through the McKinleyville defense. A bruising double-overtime soccer match between McKinleyville and Eureka was still undecided after double overtime. The Eureka Loggers took the penalty kick decider-phase and final win by a 3-0 penalty kick margin.
Jose Quezada
Kallia Yang scores a goal for the Fortuna Huskies. Fortuna scampered around and through Arcata for a 3-1 victory in Humboldt-Del Norte League tournament playoff action.