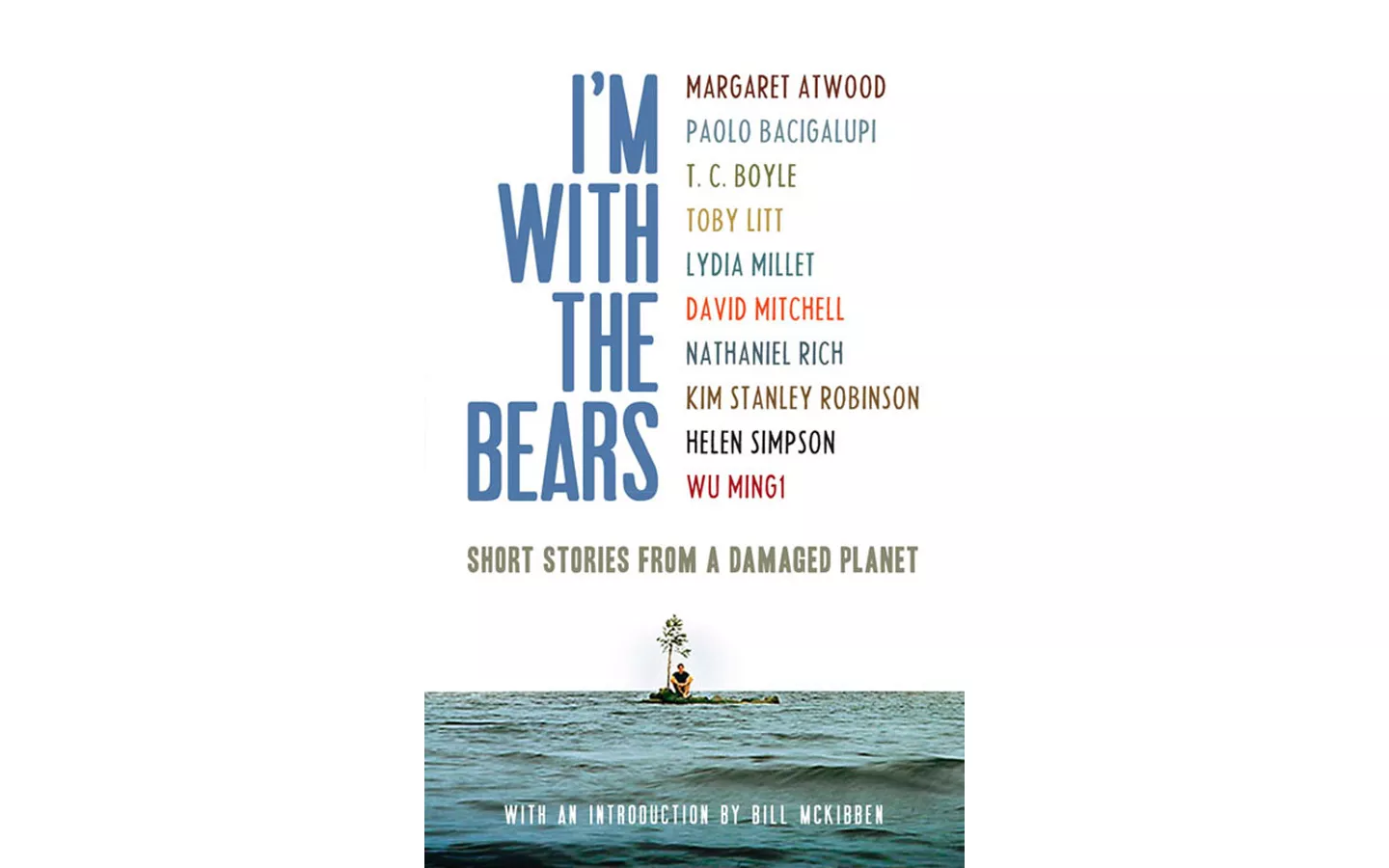 Edited by Mark Martin - Verso
I'm With the Bears: Short Stories from a Damaged Planet
As noted in Bill McKibben's introduction, this collection of 10 stories arrives in the growing shadow of the Climate Crisis. But these are not stories primarily about the Climate Crisis, and only a few mention specific manifestations. Instead they are meant to illuminate (as McKibben says), "not to push us in some particular direction." Still, sales of this book benefit 350.org, McKibben's advocacy organization dedicated to reducing the still-climbing output of greenhouse gases.
The book starts with T.C. Boyle's account of an environmental action in Oregon, and the complex emotional lives of participants. Lydia Millet's story, "Zoogoing" concerns a man's response to animals and the animal in himself. It's not as potent as Michael Ventura's novel, The Zoo Where You're Fed to God, but it does illuminate. Kim Stanley Robinson contributes a chapter from one of his Climate Crisis trilogy novels (though it's about a hike in the Sierras). In Robinson and Millet, characters contemplate the already visible implications of the destruction of the natural world as we know it, which the Climate Crisis may well complete.
Nathaniel Rich contributes a fantasy that illuminates the inadequate smallness of our scientific approach to nature. Then there are several post-apocalyptic stories -- a disturbingly popular genre. Helen Simpson and Toby Litt provide their variations on the breakdown of society. David Mitchell's "The Siphoners," combining futuristic horror with a teaching folktale, is more like traditional apocalyptic stories, which tended to be cautionary tales, saying basically that if we let this or that aspect of our society or technology play out to a logical conclusion, this catastrophe will result. There's conspicuously little of that here.
Wu Ming's story depicts persistent human and cultural qualities in post-apocalyptic circumstances, while Paolo Bacigalupi suggests a culture of survival in an ongoing ecological catastrophe that the previous stories imply.
When I saw Margaret Atwood's name as a contributor, I immediately anticipated her contribution might be "The Bad News" from her most recent story collection. It's the best story I've read that subtly illuminates our current condition since Charles Baxter's "Through the Safety Net" in the 1980s, only then it was nuclear war while today it is the slower specter of the Climate Crisis. But Atwood is instead represented by a shorter 2009 piece, "Time Capsule Found on a Dead Planet," a trenchant elegy for Earth -- and fatal human hubris.
These stories speculate on a variety of fates for the Earth. We could use more stories that explore how to best navigate the major and painful changes that probably lie ahead. This provocative collection is a start, and it's for a very good cause.