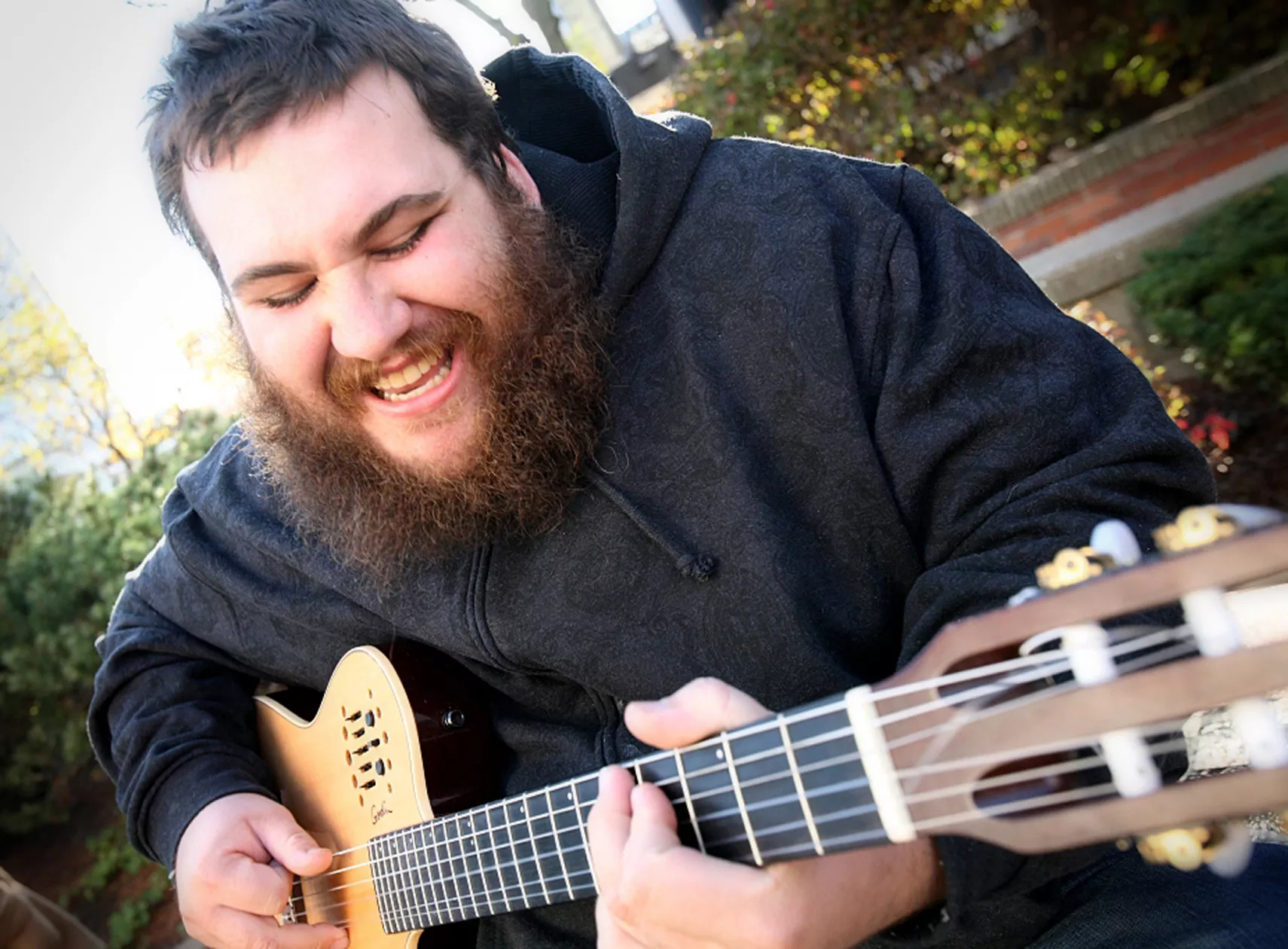 Late Tuesday morning the amiable Zach Deputy was just waking up after a long, long road trip. "We went from Jacksonville to Vegas, 40 hours straight," he explained in a call from his hotel. Zach is a modern day one-man-band who travels with a crew of three. Why? "I have more equipment than most seven- to 10-piece bands." Just too much gear for one guy -- a massive collection of looping devices and effects that let him get a full band sound from his guitar.
It's a style he stumbled upon by accident. He once had a band, but thanks to Xanax relaxation his bass player did not show up one night. "Instead of canceling I decided to wing it. I had a delay pedal/loop machine; I used an octave pedal to play the bass lines -- that was the first time I ever did it. Now I play everything, all the parts with a synth guitar and stuff. I can get pretty much any tone in the world. I can get women going 'ahhh' on my guitar, or horns, sax, steel drums. I play drums on my guitar. I can make any kind of music."
Why music? "I was an artist before, a visual artist," he said. "For me, music is the medium where I can explain things the best. I find I can explain how I feel with notes. For example, if you really love somebody, you can just tell them you love them, but that doesn't really show how you feel. With a song you can share your feeling. That's how it works for me anyway."
His sound is basically laid back reggae-tinged neo-soul/jamrock -- think Keller Williams meets Jack Johnson or Brett Dennen. (He's as tall as Dennen.) The fact that he's playing solo means independence: He's not tied to other musicians and he doesn't use backing tracks. "I'm not ever going to the route of anything pre-recorded. In my world it's the ultimate form of independence."
His business model is just as indie: He makes and sells his own recordings, although touring is his main income. "It's an incredibly hard time to make a living as a musician," he admitted, "but we're doing it. We're very excited because we took a huge hit a couple of year ago when all my gear was stolen -- someone stole my whole vehicle. Nothing was insured, so it was an utter nightmare. Now we're paying the bills and getting out of debt. I look at it as any business. You have to make an investment to make money, mostly we make it from ticket sales and merch."
He's on Bandcamp with a couple of studio albums and a lot of live recordings, mainly as a way to get the word out. "For whatever reason the '90s killed the value of an album, so people mostly quit making them," he said. "We basically encourage anybody to burn and spread as much music as they want, as long as they're not selling it. If it's not costing me anything, I don't care. The music is for everyone." Of course he has a few CDs with him on the road -- you'll find them on the merch table next Wednesday, July 6, when Zach plays Humboldt Brews. Venice Beach singer/songwriter Christopher Hawley opens the show.
Speaking of independence, as you know, Monday is the Fourth of July. There's music in the street in Eureka's Old Town and in the parking lot of Lil' Red Lion, as well as on the Arcata Plaza. And there are a few shows that night: Cher-Ae Heights has Grammy-winning Nashville country star Ty Herndon, who seems to have gone Christian country. Meanwhile Reno's "scumbag country" combo Hellbound Glory shares a bill at the Jambalaya with local honky tonk kings Rooster McClintock. Can I get an amen?
For a reggae Fourth-o-July hit the Red Fox where SoCal reggae rockers Sure Shot Rockers back old school Jamaican vocalist Papa Michigan, who used to tour as half of Michigan band Smiley.
A couple of pre-Fourth choices for the reggae massive: Amha Selassie Baraka is here from Hawaii for a Friday show at the Jambalaya on his "Blessed in the West" tour, backed by Inner Riddim, with NYC's DJ Natty plus special guest Madi Simons from here in Humboldt. Meanwhile, same night at the Red Fox, DJs Abba Roots spin dubwise, trading off with ska/rocksteady from Gabe's Pressure Beat Sound.
The long Indie Day weekend also includes Arts Alive! which means art and music all around Old Town and vicinity Saturday. And now that Trinidad is getting into the arts walk game with a "first Friday" event, you can find a seaside village version July 1 up north. Before you do the art walk you might want to stop in Westhaven for the Dollar-a-Dip Dinner, an afternoon into evening (4:30-6) potluck with music by Jenifer Breeze, Wes Fulton and Brendan Madsen. They also have a Trinidad Arts Night After Party at Trinidad Town Hall lasting until midnight, including music by Baby Pterodactyl and some sort of belly- fire-dance fusion by Tribal Fire Fusion.
Dell'Arte's Mad River Festival heats up late night Friday (after the not-to-be-missed Mary Jane: The Musical) with Red Light in Blue Lake, a "bawdy and bold" burlesque show directed by Michael Fields (who also directed Mary Jane). As you may have noticed there's a been a local resurgence of "burlesque," with several troupes of 20-something women strutting their stuff in scanty outfits, on some level rethinking the notion of sexy beauty for a new tattooed/pierced gen. This Dell'Arte event is not quite the same sort of thing; it's more, well, Dell'Artian, but with a cruder and lewder "adult" wink-wink-nudge-nude twist. This semi-annual show typically sells out, so you'll want to get your tickets soon.
Saturday night the Jambalaya hosts something called Mask-R-Aid, billed as a "benefit for local artists," which sounds kinda vague. If the performers get the money from the door, does that make it a benefit? They do have a lot planned, however, touching on many types of performance. Among the acts: The Janky Mallets samba drumline, punky rockers Twist of The Python, a banjo/guitar duo called Gunsafe (does that banjo make them a "bluegrass" band?) dubstepper Ill Noiz and Baki, a songwriter who is somehow connected to a clothing line. There's a fashion show aspect with YabYummi and Monica's Rock Chick Designs strutting their stuff. They also promise "comedic renderings" by Benito Carlos de Leon and Joe Was and Is, so there may be a few laughs. All that and an audience in costume.
The folks at the Arcata Playhouse found themselves in a bit of a bind earlier this week. As you may have read here last week, they'd booked a show with a NYC neo-honky tonk band, The Sweetback Sisters, who are coming west for this weekend's High Sierra Music Festival. At least they thought they'd booked the band in an email exchange with a booking agent. Unfortunately the agent did not find enough Sweetback gigs to warrant the early arrival, something the Playhouse did not learn until the night before the Tuesday show. Since the Water Tower Bucket Boys were coming down from Portland to open, they could not just call the whole thing off. Absynth Quintet to the rescue! Apparently unwearied by a recent road trip, the fleet-fingered pickers stepped in as a replacement. If you missed it, you have another chance to groove with AQ Saturday night as the quint headlines a benefit for the Petrolia Volunteer Fire Dept. over the mountain at the Mattole Grange in Petrolia, where "shift happens." The Way Out West Boys and The Tyrannosaurus Mess (I'm guessing Petrolia locals) open the show.