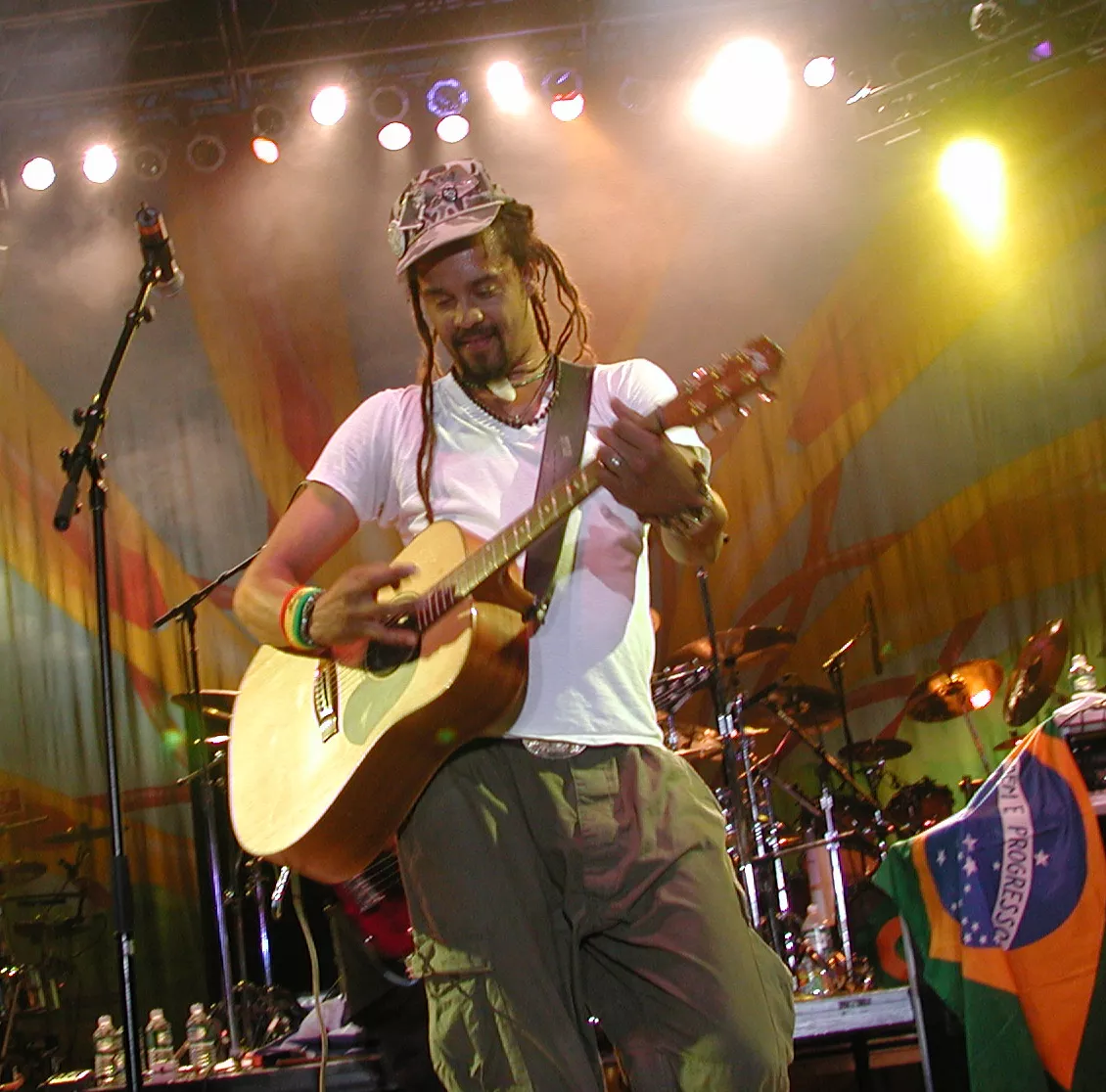 photo by Bob Doran
Michael Franti
No doubt about it. Humboldt loves Michael Franti. Of course, lots of folks do. Why? Let us count the ways.
He's tall, dark and handsome, but cute, with cool curls (thanks to Humboldt-made Jessicurl hair products).
Franti is the master of hippie hip hop: His rhymes are clever and he's a "fight the power" guy, but in a non-threatening way. And the Spearhead band rocks its hip hop with ripping guitar solos and reggae beats where appropriate.
A Spearhead show is an interactive thing, shot through with commands: "Make some noise, y'all!" or "Put something in the air!" There's lots of call and response, with Franti part gospel preacher, part Pete Seeger. When he says, "Everybody say, 'Whoa oh!' or 'Hey, hey, hey!' or 'Ee-yo-ee-yo-ee-yo,' the crowd does as told. When he asks people to take their T-shirts off, they do. When he says, "I wanna see you jumpin'!" -- people jump. He has that power.
Spearhead broke through to the mainstream with the MTV Buzz Bin hit "Hole In the Bucket" from the Capital album, Home, but Franti and company soon left the label and went indie. Looking back on his experience with a major, he told me, "One thing I learned was the way corporations work. They don't broadcast; they narrowcast. They try to find some little thing to put in everyone's home instead of finding out what people want to hear. ... What we're trying to do is make something that people who are into our music can contribute to, a place where they can have a voice. I want to make the revolution be irresistible, so that everyone who is young today can have an opportunity to party with people in a setting with others who are going to be conscious, who are going to say, 'When we're done with the show, we're going to clean up our trash.' " (Remember that Friday night.) "I want young people to know that the music is there to be a community, a rallying point from which we make changes in our world. ... I want to plant seeds of thought and suggest possibilities of change."
The folks at Blue Lake Casino suggest that ecologically wise Humboldters carpool or bicycle to the Michael Franti and Spearhead show on Friday. You'll reduce your carbon footprint and help ease parking demand. The show is in a tent in the parking lot, and there are plans to use an empty lot behind the casino for overflow. Still, 3,000 party people are expected, it's been raining and mud is a real possibility. Gates open at 6:30 p.m.
Stiff competition for Spearhead comes from The Absynth Quintet's Third Annual String Thing Friday night at the Arcata Theatre Lounge, a stringband marathon with 10 -- count 'em -- 10 acts, around 40 musicians on two stages: The Water Tower Bucket Boys from Portland, The Random Canyon Growlers from Wyoming, Colorado songstress Rorey Carroll with former local fiddler Zebulon Bowles, Tom Toohey's Django-ish Bon Swing, Lyndsey Battle and her band, folky trio Trillium, the old timey Striped Pig Stringband and wildness from The Bucky Walters (who have just released another album, In Our Hands). "We have the famous flaming knife-juggling clown Steven Weven as our MC," said AQ's Ryan Roberts. "A lot of the musicians know each other so there should be a lot of crossover -- it's like one big extended family. It's going to be a ball."
A couple of years ago when drummer Antonio Sanchez came to town for an unforgettable Redwood Jazz Alliance show, his quartet featured two saxophonists, Donny McCaslin, who returned with his own band for a recent RJA show, and David Binney, who brings The David Binney Quartet to the Kate Buchanan Room on Thursday. Binney's alto fronts a collection of top-shelf New York-based "avant-contemporary" jazzers including Cuban pianist David Virelles, Norwegian bassist Eivind Opsvik and Jersey-born drummer Dan Weiss, who is deep into Indian music and doubles on tabla. Expect music that takes off in many directions, always returning home. As usual the band will present a free public workshop the following day, in this case Friday at 10 a.m. in HSU's Music 131.
More jazz? Friday Persimmons celebrates guitarist Jim Wilde's 65th birthday with jazz by Wilde, saxophonist Francis Vanek, Sam Maez on trumpet, Geoff Daugherty on bass and Michael Curran drums. Bonus: Cake! Saturday Persimmons has Bay Area guitarist Lee Waterman, founder of the Latin jazz combo Jazz Caliente, with Vanek and Curran back for more.
The name Peter Ostroushko might not seem familiar, but there's a good chance you've heard him before. He played mandolin (uncredited) on Bob Dylan's classic Blood on the Tracks. Raised in Minneapolis, he spent years as music director for A Prairie Home Companion, and his fiddle and mando were heard frequently on that show. Sunday Ostroushko plays a Humboldt Folklife concert at the Arcata Playhouse, where he's joined by Italian guitarist/vocalist Beppe Gambetta.
Also at the Playhouse this coming Tuesday, Wahid, a jazzy world music duo with Greek oud player Dimitris Mahlis and Chris Wabich on various percussion. Wabich has recorded with Leonard Cohen and Sting among others.
Saturday the Ink People take over the Playhouse for their annual Beaux Arts Ball with SambAmore, Ukulele Keo, Queen Serene, Onhell, Raveon Beautiful, Joshua Boronkay, and a sing-along with Julian Lang. Your host is the lovely Kati Texas from the Rural Burl Mural Bureau, the Kinetic Universe, etc.
Meanwhile out in Blue Lake, Playhouse Arts and Four on the Floor Theatre (Jackie and David) present Elemental: An Outdoor Spectacle starting with a lantern procession from near Mad River Brewing to the river itself with stilt walkers and giant puppets. It proceeds with a shadow play and a fire performance -- very elemental, totally magical.
Earlier Saturday in Blue Lake's Perigot Park Hoptoberfest celebrates the art of brewing with lots of beer, plus music by The Rezonators, The Trouble and Speak Easy Saints. Proceeds benefit arts and sports programs at Blue Lake Elementary.
You'll also find The Trouble at the Jambalaya Thursday opening for The Quick and Easy Boys, a funky psychedelic honky tonk power pop trio from Portland. (Where else?)
Rock on Friday at the Jam with Eureka neo-classic rockers Sour Cream and the blues power trio Children of the Sun. Saturday the Jam brings back the electro-funky sounds of Moo-Got-2.
Get your dose of bass and electro Saturday night at Nocturnum with Sexytime, a duo with MiMoSa and Sleepyhead, plus Selector Science and InI, all on that BassCraft system.
Got reggae? Saturday at the Red Fox Spirit Vibrations presents New Jersey alt. reggae band Echo Movement and SoCal's Ease Up on a tour for Original Skateboards that they're calling "The Music Played On Tour."
Something heavier? Saturday at the Alibi, upsidedowncross presents Laudanum, a "nihilistic corrosive blackened metal" outfit from Oakland, with local ambient droner Golden Raven.
It's blues as usual at the Riverwood Inn Saturday night with harp master Mark Hummel and his Blues Survivors, featuring guitarist Steve Freund. Next Wednesday the Inn has a rare weekday show with Petunia and The Vipers, a Canadian honky tonk outfit that includes some of the late Ray Condo's Ricochets.
Bad Kitty Norm has a busy week ahead. Thursday he has a show at the Red Fox with Myrtle Beach ska/punk/horror rockers The Independents and locals A.M. Beers, a spin-off from Smashed Glass. Saturday Norm brings L.A. psychobilly vets The Rocketz to the Firewater Lounge for a free show that falls on the birthday of Rocketz' guitarist Tony Slash. Gunsafe opens. Then on Tuesday he's back at the Fox for a triple bill with Santa Cruz rockabilly boys The Chop Tops, Seattle roots rockers The Hard Money Saints and Claremont "shamrock-abilly" trio Craic Haus. Whew.