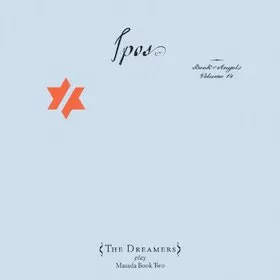 John Zorn is way out, too much. His prolific outpouring of compositions exploring a wide array of musical forms and formations, using a stable of stellar musicians, is overwhelming. To make it more confusing, Zorn's cross-pollination of his own musical categories and groups, often blur these marking points.
Even though Ipos: Book of Angels 14 is the listed as the 14th volume of the "Masada Book Two/Book of Angels" series (that's 14 since 2005), the new release more logically follows a series of similar recordings that began in 2001 with The Gift, followed by 2008's The Dreamers. Those sessions used essentially the same personnel as Zorn's Electric Masada: Marc Ribot (guitar), Trevor Dunn (bass), Kenny Wollesen (vibraphone), Jamie Saft (keyboards), Joey Baron (drums) and Cyro Baptista (percussion). The sonic landscape for these recordings is simple: reinterpret Jewish folk melodies through a musical lens of surf rock and Martin Denny-like exotica. (In a 2005 NPR interview, Zorn stated "Dick Dale shreds. He's welcomed to anybody's bar mitzvah.")
And though it is not a dramatic departure than these predecessors, Ipos maintains an appeal. There's excellent musicianship, the compositions are fun, assessable, bearing a contemporary edge. This time he leans towards a heavier guitar sound, and Marc Ribot's versatile guitar style, one that has been featured in diverse recordings from Tom Waits to Elvis Costello to Robert Plant and Alison Krause, is prominently featured throughout. On the longer, mid-tempo pieces such as "Qalbam," "Ezriel" and "Galizur," which hits the vein of the hard guitar riffs of The Rolling Stones' "Can You Hear Me Knocking," Ribot, to borrow Zorn's description of Dick Dale, shreds. Ribot, like the rest of The Dreamers, also executes a more subtle, quiet side on compositions such as "Hagai" and "Zortek," tunes that feature a cool interplay between Kenny Wollesen's vibes and Jamie Saft's '70s-esque, spacey keyboard lines.
Zorn has presented his most assessable "rock" record to date, providing an excellent head start on summer soundtracks. Ipos, as a result, is yet another impressive addition to the epic catalogue Zorn has amassed in a relatively short amount of time. With the "Masada" series, he has found a multitude of approaches in deconstructing Jewish folk songs, constantly bringing different formations together. Because of this, Zorn never seems to be simply re-treading old ideas.
Appropriately, the closing number, "Kutiel," is Zorn's fitting tribute to Dick Dale, one that carries both the spirit of Dale's legendary, muscular surf guitar style and Zorn's NY No Wave sensibilities. Can you shout, "Cowabunga!" under the humid summer sun, on the hot concrete and tar beaches of New York? I believe Zorn and The Dreamers just did.