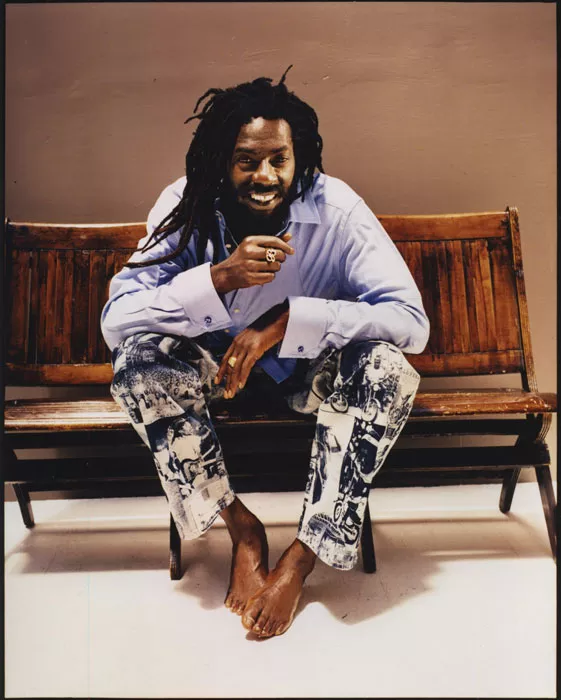 Last Wednesday evening, a group of gay rights advocates, concert promoters, venue owners, politicians and media scribes gathered in an oval of uncomfortable chairs on the dance floor at Aunty Mo's in Eureka. For many in attendance, the discomfort likely had more to do with the topic of conversation than the chairs.
In the past six months, threats of protest have effectively canceled shows by dancehall bad boys Buju Banton, Bounty Killer and Capleton, all of whom have been called out for their violent gay-bashing lyrics ("The Hum," Oct. 8, 2009). This series of confrontations has put everyone involved on edge. Venue owners and concert promoters feel they've been bullied and intimidated. Many were evidently unaware that the artists in question were controversial until they started receiving angry e-mails and phone calls -- not all of them civil. LGBT (lesbian, gay, bisexual and transgender) rights advocates, meanwhile, steadfastly refuse to roll out the red carpet for dudes whose lyrics call for their torture, mutilation and murder. Last week's forum, organized by the Humboldt Equality Coalition, a Voltron-like alliance of local LGBT advocacy groups, was an attempt to find common ground.
Among the attendees were Arcata City Councilman Shane Brinton, Fourth District Supervisor Bonnie Neely and Fifth District candidate Patrick Cleary. Co-organizer Todd Larsen, who founded the group Queer Humboldt with partner Michael Weiss in 2003, said the last six months have put their group in a bad light. Getting the shows canceled was the right thing to do, he said, but after three in a row, "We're thinking, 'Oh great, we're Queer Humboldt: concert cancelers. That's all we need to be known as.'"
Larsen, Weiss and "Humboldt Against Hate" blogger Mitch Trachtenberg argued that this is not a reggae/dancehall issue or even an LGBT issue, per se, but rather a matter of community standards. "It just doesn't seem like a big request to find people who are not singing, anywhere, about killing people," Trachtenberg said.
A good rule of thumb, perhaps, but some context on the specifics here is illuminating. The riddim of Jamaica, unfortunately, does not always follow the "One Love" tenets of the late, great Bob Marley. Buju Banton, Bounty Killer and Capleton have each recorded songs that overtly suggest murdering gay men, whether by drowning, shooting, burning or stabbing. Lest this be dismissed as post-modern irony or, as some have argued, metaphorical indictments of child abusers, consider that in 2004 Banton was implicated in the violent beating of six gay men in his native Jamaica, where at least 35 gay men have been murdered since 1997 according to Amnesty International. (Banton was eventually acquitted -- suspiciously, some say -- due to a lack of evidence.) Numerous media accounts have described crowds gathered in celebration around the mutilated bodies following such murders. Human rights groups have dubbed Jamaica the most homophobic place on earth.
Some business owners and promoters, as well as many disgruntled reggae fans, have argued that you can't fight hate with hate. By forcing cancellation of these acts, they say, protesters are the ones showing intolerance -- infringing on the artists' rights to free speech. Sheryl Bybee, promoter and publicist for the Reggae Rising festival, further suggested that allowances should be made for religious and moral relativism. "Everyone has a different outlook depending on your belief system," she said. "If your belief system is the Bible then what these guys are doing is not wrong... ." (This comment prompted a mass sprouting of raised hands.)
Gil Miracle, whose Eureka venue, Nocturnum, was targeted by protesters for agreeing to host Banton, said that while he agrees with protesters (and, incidentally, the Supreme Court) that free speech shouldn't extend to threats of violence, the events of recent months have left a bad taste in his mouth. Protesters may be exercising their own free speech rights, he said, but the effect hardly differs from outright censorship. "The last thing I can afford is to have some truly homophobic douchebag come inside [Nocturnum] and get trashed, then go out and pick a fight with some protesters," he told the Journal last week. Threats of protest leave him with no options but cancellation, he said. At the meeting Miracle suggested a different approach. "The way we do it is we strong-arm these guys [like Banton] into trying to clean up their act." Specifically he recommended telling such performers that if they launch into a gay-bashing song their show will promptly be shut down.
Lara Cox, who owns the Arcata Theatre Lounge with her husband Brian, was skeptical of that approach. Bounty Killer's promoter suggested that very thing, she said, but she dismissed the idea as impractical. "I'm hard put to stop the show at end of night," she said. Pull the plug mid-song and, "We'll probably have a riot on our hands."
While the LGBT activists stood firm in their stance throughout the meeting, business representatives like Cox were conflicted. A list of 11 particularly offending dancehall artists, provided by the Humboldt Equality Coalition, reminded Cox of McCarthy-era blacklisting. Who's to say the list is trustworthy or comprehensive? Should she be expected to vet each and every artist before booking them? "The balance of supporting arts [and] not censoring but also not supporting violence is a very fine line," Cox said.
Activist Fhyre Phoenix disagreed. "It's not a fine line; it's a very clear line," he said. "You cannot come into this community and threaten anybody without pissing off a whole lot of us, including me."
The challenge for people on all sides of this debate, said facilitator Jessica Pettitt, is to keep such anger from turning adversarial. "If we can stop pitting ourselves against other groups, I actually believe we will dismantle oppression -- of all forms," Pettitt said. "The hardest part of doing this really simple thing is you have to figure out who you're pitting yourself against ... and stop doing it."
A second meeting -- date and time to be determined -- is planned for later this month. The goal will be drafting a "no murder music agreement" to guide artists, venue owners and protesters in the future. With this issue showing no signs of abating (see this week's "The Hum"), the key word there is "agreement."