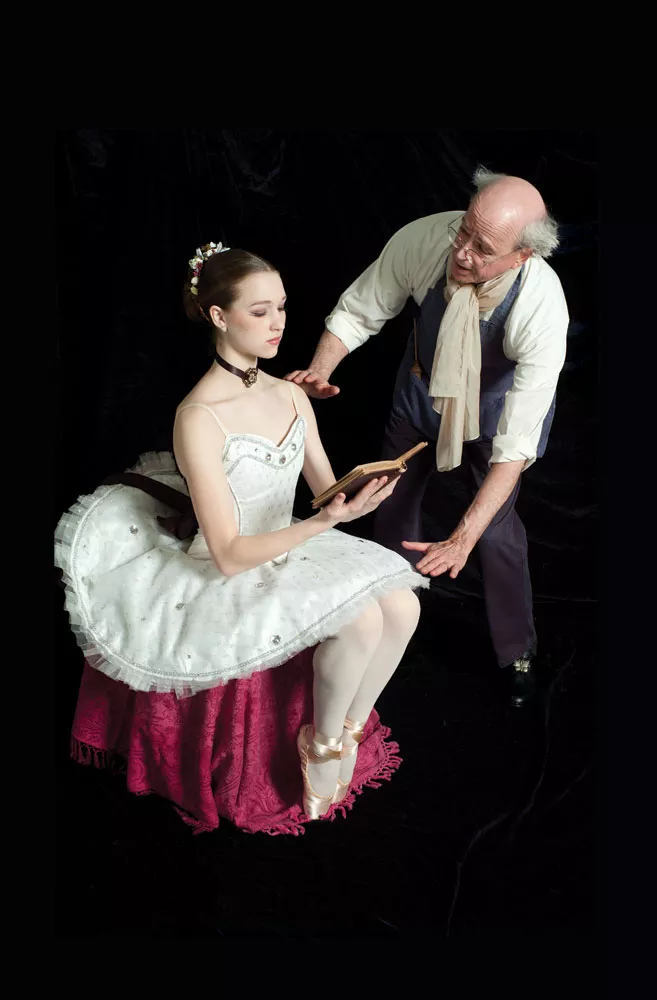 photo by Ken Mierzwa
Harmony Sorter as Swanhilda dressed up as Coppelia, and Mark Hapgood as Dr. Coppélius in Coppélia
Before the modern age of nuclear families, human beings lived in closely knit groups of tribes and villages. The seriously committed extended family was a part of everyday life. Today, not so much. It can get lonely. So, we do stuff together.
The pursuits we follow bring us into instant pockets of intentional communities. We forge tribes and find connection in shared interests. We inhabit our own shifting villages as we gather for activities that bring us together. The performing arts serve as a great unifier of kindred spirits; artists become part of an active subculture. In traditional village life, dancing together was integral to the life of the village. In Humboldt there are many small dance scenes. Bringing them together, now and again, is integral to keeping the dance community thriving.
Heather Sorter of the Upper Studio in Bayside founded the Humboldt Dance Alliance, a DreamMaker project of the Ink People Center for the Arts, to serve as a foundation for annual full-length ballets she directs and produces. Sorter, a mother of two and a stunning dancer whose career includes dancing for Pacific Northwest Ballet, says she, "wanted to give my experience of ballet training and performance -- to recreate it here." Besides the boon for the audience, it's a gift to the dancers, who come from many different studios to perform in her ballets. After the success of last spring's A Midsummer's Night Dream, Sorter is tackling Coppélia, a comedic ballet that premiered in 1870.
At rehearsal at the Pan Arts Studio in Arcata, modern dance instructor Bonnie Hossack, at Sorter's behest, reimagines the Prayer Dance from Coppélia with a quartet of ballerinas. Leslie Castellano of Synapsis is also collaborating on this section with performers who will be hanging from aerial silks above. Anything Castellano is involved in proves to be both physically and emotionally gratifying. So is Hossack's movement ingenuity, evident as she negotiates "the challenge of trying to incorporate the aerial work with the dance on the floor," with sweeping floor patterns that weave cloth and performers.
The ballet dancers rehearsing with Hossack acknowledged the value of working with dancers and choreographers outside of their home studios. "It's really cool to get exposure to different people," said Emily Curtis, echoed by 14-year-old Delaney Goodman who finds it "interesting to see people's flair," the personal expression they bring to their dancing. Her older sister, Dakota, says she enjoys "learning why they love to dance," perhaps broadening her own definition of the art form she's been pursuing most of her young life. Iris Van Atta, who has danced principal classical roles, said she's "appreciative of the opportunity and the exposure of being in a big ballet here in Arcata."
Much of Coppélia is filled with village scenes replete with balletic versions of the traditional folk dances, the Mazurka and Czardas, choreographed here by Sorter's sister, Holly McGovern. It is such fun to watch art and reality play as the temporary village of 35 dancers step out onto the town square to dance their village dances, keeping it all alive.
Coppélia runs Friday, March 30, and Saturday, March 31, at 8 p.m. at HSU's Van Duzer Theater with a 2 p.m. Saturday matinee. Advance tickets at Threadbare Dancewear in Arcata and Berliner's Cornucopia in Eureka: $15, $10 for children under 12. At the door $20, $12 for under 12.
Coming in April: The HSU Dance Studies Program presents its spring concert, *Of Time and Rhythm, April 11 through April 14 at 7:30 p.m. and April 15 at 2 p.m. at the Van Duzer Theater. Director Sharon Butcher is restaging her hilarious work from a few years back, No Ecosystems Were Harmed During the Making of this Dance, with an able cast of 20. Imagine belly dancing Statues of Liberty gyrating in costumes made from over-lapping layers of plastic bottles and ballerinas with their feet in plastic wastebaskets, trying to be graceful while dancing in buckets. A must-see. The concert also includes Constellations from the repertory of faculty member Erin Fernandez McKeever, a fast-paced piece performed en pointe that challenges its cast with dicey ensemble footwork and nuanced phrasing. Look forward to new pieces by faculty and students to make up the rest of the program. If last year's' concert was any indication, this show should kick some butt. Many of this talented crop of dancers, who can hoof it like mad and* choreograph engaging work, were freshmen and sophomores then -- they should be back this year in full force. Admission is $10, $8 for students and seniors. For more information call: The HSU Department of Theater, Film and Dance 826-3566.
Don't miss Dance Ink Day on April 21 at Redwood Raks, a marathon dance concert to benefit the Ink People Center for the Arts. Companies, choreographers and dancers from all over the county are converging to raise funds for the Ink People, our local public cultural development organization. This unique concert experience will showcase the talented dance artists of Humboldt in short, back-to-back performances running continuously from 4-8 p.m. --$10 gets you a hand stamp with in-and-out privileges. If you're thinking that sounds like too long a show, you might find out when your friends are performing and drop in then, or come early, come late, or come in the middle. Just be sure to come and be part of the dance village for a day. For more information contact Carrie Maschmeier at the Ink People at 707-442-8413 or carrie.ink.people@gmail.com.