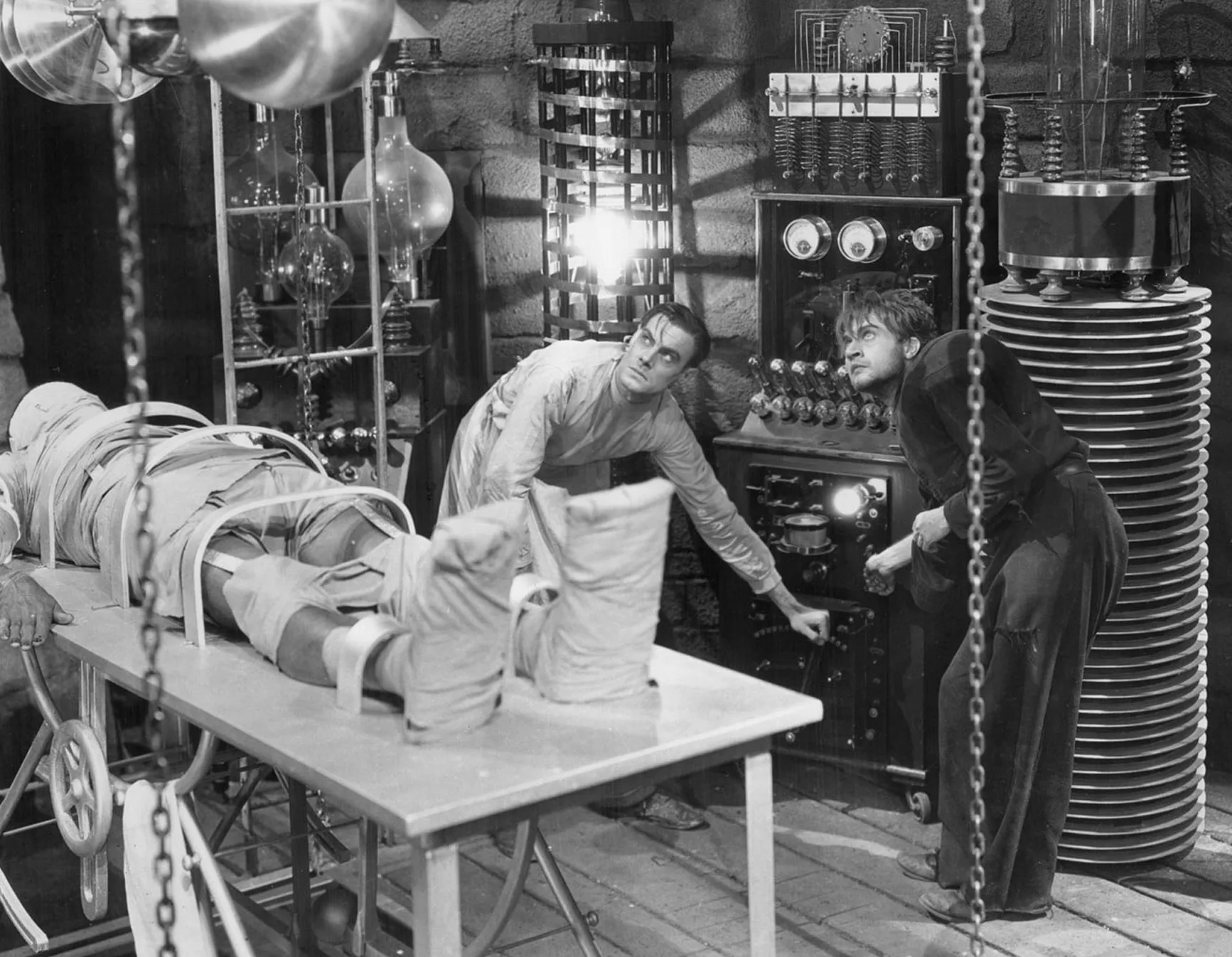 "It's Alive!" says Dr. Frankenstein to Igor
This Saturday is the first one in the month, which makes April 7 Arts Alive! night in Eureka. That's "arts" plural -- not just art on walls, although there's plenty of that. And, to quote Dr. Frankenstein, "It's Alive!"
You'll find some of the usual musical suspects in some of the usual places: human jukebox/accordionist Rick Fugate somewhere on F Street, Kenny Ray and The Mighty Rovers at Humboldt Baykeeper, The Living Rooms at Café Nooner, Dr. Squid rocking Steve and Dave's after the art walk.
The John David Young Trio plays jazzy folk at Ramone's that night (or is it folky jazz?). The Soulful Sidekicks folk it up at the Wine Spot. Bluesman Jim Lahman brings his band to Old Town Coffee; Blue Sky is at Mantova's Two Street Music. Holbrook and Bear play mellow jazz at Sewell Gallery with special guest Dave Wilson on guitar. Berel Alexander plays his guitar at Lucidity; don't be surprised if some of his friends bring instruments. Raw blues guitar ace Buddy Reed and The Rip It Ups do just that at The Speakeasy.
The Trouble plays at the Eureka Inn that night starting around the time Arts Alive! ends (9), but the music starts earlier (7 p.m.) with sets by Frankie Hernandez and the awesome finger-style guitarist Todd Krider. Chris P from The Trouble notes that the show is free, but "donations are encouraged (as is formal wear)." The Trouble is also planning a silent auction and raffle to raise money for its first studio album.
Across the way at the Morris Graves Museum of Art, a new duo: Michael Dieter and Nola Pierce. You'll remember Nola from Vintners' Daughters and the a capella group, AkaBella. Michael played bass in Ponche, Miles Ahead and Vintage Soul among other bands, but here he's added finger-style guitar, banjo and percussion with tape samples and loops shifting the sound toward alt. Americana.
Next door at the Eureka Theater it's the big burly-cue show, Sweet Dreams, with pretty much every troupe in Humboldt: Beat Vixens, Va Va Voom, Bada Bling (spun off from SoHum's Blushing Barefoot Burlesque) and your hosts, Blue Angel Burlesque.
Random Acts of Comedy does that improv thing at Redwood Curtain for Arts Alive! The Journal's "Field Notes" columnist, Barry Evans, has a photo show, "Travel the World," in the lobby. (He just might sign a copy of one of his "Field Notes" books for you if you ask.)
Post-AA! at Lil' Red Lion, it's a U-Freaka triple bill with DownLooksUp, Splinter Cell and The Tweeners, not necessarily in that order since, at least theoretically, The Tweeners should play in between.
The Red Fox promises music all day: "We're beginning to do daytime funk and jams from 1 'til 7 p.m. on Saturdays before Arts Alive! starting this week," says Fox house organist (and co-owner) Brian Swizlo, the man behind the "Will Jam for Food" food-drives. "I'll host some, and there will be guest hosts and bands to get down with Saturday afternoons." Contributions for Food for People are encouraged. Later that night -- after AA! -- the Fox hosts a Sweet Dreams after-party with DJs for dancing.
Speaking of DJs for dancing, Humboldt Surfrider and Friends Of The Dunes host The Beach Ball, a collaborative benefit on Saturday night at the Arcata Theatre Lounge featuring the Missing Link DJ Crew. Incidentally, DJ Matt Jackson who looked übercool dressed as a caped crusader at the last HumBrews M.L. Soul Night, denies being part of a "crew" since the guys do not do unison dancing and do not wear matching costumes. (We want matching costumes.) Also on the Beach Ball bill: The Grass Band. Lest you be confused by the name, this Humboldt band does not play "blue"-grass or jamgrass, or any sort of -grass type music. As the band boldly declares on Facebook, "We play original homegrown Rock & Roll!!!" (with capital "R"s). The Grass Band got its start a decade ago when guitarist Mark Morin, bassist Dan Davis and drummer Cris Johnson started getting together to play covers of their favorite songs. Growling blues harpist Joe O'Connell would join soon after to make it a quartet. Original songs in the down 'n' dirty blues/funk/rock vein started taking over from covers, although you'll still hear some classics. The fundraising side of the Ball includes a big raffle with surfboards, wetsuits, vacation packages and more up for grabs, so bring some extra bucks to buy a long strip of tickets.
Also on Saturday night, Professor Gilbert Cline directs the 30-piece Humboldt Bay Brass Band and other smaller brass ensembles in a multifaceted concert filled with familiar melodies including works by George Frideric Handel, John Phillip Sousa, Scott Joplin and The Beatles.
Our local home of heaviness The Alibi hosts a rare Thursday show this week with Helms Alee from Tacoma, featuring members of Harkonnen and Lozen, and Thrones, a thundering one-man-band with bassist Joe Preston, formerly of High on Fire, Earth and The Melvins, using various FX to create cascades of dark metallic noise.
This week in the tribute band world we delve into a not-quite-tribute outfit, Long Beach Rehab Band, coming to the Red Fox Thursday. The self-described "bad ass funky hardcore reggae/dub" band was co-founded by Mike "Q-Ball" Houlihan, leader and bass player for the tribute band Sublime Remembered, later redubbed Sublime LBC. Also co-founding was his friend Israel Joseph, whose main claim to fame is a stint as replacement singer in Bad Brains when HR took a break in the early '90s. Other members once included Greg Camp from Smash Mouth and Ivan De Prume, drummer for White Zombie, although the current line-up in unclear. A note on the band's hard-to-decipher Facebook page says, "with Greg now living in NYC and Ivan in Portland, the band has recruited some new members and a DJ." In the mid-'00s, Q-Ball, who has Long Beach roots and a prominent Sublime tattoo on his neck, ran afoul of the remaining members of Sublime over his tributes. A lawsuit ensued resulting in a judgment in favor of the Sublime plaintiffs and against Houlihan (aka Q-Ball) and company, who were ordered to pay $64,900 and court costs and stop using the Sublime brand -- not an easy thing to do with that tat.
Bad Kitty presents an alt. Americana showcase Tuesday at the Jambalaya with punkgrass by Filthy Still from Providence, R.I., which claims influences ranging from Townes Van Zandt and Hank Williams (the first) to The Circle Jerks. Local support comes from Arcata's hot alt. country combo Gunsafe, Sunshine and Yellabird from Eureka (Bad Kitty Norm says, "think George and Tammy meet John Doe and Exene, only twice as quirky and cute") and one-man-punk-country-powerhouse Quit Bitch'n (also from Eureka).
Humboldt Brews has a gender-bending evening in store Monday as the Eureka Sisters of Perpetual Indulgence play host to the Sister Spit Tour. Sister Spit came out of writer Michelle Tea's Radar Productions' LGBT literary Nights in San Francisco, ongoing since the '90s. This year's road version includes Dorothy Allison, author of Bastard Out of Carolina, Radical Faerie cabaret artist Mx Justin Vivian Bond (seen in the film, Shortbus), playwright Erin Markey, comic book artist Cassie J Sneider, writer/musician Brontez Purnell and slam poet Kit Yan who was crowned Mr. Transman 2010. Expect the unexpected.
A reminder about the World Famous MiMOSA/Ana Sia dubstep show Friday at Blue Lake Casino's Sapphire Palace (more details in the Calendar section) -- do not show up fashionably late. In part because it's an all ages thing, it starts early: 7:30 p.m. and will end by midnight. World Famous keeps the dance music rolling Wednesday bringing the Tiger Style Tour from Colorado to the Arcata Theatre Lounge with Paper Diamond (from Colo.) along with Christian Bauhofer, aka Minnesota (no, he's not from there, he's from Santa Cruz).