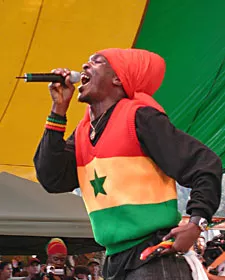 Anthony B. Photo by Bob Doran
The first weekend in August is upon us. Here in Humboldt, that means just one thing: Yes, it's time for Wildwood Days! No, just kidding. It means we batten down the hatches for another Reggae, that massive gathering that's been bringing thousands of visitors to SoHum from far and wide for 23 years.
Most years, I'd spin out a couple of sentences about that special bend in the river, the instant city that's assembling, the sense of community that building the city engenders in this bastion of counterculture. That won't fly this time out. This year's different.
One crucial difference is the name. Locals typically just call the big show Reggae, once short for Reggae on the River, a catchy phrase trademarked in 1998 in the name of the Mateel Community Center Inc., a nonprofit based in Redway. This year Reggae is short for something else, but we'll come to that later.
First a bit of history: In 1983 an arson fire destroyed the Mateel's original hall. A committee was formed to raise money to rebuild. Carol Bruno, then a Mateel board member, took charge of a benefit concert dubbed Reggae on the River. She's been running the festival ever since.
For a time Bruno was also the Mateel's director. That changed when she formed the for-profit People Productions. Until recently People Productions and the Mateel ostensibly maintained a symbiotic relationship. Things got bumpy when contracts were negotiated -- Bruno learned to drive a hard bargain -- but as long as the river of cash was flowing, the Mateel seemed happy with her stewardship of Reggae, the nonprofit's cash cow and most valuable asset. Peace, love and unity prevailed, or at least so it seemed.
As you may or may not recall, Reggae moved last year, not far, just across the river. The transition from the festival's longtime home at French's Camp over to the Dimmick Ranch cost a bit of money and there wasn't much left over for the Mateel. For different reasons, the profit from 2005 had not met expectations either. With the money river at a trickle, the Mateel faced hard times, and in October 2006 an impatient Mateel board and its relatively new executive director, Taunya Stapp, sent out a letter complaining that "the production company for Reggae on the River has failed to deliver..."
Things haven't quieted down in SoHum since. (See Journal cover story "Clash Over Reggae," Nov. 16, 2006.) The annual Mateel membership meeting on Nov. 17, proved a turning point. As Tom Dimmick, owner of Dimmick Ranch put it that night, "a line was drawn in the sand," with Bruno, Dimmick and supporters on one side, Stapp, the Mateel board and supporters on the other. Bruno and company suggested that the Mateel should make a clean break, either leasing or selling the Reggae on the River name to People Productions. Stapp contended that the trademark was too precious to turn over and could be damaged in the process.
By the end of the year Bruno either quit or was fired from her job running Reggae, a task she's referred to as her "life's work." (The courts will eventually decide the firing/quit question and others.)
In January the Mateel announced they'd found a new producer for Reggae on the River in Bay Area-based 2b1 Multimedia. Within days, loyal crew leaders who had run Reggae over the years with Bruno issued an announcement saying they would not contribute to what was deemed an "outsourced" festival.
Next up, Tom Dimmick who declared in February that "the Dimmick Ranch was terminating the lease of the property for the purposes of Reggae on the River," due to breech of contract (Bruno's) and furthermore he was joining forces with People Productions to produce "a world-class reggae music festival and community fundraiser on the first weekend of August 2007."
A game of chicken ensued. The Mateel side countered Dimmick by asking for a preliminary injunction. Didn't work. Nor did any of the other plans to stop the festival Carol and Tom dubbed Reggae Rising . (We'll skip the nastiness spewed at three Humboldt County Planning Commission hearings.)
In mid-May, when it became clear that Rising had the upper hand, 2b1 pulled the plug on Reggae on the River. There was a flurry of offers and counter offers (you'll find the lawyers' letters on rotrblog.blogspot.com) that almost resulted in an agreement along the lines proposed at the Mateel membership meeting five months earlier, with Bruno/Dimmick paying a $200,000 a year plus licensing fee and assorted other costs.
But in the end Mateel held firm on a single demand. Even though press releases had been sent out all over the country announcing that Reggae on the River was canceled, they insisted that that had to be the sole name of the festival. As now-former Mateel E.D. Taunya Stapp put it, "the only sticking point for a deal in '07 has come down to the use of the name Reggae Rising."
With that the Mateel walked away with nothing -- well, nothing but plans to come back with Reggae on the River 2008, although it's not clear how, and to persevere in court some time later this year, and maybe bring home a settlement to recoup their loses.
When festival headliner Stephen Marley was in town recently for a concert, a reporter from the Times-Standard asked him about the conflict regarding the name. His response: "It's not really about the name, you know. It's the people." Rest easy, Stephen. The people are the same. Well, mostly.
Not much more has happened since May, aside from an ongoing flame-a-thon on the web. Bruno tells me she doesn't read the blogs. At this point I imagine she doesn't have time. She's busy with her life's work. Like it or not, she has a festival to put on.
There's a shrill chorus still insisting they hold the moral high-ground and that the festival was "stolen." Some of them are my friends and a lot of them are skipping this year's Reggae. The Mateelites scored a minor victory by getting local FM station KMUD to drop plans for it's longstanding coffee booth fundraiser. A group calling itself Reggae Uprising is planning protests for Reggae weekend, including a flotilla on the river through the festival grounds. Their slogan -- "The Party is the Protest" -- suggests that they don't want to miss out on the fun, either. I'll try to catch up with them down by the riverside.
That's right, I'll be at Reggae. There's some good music, if you like reggae: several Marley boys, Steel Pulse , Anthony B , Sly and Robbie and my Humboldt homies, Ishi Dube and Massagana and Sub/Sab , to name a few. Interested? It starts Friday, runs 'til Sunday. For the first time in years you'll be able to buy a ticket at the gate -- officially. Maybe I'll see you there. If not, please don't hold it against me. Partying's part of my job.
Now if I wasn't going to Reggae, I'd definitely be at the Alibi Saturday Aug. 4, to see the "Fourth and Final Annual Last Show Ever, Ever" by Arcata's all-time greatest, greatest Judas Priest tribute band, Sad Wings of Destiny -- and I don't even know any J. Priest songs. If I remember, I'll try to tune in 94.1 FM on Friday at noon when Jen Savage welcomes SWOD to the KSLG studio. Opening the Alibi show, Thee L.A. Gentlemen Callers , who dropped me a line the other day asking if I might plug the gig. Sure. Calixto notes, "We fell in love with Arcata the first time my friend Jensen Rufe invited us to come up and have since come to be friends with a number of the kick-ass bands in the area, most recently hosting a mini-tour in SoCal with The Ravens (their first shows outside of Humboldt, I believe) which was a blast!" Thee Gents'll be on KSLG too, on Monica 's show Saturday afternoon at 1 p.m.
And speaking of Jensen Rufe (the Rural Rock guy) he's up from L.A. Friday for a show at the Jambalaya with his new band, Men's Fashions , which is Dana and Aaron from The Sharpies (plus Jensen). I learned this from Julia , the fine singer from The Broken Hearts . Her band is playing, and her sweet former bandmates, The Ian Fayes , are on the bill, too, plus that kick ass power trio Dynamite Sweater .
While the SWOD final show ever, ever biz is tongue-in-cheek, The Weary Boys are serious. The formerly local Texas-transplant twangers are on their way to some Pickathon thing up in Oregon, stopping at the Jam Saturday then working their way back to Austin, where they'll part ways forever -- well, maybe.
My plan for Tuesday evening after I'm back from Reggae is to de-reggify myself with a brisk blast of gypsy jazz as presented by the John Jorgenson Quintet . The awesomely fast and clean guitarist Jorgenson has an impressive resumé: He founded the folk rockin' Desert Rose Band with Chris Hillman, played with The Helecasters and did a six-year stint with Elton John before focusing on his true passion, the Django sound. Is there fiddle? You bet. I'm so there.