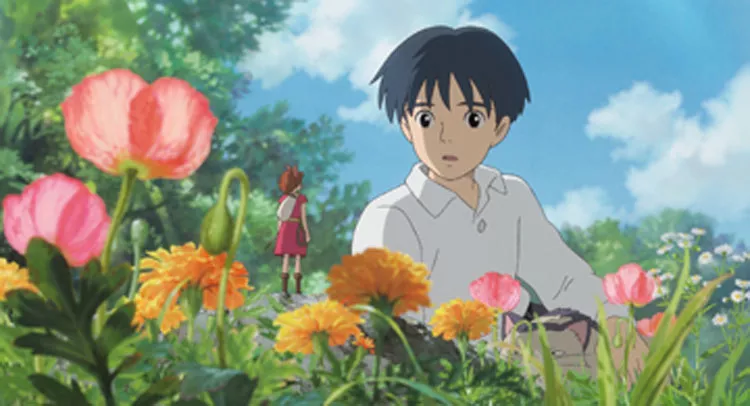 The Secret World of Arrietty
NEW: Humboldt Movie Times and Openings
THE SECRET WORLD OF ARRIETTY. This adaptation of Mary Norton's 1952 book The Borrowers comes from Hiromasa Yonebayashi, a protégé of Japanese animation master Hayao Miyazaki (Spirited Away, Ponyo). It tells the tale of young Arrietty (voiced by Bridgit Mendler) and her parents, Lilliputian scavengers who live under a house in rural Japan, surviving off the odds and ends humans won't miss and trying very hard not to be seen. But soon Shawn, a sickly boy from the city, moves in and discovers them.
The story unfolds slowly, which is a refreshing break from the mile-a-minute pacing and constant eye-popping effects of most animation these days. And the simple tale has the power to hold children and adults rapt, wondering if Arrietty will make it across the vast landscape of the kitchen with a cube of sugar or escape a crow. The details of the miniature world fascinate, too, as we watch the family scale ladders made from staples and bent nails or pour themselves single droplets of tea.
The film is unapologetically sweet and utterly devoid of snark, scatological laughs or pop culture references. There is more innocent fun to be had -- the cat saunters and frowns like a corpulent bureaucrat, and Hara the scheming nursemaid is voiced by Carol Burnett, who hasn't lost her comedic chops. Amy Poehler is Arrietty's hysterical mother while her father is voiced by what must be a heavily sedated Will Arnett.
As always, Studio Ghibli, Miyazaki's brainchild, offers something beyond photo-realism and 3D effects with its old-school animation. The lush, painterly scene of summer rain is as close to the real thing in feeling as any seen or heard in film. The marvelous sounds make the scale real, too -- the light pop of a needle pushing through fabric, tiny footsteps on molding and the skittering feet of insects. Equally pleasurable is seeing children afterwards eyeing the little spaces of a room and imagining. G. 94m. At the Broadway.
--Jennifer Fumiko Cahill
GHOST RIDER: SPIRIT OF VENGEANCE. Much as it pains me to say so, this movie is a real drag. I didn't see the first one and had no expectations regarding a sequel. But when I learned that Mark Neveldine and Brian Taylor were directing, I got a little excited. The oddball duo broke out in 2006 with the full-on craziness of Crank, following it in 2009 with an equally bananas sequel. For my money, the Crank saga represents the most auspicious action-gonzo debut of the 21st century. But those movies had Jason Statham, and his smirk, swagger and inimitable star-quality are a huge part of their appeal.
Since then, Neveldine/Taylor have been gradually drifting down to this, their nadir. Instead of Statham, we get Nicholas Cage. More accurately, we get Nicholas Cage for about half the movie, since his Johnny Blaze character spends the remainder as the Rider, who has a flaming skull for a head and speaks in demonic rasps and roars. Even when Cage himself is onscreen, he's so obviously phoning it in that it's not even mildly entertaining.
And there's the rub: This movie isn't any fun. The watery plot concerns deals with a devil, a surrogate hell-spawn to replace Satan's aging human-form, lots of fire, weird monks, necromancy and plenty of other quasi-religious mumbo jumbo repeated ad nauseum.
Under other circumstances, this might be perfectly fine. Comic book movies don't have to be well-scripted as long as the action is compelling and the jokes are funny. But Ghost Rider: SoV is a disappointment on all counts. The whole movie is a glorified chase sequence that never develops adequate tension. The "set-piece" action sequences are fiery but flaccid. And a supporting cast featuring some talented actors (Idris Elba from The Wire, Christopher Lambert, Ciaran Hinds) gets short-shrift thanks to unimaginative dialogue and silly direction. PG13. 95m. In 3D and 2D at the Broadway, Mill Creek and Fortuna.
THIS MEANS WAR is a similarly misguided genre exercise, but at least it's got charisma. New Hollywood heroes Tom Hardy and Chris Pine play best-friend CIA field operatives who fall for the same girl (Reese Witherspoon). They make a gentleman's wager to see who can win her heart, subsequently using all of the agency's resources to surveil her and each other. Meanwhile, they're pursued by a German terrorist they pissed off in the opening scene.
The movie is as silly and pointless as it sounds, and director McG shoots it in a disconcerting series of close-ups. Also, I've never seen so many blue contact lenses. As the love interest, Witherspoon is attractive but troublingly shallow. Her best friend, played by Chelsea Handler, is a hyper-sexualized day-drunk.
If not for the charm and timing of the male leads, This Means War would be unwatchable, just another lamentable addition to the girl-meets-spy subgenre. As it is, the scenes without Hardy and Pine come off flat and unimportant -- a train-wreck of unconscionable gun-violence and poorly scripted girl talk. It's not very interesting to look at, and the ending is painfully predictable. But Pine and Hardy are likeable, and their scenes together add some much-needed levity. PG13. 98m. At the Broadway, Mill Creek and Fortuna.
--John J. Bennett
Previews
WANDERLUST. Paul Rudd and Jennifer Aniston play a Manhattan couple who join a free-love commune in this comedy from director David Wain (Wet Hot American Summer). R. 98m. At the Broadway, Mill Creek and Fortuna.
GONE. Bug-eyed beauty Amanda Seyfried sets out to save her sister from the serial killer who abducted her two years ago. PG13. 94m. At the Broadway and Mill Creek.
ACT OF VALOR. Real-life active-duty Navy SEALs star as real-life active-duty Navy SEALs in this fictionalized account of real-life Navy SEALs on active duty. Pulse-pounding Pentagon propaganda. R. 101m. At the Broadway, Mill Creek and Fortuna.
GOOD DEEDS. Hollywood outsider Tyler Perry writes, directs and stars as Wesley Deeds, a wealthy businessman jolted out of his First World ennui when he meets a cleaning lady in his building. PG13. 111m. At the Broadway.
ALBERT NOBBS. Glenn Close's passion project centers on a woman (Close) who dresses as a man to gain employment as a butler in 19th century Dublin, Ireland. R. 113m. At the Minor.
At this point, The Arcata Theatre Lounge should probably just leave The Big Lebowski on its marquee and play it on a loop whenever nothing else is going on. Then The Dude would truly abide, am I right? For now you'll have to show up Friday at 8 p.m. The following evening, whimsical, matchmaking French ingénue Amélie (2001) brings her wide eyes to the ATL. Then 8 p.m. Sunday gets family friendly with Robin Williams in Jumanji (1995), 6 p.m. And next Wednesday's Sci-Fi Pint and Pizza Night will transport you back to the 1960s via The Time Machine (1960) and Journey to the Center of Time (1967). 6-10 p.m.
On Friday, the Mateel Community Center will screen Everyday Sunshine: The Story of Fishbone, a "behind the music"-style documentary about the pioneering, under-appreciated punk/funk band. 7:30 p.m.
--Ryan Burns
Continuing
THE ARTIST. Mostly silent, black-and-white homage to cinema's mostly silent, black-and-white early years, nominated for 10 Academy Awards. PG13. 103m. At the Minor.
CHRONICLE. Three high school guys develop superpowers after encountering an underground glowing thing in this smart and thrilling sci-fi adventure. PG13. 83m. At the Broadway.
THE DESCENDANTS. George Clooney plays a Hawaiian parent and land baron thrust into real life after his wife's jet-boating accident. R. 115m. At the Minor.
EXTREMELY LOUD AND INCREDIBLY CLOSE. Treacly 9/11 drama follows a young boy as he searches New York City for meaning in his father's death in the World Trade Center. PG13. 129m. Ends Monday at the Garberville.
THE GREY. A plane crash strands Liam Neeson and a band of oil drillers in the frozen wild, where they fight wolves . R. 117m. At the Broadway and Mill Creek. Starts Tuesday at the Garberville.
HUGO. Martin Scorsese's adaptation of The Invention of Hugo Cabret returns to local theaters boasting 11 Academy Award nominations. PG. 127m. At the Broadway.
JOURNEY 2: THE MYSTERIOUS ISLAND 3D. Dwayne "The Rock" Johnson leads a family-friendly adventure to the isle of 3D effects. Jules Verne barfs in his grave. In 3D and 2D at the Broadway, Mill Creek and Minor.
SAFE HOUSE. An otherwise generic CIA thriller gets a lift from Denzel Washington's charisma. R. 115m. At the Broadway, Mill Creek and Fortuna.
STAR WARS: EPISODE I -- THE PHANTOM MENACE. Have your childhood memories re-befouled, in 3D. PG. 140m. At the Broadway.
THE VOW. After a car accident, a woman loses all memory of her husband, so he has to woo her anew. PG13. 104m. At the Broadway and Mill Creek.
THE WOMAN IN BLACK. Daniel Radcliffe (Harry Potter) stars as a young lawyer who encounters a vengeful ghost. PG13. 95m. At the Broadway.