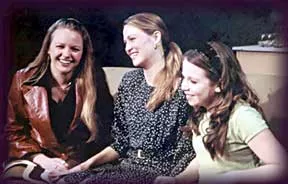 Theresa Ireland as older Molly, Kim Hodell as Julie, Derby McLaughlin as younger Molly. Photo courtesy NCRT.
There's a particular interest in a writer seeing a play about a writer who is too much the observer and not enough the participant in his own life, especially when one is among those reviewers who began as a participant in theatre - as a playwright, actor, director and even a song composer, and whose role now is as journalist and judge.
Well, when you get a role, play it.
In Neil Simon's play Jake's Women, a writer in his 50s imagines scenes with the women in his life as the fate of his marriage in crisis is decided. The current production at the North Coast Rep features fine performances. On opening night, a slow start with shaky (presumably New York) accents got a burst of energy and definition from Suza Lambert Bowser as the psychiatrist with the heart of a chorus girl. Young Derby McLaughlin, who played Jake's daughter Molly at 12 years old, provided not only another hit of vitality but of reality: She was winsome and wonderful, inhabiting her part completely.
Christen Condry Whisenhunt also created a credible and funny character (Sheila, Jake's current girlfriend during his separation) with economy and comic grace. Theresa Ireland as Molly at 21, Shelley Stewart as Jake's sister, Karen, and Jolene Hayes as Maggie, Jake's wife at the start of the play, all had their shining moments.
Kim Hodel had the plum part of Julie, Jake's perfect first wife, who he fell in love with when she was 21 and he was 24, and who died at 35. She played it with the moral beauty and physical radiance that forces us to wonder where the line is between Jake idealizing his dead wife and remembering her accurately - was she really this wonderful? Hodel is convincing as both fantasy and tragically lost reality, in a memorable performance.
Michael Thomas as Jake had the longest and most difficult role, as he was required to hold the stage and hold the play together for the entire evening. Some of the most taxing scenes come late in the second act, when Jake's frenzy accelerates and then must be transformed into the resolution of acceptance and vulnerability. He did yeoman's work, keeping the audience involved, and laughing.
After 30 years and almost that many plays, Neil Simon knew how to generate laughter and tug at the heartstrings by the time this play was first produced in 1992. There are lots of laughs, some provocative remarks, and scenes that play like crazy. A dead wife gets to meet her daughter at 12 and 21 - how can you fail with a scene like that? (In this production, it doesn't fail.)
Simon's laudable efforts to go beyond his usual stage presentation with imaginary encounters often succeed individually -- he plays with how much control Jake actually has over what he imagines, and over the characters in his fantasies. But even given all these audience-pleasing and thought-provoking elements, this play doesn't quite hold together.
I hadn't seen it before, either on stage or what I suspect is the more successful television version (which Simon rewrote completely), so I strongly suspect its weaknesses are in the writing rather than James Read's efficient direction, the fine performances he nurtured or any other element of this production.
Beyond even the sometimes mawkish lines, the unlikely and too-perfect anecdotes explaining Jake's too-pat problems, and the strained clichés that go by in the last moments like stray bullets, the play as a whole totters on our not really knowing who Jake is. Jake's life beyond his fantasies has no reality, and neither does he.
This is also important because the central tension comes from Jake being unable to stop fantasizing his life (which gives him control) long enough to trust it and live it. Certainly there are some rueful truths about writers in this play. I've been known to complain that the problem with life is that you can't revise. But Jake's fantasies aren't demonstrably related to his work, which neither he nor anyone else talks about or seems to care about, but to some generic and one-dimensional image of The Writer.
There are credible moments, as in his second-act frenzy of rapid-fire fantasies of vacations spots and new homes, like a writer brainstorming plots. But the writer thing becomes a weak conceit, and a very wobbly basis for a play.
Thomas and especially Hayes (in the second most difficult role) are very good in the final scenes, when the script has other significant problems. Though I found the play unconvincing, the North Coast Rep production is certainly worth seeing for wit, emotionally indelible scenes and the array of satisfying performances.

Now on stage: Lettice and Lovage is at Ferndale Rep until Feb. 11. As a fan of British comedy, verbal wit and Peter Shaffer, I'm disappointed that a series of circumstances (like the flu bug) has prevented me from seeing it yet. I hope nothing prevents you.
Coming up:First year students of the Dell'Arte International School of Physical Theatre present Gotta Go!,an evening of comedia on Feb. 1-3 at the Carlo Theatre, followed by the second-year MFA students with adaptations of short stories by Gabriel Garcia Marquez and Isabel Allende in Las Dos Mariason Feb. 8-11, also at the Carlo Theatre in Blue Lake.
Sanctuary Stage presents The Duelist, an original comedia performance, at Mazzotti's in Arcata for lunch on Feb. 18 and dinner on Feb. 19 and 20.