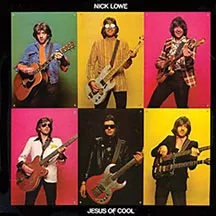 Jesus Of Cool by Nick Lowe
CD by Nick Lowe

Yep Roc reissue
When I first saw Elvis Costello and the Attractions, blasting through a set at the Santa Cruz Civic Auditorium in 1979 during their notorious Armed Forces tour, "Music For Money," the first song off of Nick Lowe's then-new record, Jesus of Cool, played on the overhead speakers at the conclusion of the show. It sounded so huge. Lowe had told the engineer Roger Bechirian to make the drums "sound like oil drums falling down the fire escape." The production, might now can be called "lo-fi," was clever, resourceful and often brilliant. The majority of the basic tracks that would appear onJesus of Coolwere recorded in a cramped 8-track recording studio.
By this time, Lowe had already established himself as a successful producer. He was responsible for the production work on early records by Graham Parker and the Rumour, (Dr. Feelgood, The Damned, Wreckless Eric, as well as the first three Costello records, My Aim is True, This Year's Model and Armed Forces). Lowe's song, "What's So Funny (About Peace, Love and Understanding)," originally penned for his former group, Brinsley Schwartz, had been revived by Costello with a blistering, anthemic version that concluded the U.S. release of Armed Forces.
Columbia Records, the distributor of the U.S. release of Lowe's solo debut,Jesus Of Cool, found the UK album title too controversial, so Lowe (and manager Jake Riviera) changed it to Pure Pop for Now People. This was 1978. Pure Pop varied in other ways: songs excluded on the U.S. release contained Lowe's tongue-in-cheek tribute to the Bay City Rollers, "Rollers Show" (which became a surprise hit in Japan), a studio version of "Heart of the City," and "They Call It Rock," an alternate version to the original "Shake and Pop."
Upon its original release,Jesus of Cool/Pure Pop for Now People became an instant hit with critics, both in the U.K. and in the U.S. Lowe used all of his production and songwriting skills. While on tour with Dave Edmunds, Lowe was inspired to write the song "I Love the Sound of Breaking Glass" after seeing a trashed dressing room in San Diego (presumably trashed by the headlining act, Bad Company). Lowe used his twisted humor and keen observation as a goldmine for lyrical content: the real-life death of a silent film star, found by authorities partially eaten by her dog, inspired "Marie Provost." A Costello throwaway phrase, "Little Hitler," was transformed it into a scintillating love/pop song. "Nutted by Reality," with an obvious Motown/Jackson 5 bass-line running underneath, opens with the line, "I heard they castrated Castro because he was the people's friend ..."
But what makes Jesus of Cool shimmer after 30 years from its initial release is Lowe's uncanny production and his resourceful use of the studio. The record is texturally rich, lush and pristine. At times, he would edit two separate unfinished songs together (as in "Nutted by Reality") in a seamless manner. Lowe also had a stable of crack musicians to execute his wide variety of musical styles at his whim. These musicians included members of Rockpile, Graham Parker's Rumour, Ian Dury's Blockheads, the Attractions and other pub rock mates including drummer Bobby Irwin and guitarist Larry Wallis.
The Yep Roc reissue of Jesus of Cool, in the original U.K. song order, is superb in its packaging, remastering, liner notes and inclusion of excellent bonus tracks: B-sides and rarities previously available on various import collections. One could simply look at Nick Lowe's amazing career as a songwriter, performer and producer over the past 30 years to know that he lived up to his "Jesus of Cool" moniker — just short of walking on water.