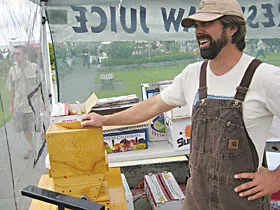 Dave Feral. Photo by Bob Doran
Dave Feral pulls a handful of apples from a cardboard box and drops them into the hopper at the top of his cider press. As invisible whirling blades chop the fruit, he follows the apples with an equal amount of pears. Juice is already trickling into a glass pitcher from a wooden trough at the end of the press.
A curious woman peers into a window in the net enclosure that houses his juicing operation. It's a busy Farmers' Market, and his tent, marked with a banner announcing "raw juice," is well situated, near the flagpole on the Arcata Plaza. Dave explains to the potential juice consumer that he's making a batch of "Berry Bliss," a blend of fresh-squeezed apple, pear, strawberry and blackberry juices that's his most popular concoction. Would she like to try some? He takes a pitcher from the cooler behind him, fills a small plastic cup and hands her a sample. One blissful sip and she's sold.
All of the fruit that goes into the juice comes from Feral Family Farm, a plot of land not far from Blue Lake that Dave, his wife Autumn and their kids, Misha and Ray, call home. It's not easy making a living from a small farm, but they're making a go of it.
The Ferals moved to Humboldt County 10 years ago. Dave had entered the biology masters program at HSU, but at the same time, he explained, they were looking to put down roots. "We were searching for a piece of land where we could do our own sort of permaculture," he said.
Dave talked as he led a tour of the farm from the strawberry patch past a greenhouse full of square flats of intensely green wheatgrass that to the untrained eye might seem like little lawns. As we approached a collection of small apple trees, he expanded on the notion of permaculture, a term coined in the '70s by an Australian engineer/biologist, Bill Mollison.
"It's permanent agriculture," Dave said. "What that means is, everything you have on your farm is trapping energy and feeding everything else. So instead of buying feed for your chickens, you grow plants that produce seeds and nuts and fruits that you also feed to your chickens. The chickens return the energy to the soil via chicken tractors, mobile sheds that you move from one piece of ground to another. That adds phosphorus and nitrogen. The idea is also outlined in Michael Pollan's book, The Omnivore's Dilemma. It's a model for sustainability."
The piece of land Dave and Autumn found was not exactly a sustainable working farm when they bought it. It was the home of Dick Smith, a barber who grew fruits and vegetables on the side. "He sold kiwis and berries to the Co-op and grew apples, even took care of the neighbors' trees," said Dave.
The Ferals bought the place not long after Dick died. "He was up on his orchard ladder, felt weird, drove himself to Mad River Hospital and never returned," Dave said." It was kind of ghostly buying the place. Everything was left right where it was."
In a back shed they found kindling Dick had cut for his next fire, "an axe so sharp you could shave with it" and all the tools for maintaining the orchard and gardens.
Dave picked up where Dick left off and put the tools to good use pruning the trees and putting things in order.
"The first year we were here, apples and pears were all over the ground, rotting," he said. "I didn't want that to happen again so I started selling them at the Farmers' Market. Then my neighbor and I went in together to buy a press and I started making juice.
"We had really nice looking apples that we sold, but when if you don't spray — and I don't spray anything — you get a lot with scabs or other things that don't look good.
"But the juice is still great. I thought, 'Anybody would buy this on the Plaza.' I figured I'd take it to market. I called the health department — they basically said, 'No.' They wanted me to rent a kitchen, put the juice in a bottle and pasteurize it. I didn't want to do that."
The official resistance to raw juice is a classic case of reaction to a food emergency. In 1996, a toddler died after drinking Odwalla apple juice that was tainted with E. coli bacteria. Raw juice has not been banned, just frowned upon.
When Dave checked with other Farmers' Markets around the state he found that many included juice sales. He asked the county health department rep again and got permission to add a booth as a spin-off from what's called the "non-ag" portion of the market, in Arcata, the food court around McKinley's statue.
While he was working on establishing the juice business, he was also expanding his supply of apples. First he made an agreement with a couple in Glendale who were grazing horses amongst some old apple trees. "They were looking for someone to take on managing the orchard," Dave said. "They basically said if I prune the trees and take care of them, I can have all the apples. There are 70 trees over there, all heritage varieties that are labeled. I was able to take scions from those trees and graft them onto new rootstock."
The young trees include a selection of apple varieties: Sunset Gravenstein, Jonathan, Jonagold and crab apple, all grafted on Elma 7 rootstock. He doesn't have room for as many trees as he'd like; he doesn't have a lot of land. "It's only an acre and a quarter, but it's totally flat," Dave said. "And in addition to the Glendale orchard, Ron and Shelly Hoenig have an orchard with 90 trees and I just started a lease agreement with them, so between the three places I have about 200 trees producing right now.
"It's not a lot, not likes Jacques [Neukom's] 700 trees, but it's enough for us. I'm not trying to grow apples for the Co-op — I've found a niche making the juice on the Plaza. The value-added product is key for a small farm's survival, that or finding a specialty crop."
The Ferals are working both angles. In addition to their expanding fruit juice business, which is decidedly seasonal, they've basically cornered the local wheatgrass market. A small greenhouse originally set up for tomato starts now supplies the juice bars for Wildberries, Eureka Natural Foods and both Co-ops, bringing in around $30,000 a year.
At this point he's only allowed to sell his fruit juice by the glass at the Farmers' Market. He can't bottle it for distribution to stores. He'd like to expand beyond that. "Jacques and Amy have their 700 trees and Ed Cohen [of Earthly Edibles Family Farms] has 800 trees," he said. "Once all those trees come on and start producing there will be a local glut. I figure that will happen within a couple of years. What I want to do is create a local label called Humboldt Grown and put out a bottled product. That's the next step, to set up some sort of cooperative," juicing fruit from several growers.
He tracked down a juice maker in Santa Cruz with an operation something like what he'd like to achieve, got the particulars on state regulations and learned that it's not a notion that's out of reach. "What's interesting is that I wouldn't be able to do something like that on the Plaza," he said "Say my neighbor had some extra Asian pears. I can sell his fruit for him at my stall, but I cannot juice them and sell them. You can only juice what you grow."
He is allowed to sell juice from the orchards he leases and maintains, and he's gone to the trouble of organic certification for both auxiliary orchards. Dave is a true believer when it comes to organic methods. It's one element in trying to do the right thing in general. Lately that's expanded to thinking about energy use. Solar panels supply most of the farm's power. They have a biodiesel vehicle.
"We're trying to make the smallest impact we can with our CO2 emissions," he said. "If that goes into your marketing it could be big. People want local, organic products and they're thinking about the carbon footprint. We all know we have a problem and the way to change things is through businesses like this. That's where I think we should be heading."
Can one small family farm change the world? Of course not, but the Ferals and others like them are intent on making a change in our little corner of the planet. I say more power to them, and please pour me another glass of that juice. Pure bliss.