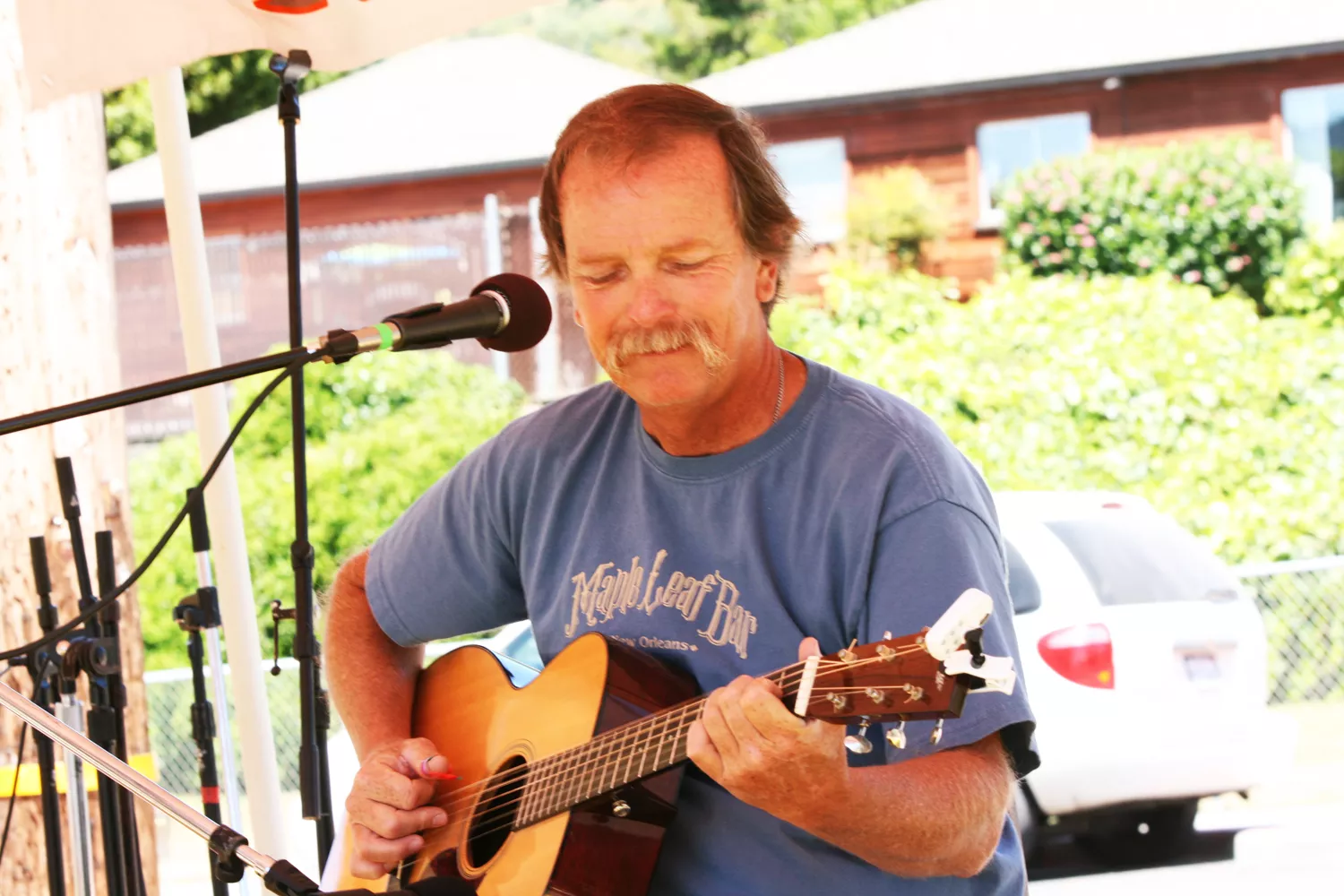 photo by Bob Doran
Guitarist Jeff Landen and Sounds Mo' Better play at noon at the Humboldt Folklife All Day Festival
Saturday is one of those rare summer Humboldt days when there's just too much entertainment to take in. We have several conflicting music festivals and shows north and south county that probably should not have been scheduled on the same day, all vying for your time and attention.
We'll start with the Humboldt Folklife Society All Day Free Festival, the culmination of a week of Folklife events in Blue Lake and Arcata and the conclusion of Dell'Arte's Mad River Festival. Running from morning into the evening in and around Dell'Arte's building in Blue Lake, the all local (virtually) fest starts with workshops on jamming and songwriting, then adds in music in many forms on two stages, in the street and out back in the amphitheatre starting at 11 a.m. and ranging from the McKinleyville Choir to The Delta Nationals and Rooster McClintock, with sets by Berel Alexander, The Singing Nettles, UKEsperience, The Trouble and too many others to list here. Other highlights: the ever-popular participatory Beatles Sing-along led by Joel Sonenshein (3-5 p.m.) (Last week's Journal included an insert with the complete schedule that will be available at the fest. You'll also find it at www.humboldtfolklife.org.) As noted in the name, this is an all day thing full of music running until around 8 p.m.
The question is: Will fans of old time, retro and stringband music be ready for another overlapping collection of like-minded bands playing in Arcata? The Second Annual Jefferson State Old Time Revue at the Arcata Playhouse (1251 9th St.) kicks off at 5:15, while the Folklife Fest is still underway with The No-Good Redwood Ramblers, who played for Folklife Fiddle Fest Sunday. Jefferson continues (at 6:10) with Tucson country singer Miss Lana Rebel and friends. (Incidentally Miss Rebel is also playing much later at the Arcata Alibi.) Next up is a duo spin-off from the East Coast old time band The Dustbusters called The Unidentified String Band (7:05), then (at 8 p.m.) Humboldt's own Striped Pig Stringband, who play Folklife's Barn Dance the night before. At 9 p.m. San Francisco-based The Brothers Comatose with brothers Ben and Alex Morrison and friends play bluegrassy folk leading into the headliner, Pokey LaFarge and The South City Three (10:15), an up-and-coming neo-swing/blues outfit from St. Louis who played last year's Jefferson State fest. Immediately after that show, the festival organizers booked the next fest around Pokey's busy schedule. Just returned from touring Europe, the only date he could squeeze in was July 23. And so it goes. Tickets run $20 in advance, $25 at the door; call the Playhouse, 822-1575, for more details.
Wait, that's not it for folk on Saturday. Down in Redway that night r, the folk-rock duo Amy Ray and Emily Saliers, aka Indigo Girls, well known as champions of environmental and equal rights causes play, an 8 p.m. show at the Mateel Community Center (59 Rusk Lane). This one is a benefit for Siskiyou Land Conservancy and the Mateel with tickets for $40. Further details at mateel.org or by calling 498-4900.
Also in SoHum, Saturday, July 23 is the date for the annual Roll on the Mattole benefiting the Honeydew Volunteer Fire Company. This being a fire-related event they include a Firefighters Challenge pitting various SoHum crews against each other, along with other family fun, but the real draw is the music. They've ramped up the line-up a notch this year with multi-instrumentalist David "Mr. Polyester" Lindley as headliner, plus folksinger Jim Page, jammers Something Different and The Deadicated Maniacs, local rockers The NPK, To Life, and uke strummer Lyndsey Battle. It all goes down in and around the Mattole Grange Hall, between Honeydew & Petrolia (36512 Mattole Rd.) Camping is available nearby at A.W. Way campground.
Not that you need another choice, but July 23 is also day one for the 18th Annual Trinity Tribal Stomp at Junction City Park, out 299 just this side of Weaverville. The two-day campout hippie fest runs from noon until after midnight Saturday with St. Croix reggae band Midnite along with more reggae by Roots Underground and locals Woven Roots, plus world beat by sax/kora combo Charles Neville and Youssoupha Sidibe and The Mystic Rhythms Band and jammy guitarist Mark Karan with Jemimah Puddleduck. The Stomp continues Sunday with G-Love and Special Sauce, bluesmen Roy Rogers and Anders Osborne, Alice DiMicele Band, Clan Dyken and MaMuse among others. Complete details by calling 530-623-3856 or at Trinitytribalstomp.org.
Take your pick, one or more, and have a great Saturday.