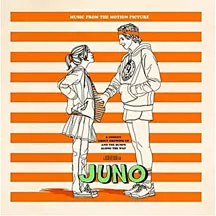 By various artists.

Rhino Records.
Kimya Dawson is kind of a deal-breaker. Whether she's the personification of four-track, scruffy-round-the-edges authenticity or a mediocre singer plying a shoddy affectation is largely a matter of taste. But even though Ellen Page (who plays Juno) suggested to director Jason Reitman thatJuno's title character would be into Dawson's work (it appears on the soundtrack under her own name, and with her bands the Moldy Peaches and Antsy Pants), it's hard to believe this.
Sure, there's that sweet scene where she and Paulie (Michael Cera) play the Moldy Peaches' "Anyone But You" (thankfully included on the album), but Juno seems too snarky and brash to be into songs as sweet and sincere as Dawson's. Because while Juno seems to have won most people over with her muddled attempts to figure out life and love, she comes across as kind of a jerk most of the time.
Dawson, conversely, can make the lyric "fuck Bush and fuck this war" sound like a cute ditty for a kid's birthday party. Honestly: This is the woman whose debut album is called I'm Sorry That Sometimes I'm Mean. It may be that Dawson's music is one of the things that humanizes Juno the character, and that the music makes Juno the movie what it is — a story about a situation (teen pregnancy) that has the potential to be ugly, sad and angry, but which instead reveals humor, love and redemption.
But really, much is made of Juno's fixation with 1977 punk in the film, but only Mott the Hoople (arguably not "punk") is represented on the album. So in fact, the Junosoundtrack sounds more like the record collection of another character in the film: Mark, the potential adoptive father of Juno's baby, who turns out to be more interested in reliving the glory of his mild '90s indie rock success than changing diapers.
Although Mark turns out to be kind of a jerk, it doesn't mean the soundtrack is bad as a compilation. Peppered with Dawson tracks, the album strikes a pleasant blend of hip soundtrack signifiers: The Kinks are there to bolster Juno's Rushmore-for-girls vibe; Belle and Sebastian turn up on two cuts, significantly peppier ones than their cameo as the "sad bastard music" of High Fidelity;and Sonic Youth, every aging hipster's favorite band, play The Carpenters' "Superstar." The record plays as a 30-something's mix CD, which is not at all a bad thing. But I'm not sure Juno would approve. Let's not forget her last words to Mark: "I bought another Sonic Youth CD — and it sucks!"