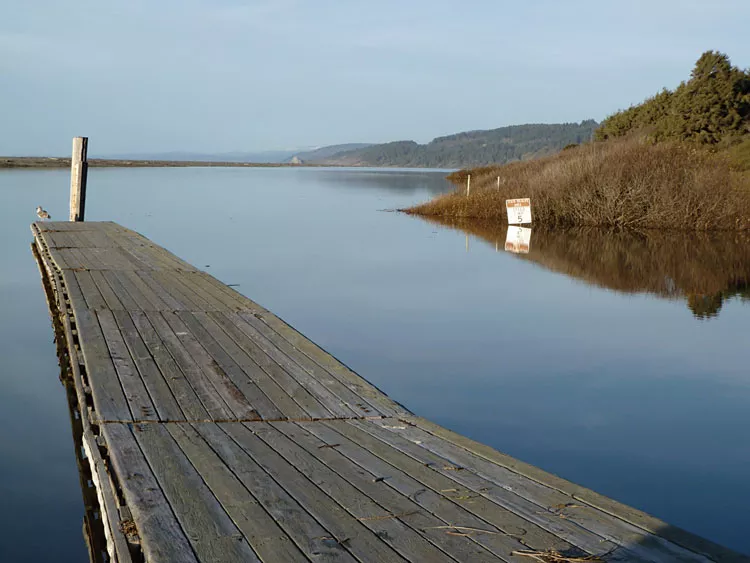 Photo by Simona Carini
Big Lagoon on a perfect day for paddling, looking north from the boat ramp toward the sand spit.
Kayaking is just as much about soundscape as it is about landscape. There is the rhythmic splashing of the paddle, of course, soothing and calming your mind. Then other sounds: waves, birds landing on the water or taking off en masse, fish jumping, boats passing by. The sounds travel and diffuse differently depending on where you are: the ocean, a lagoon, a slough, a body of water surrounded by trees or reeds.
Kayaking is a full immersion in nature because it places you at the intersection of water, land and air. Sitting in the hull of a kayak, right above the water, gives you a particular visual perspective. Sunsets can be magical and moonrises even more so.
A few nights ago, my husband and I paddled on Big Lagoon along the sand bar. There was a light wind and the lagoon was delicately rippled. The ocean was louder, though invisible, like a chorus that you couldn't see on the stage but whose song reached you loud and clear. When it is foggy over Big Lagoon, everything is padded, sights and sounds alike, and you feel like you are paddling in a cocoon. On Big Lagoon, you can take the inland route and possibly encounter elk hanging out close to the water. Maple Creek meanders inland and at some point you are in a green tunnel, where the sound is different, the ocean a distant memory, beyond hearing.
Stone Lagoon is smaller than its big sister to the south. Paddling all the way around Stone Lagoon offers a faster-changing landscape. We favor going counterclockwise (as seen from above) and staying relatively close to the shore. If you launch from the boat ramp at the Visitor Center, you reach the sand spit after a bit of paddling. Then it's nice to land and take a look at the ocean.
Bird watching and river otter spotting may complement our kayak tour on either lagoon. The sun is always welcome, though not required. Rain, unless heavy, does not stop us. Deciduous trees and bushes change with the seasons, and so do the birds. (Brown pelicans mean it's summer.) A dramatically lower water level greeting you at the launch ramp indicates that the lagoon has breached, an event that can occur (more than once) during the rainy season. Kayaks should stay away from the opening.
Another favorite spot of ours is Hookton Slough. There, flocks of birds play their presto "take off" chorus, herons rattle their off-key calls and egrets rely on their candid beauty to steal the show. When you reach the South Bay, you become aware of being followed: periscopes pop up and plop down as you try to spot where the spies are located. Give up: the seals are well organized and you can't elude their watch. You also cannot elude the tides, and you need to time your kayak outing so that you don't get stranded on mudflats.
And then of course there is the mighty Pacific Ocean, so alive that being out on Trinidad Bay is like riding a leviathan: exhilarating. When my husband and I tell people that we are kayakers, we are immediately asked about going out on the ocean. As I answer the question I wonder how much the equation of kayaking with being on the ocean deters people. While we occasionally paddle around Trinidad and Humboldt Bay, and love doing it, being on the ocean for me is not a requirement. The one requirement is to be on the water. No matter how calm the water, I feel the creature below me. And my ears pick up the tunes.
The beauty of our county is that it offers so many options; you are guaranteed to find one that works for you. To find out more about the places I described and others I didn't mention, you can consult the book Sea Kayaking the Redwood Coast by Explore North Coast. Published just a few weeks ago, this slender, well-organized guide is easy to use and packed with information. It will help you discover what Humboldt and Del Norte counties have to offer to kayakers of all skill levels. The guide's authors gathered the information you need to choose a place and to get there.
A bit of a reality check to round things out. Wherever and whenever you go out in a kayak, you need to be prepared. That means having adequate training, appropriate clothing and safety equipment, knowledge of water and weather conditions, awareness of your physical abilities, etc. There are plenty of local resources available to help you. If you are a novice, I recommend getting trained by a competent instructor, who will teach you and have you practice equipment use, paddle strokes and rescue techniques.
With spring coming, there is no time like now to try kayaking.