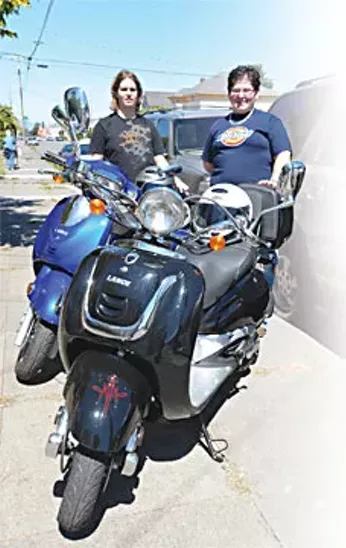 12 slides
It was a bright clear sunny morning -- "a beautiful day to ride," recalled Seth Griggs.
The night before, Griggs, the manager of Adrenalin Motorsports in Eureka, received his first shipment of Lance scooters from China. He had been counting the days until their arrival. He put together a red Vintage 150, did an inspection, picked out a helmet and took the back roads home.
"I could hardly wait until the next morning," said Griggs. Feeling confident after his ride home, Griggs said took off from his house and was riding in the left lane of I street in Eureka when he came to the intersection with 14th. Griggs said he had a green light. He checked the intersection and his mirrors.
The car on his left was stopped, but as he crossed, he said, a woman in a minivan on his right ran the red light. "I locked up both brakes and bam," said Griggs. He remembers seeing everything during the wreck. He saw sky. He saw the hood of the minivan. He hit the windshield. "I rolled off the other side and ended up on some guy's lawn," said Griggs, "both my knees just killing me."
Griggs said he had ridden less than five miles on his permit before being in the collision. He was enrolled in a motorcycle safety course but had not taken it. "I almost wish I had taken the course before I ever stepped foot on a bike," he said. "I might have been able to swerve. Even if I had dumped the bike, dealing with road rash would be better than dealing with these other injuries." He has since completed a training course and is riding again. "I had to get back on the horse," said Griggs, adding that he was shaky at first but the class gave him confidence. Now when he finds a new rider in his shop he pushes the safety course and has fliers for those who are interested.
According to the AAA website the national average for a gallon of regular gasoline reached a record high of $4.11 a gallon on July 17 of this year. Those high prices drove Eureka residents JoAnn Hart and Melissa Shaw to buy scooters from Griggs. The couple owns two Chevy Tahoe SUVs that get about 14 miles to the gallon. "It was costing us about $100 a week each just to fill up," said Hart. "Now it's like $10 for both of us, and that's for premium." Shaw bought a Lance Venice 150 and Hart a Vintage 150. Both scooters are rated at 75 miles a gallon and have a one and a half gallon tank. "Seventy-five miles to the gallon," Hart said. "How can you beat that?"
But if you're looking to beat the price at the pump by switching to a two-wheeled vehicle, you need to think about the risks. Motorcycles require more skill and coordination than driving a car. On their jobs, Shaw and Hart see first-hand the risk of injury from riding two-wheeled vehicles. Hart is a nurse in the Intensive Care Unit and Shaw works as a tech in the emergency room at St. Joseph's Hospital. Shaw also works as an EMT for City Ambulance in Eureka. Shaw was recently on an ambulance call for a man injured in a motorcycle wreck. According to the patient, it was his second crash in a week. "I thought, this guy needs a new hobby," said Shaw.
After getting their permits by taking the written test at the DMV, both Hart and Shaw decided to take the three-day Basic Rider Course from Redwood Region Motorcycle Training. On Friday, Aug. 22, Hart and Shaw joined a group of students gathered at the Veterans Memorial Building in Eureka for the course.
Redwood Region Motorcycle Training RiderCoach DeAnn Williams led the classroom session attended by Hart and Shaw. Williams passed the instructor course in January. She "spent 20 years in the dirt," riding off-road, and has been riding on the street for two and a half years. Williams' day job is training U.S. Post Office employees defensive driving skills. The postal fleet is the largest civilian fleet in the nation. She says many students who are new riders cite high gas prices as a reason for learning to ride.
Williams guides students through a handbook published by the Motorcycle Safety Foundation, a nonprofit that promotes motorcycle safety through education courses for riders and public information programs. After completing each section the class watches a video to reinforce the principles they have just learned. "Riding a motorcycle takes strong mental and motor skills," said Williams. "The classroom engages the rider for the mental aspect of riding, the riding course helps prepare for the motor skills they need."
After completing the handbook exercises and video segments students must pass a written exam at the end of the classroom session. The following day the class is split into two sessions, a morning and an afternoon session. Williams said day one is spent getting students to familiarize themselves with the controls on a motorcycle, starting and stopping, adjusting speed, learn turning and cornering and safely stopping quickly.
The morning class arrives early Saturday at the riding range set up in the parking lot of Redwood Acres. The "hands-on" training will put students through a series of exercises to help build basic safe riding practices. Like many mornings in Humboldt County, it is foggy. Students meet the two RiderCoaches for their session, Rico Garcia and Q.T. Johnson.
Johnson has been riding for four and a half years. She is quite possibly the peppiest non-coffee drinker you'll ever meet at 7:30 a.m. Her love of riding comes through immediately. Johnson lives in Eugene, but lived in Crescent City when she took the course she now coaches. Johnson says she wishes she had started riding sooner: "I missed out on a lot of fun."
During the two days of instruction students first get a verbal description of the exercise they will be doing. Next, one of the two RiderCoaches demonstrates the exercise on the range while the other explains each component. Depending on the exercise, the students may do simulated training by mimicking the maneuvers with their engines off and both feet on the ground. After that, it's time to ride.
RiderCoaches use hand signals on the range to let riders know what to do. As students complete an exercise they stop to get feedback from the RiderCoaches. Students repeat the exercises until the RiderCoaches feel all students are ready to move on.
On the second day, the riders in the course participate in exercises designed to teach them limited space maneuvers, negotiating curves, avoiding hazards by braking quickly and swerving and how to safely ride over obstacles in the road. They also learn to combine the skills. One exercise has riders enter a curve and then have to stop quickly. Stopping quickly in a curve requires the rider to straighten the bike before braking to avoid dumping the bike. "That one's a lifesaver", says Williams, explaining that riders will often encounter obstacles in corners.
New riders Hart and Shaw felt the class helped them greatly. Both Hart and Shaw said the quick-stop exercise was tough. Hart said, "Unlike a car you don't just step on the brake." Stopping quickly and safely on a motorcycle requires the rider to simultaneously roll off the throttle and to firmly and smoothly apply pressure to the front brake with her right hand and the back brake with her right foot. The rider must also engage the clutch with her left hand and downshift to first gear with her left foot without skidding. Both thought the class was worth the time and cost. "Now we want motorcycles," said Hart.
Another student, Tim Patton, also found the class very helpful. Patton commutes from his home in Eureka to his business, Arcata Cabinet and Design, on West End Road in Arcata. The soft-spoken Patton bought a Vespa Piggio 150 back in June looking to save on gas. He was driving his 2002 Toyota Tundra and spending $60 to $70 a week on gas. Now he says it costs him around $3 to fill up.
Patton felt that before completing the class he was riding blind. He took the course to get his license and to learn to ride safely. "I knew I needed it," said Patton. He currently takes Old Arcata Road since he does not have his license yet and can't ride on the highway. He enjoys the ride, minus the construction. "It has some nice curves," said Patton, adding that the counter-steering he learned has helped him take those curves. He said the class helped give him confidence on the road.
Gary Whitmer is a traffic enforcement officer with the Eureka Police Department. He thinks the safety course is definitely a good idea for new riders. He also believes there are more riders on the road this year than in years past, adding that the department has received a lot of calls about the laws regarding motorcycles and scooters lately. He recently received an e-mail from the Department of Transportation Safety asking him about motorcycle accidents and what enforcement measures his department was taking.
Whitmer can empathize with riders who say motorists constantly fail to see them. He is also one of department's motorcycle officers. Whitmer says he frequently has motorists change lanes into him, turn in front of him at intersections or pull out in front of him. "The only good thing about getting cut off on the Harley is that I get to give the driver a ticket," said Whitmer. Giving a citation isn't retaliatory for Whitmer; it's a matter of safety. "I'm on a big white bike with a white helmet -- if they can cut me off, what are they going to do to the other guy?"
Whitmer says the thing he hears most when a motorist hits a motorcycle is, "I didn't see them." His advice to fellow riders: "Assume people don't see you and be prepared to take drastic measures. You can be the best rider in the world and someone else can cause you to crash." The RiderCoaches also have similar advice. Johnson says riders should always "Stay Alert. Stay Aware. That's what we preach, be aware of what's going on around you and be prepared to act."
Riders also need to know their limitations and abilities as well as their bikes. "Be familiar with your bike and it's capabilities," Whitmer said. "I've seen people buy a new Kawasaki from the shop, pull out, and crash right across the street. I've seen it,"
It's not just motorists who are making mistakes. Whitmer also sees riders with bad habits. Whitmer says he repeatedly spots riders taking their feet off the pegs and walking the bike to a stop. A proper safe stop uses both brakes to come to a complete stop, requiring a rider to use their right foot to engage the rear brake while squeezing the front brake with the right hand.
Local CHP Public Affairs Officer Paul Dahlen says if there are more bikes on the road this year the CHP hasn't had any spike in accidents or citations. "We have only had two fatal wrecks this year," he said. He knows first-hand the dangers of riding. Dahlen rode motorcycles on patrol for the CHP out of Redwood City. "It was not uncommon for people to lane change me," he said. He agreed with Whitmer on issuing tickets for cutting of patrol bikes, "You want to make sure drivers don't think they have free reign over the whole road. They need to check their blind spots."
We all share the road. Motorists and riders all share responsibility for their own safety and the safety of others on the road. Garcia says all people should drive defensively, but riders even more so than cars. He echoes the sentiment of others: "Assume people won't see you all the time. Don't take it personally, accept it and adjust your riding strategy accordingly."
Jennifer Joell, owner of Redwood Region Motorcycle Training, says that she hopes that as more people ride -- be it for fun, to beat gas prices or whatever -- that more drivers will start looking for motorcycles and be more aware of riders on the road. "Let's face it," she said, "motorcycles are just darn hard to see."