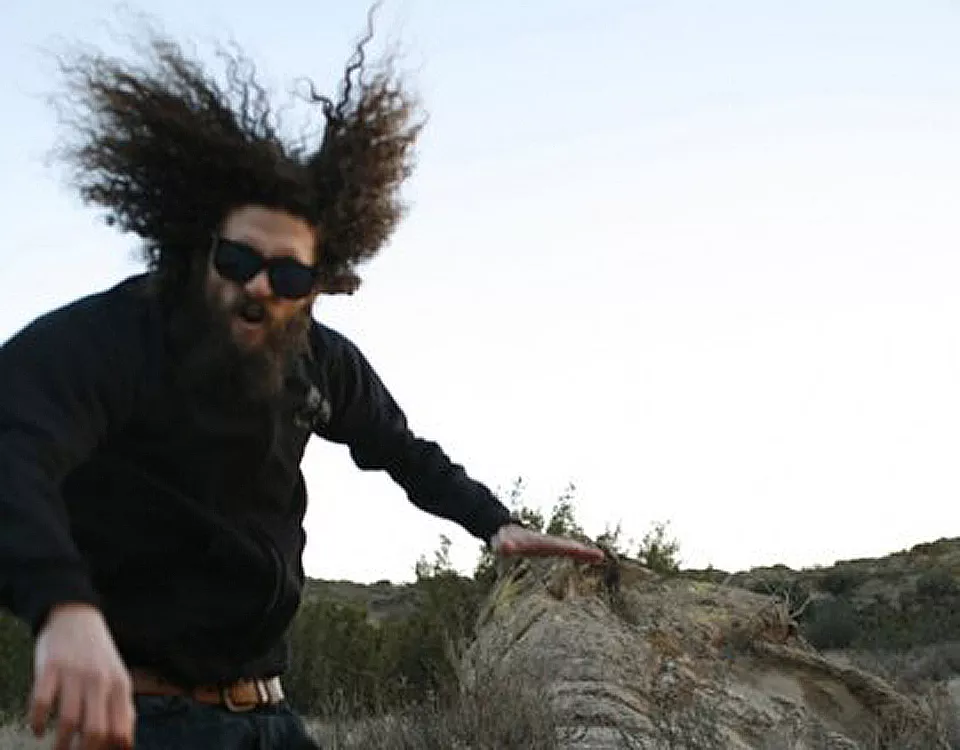 When William Benjamin Bensussen plays music, he calls himself The Gaslamp Killer. He has a slightly crazed steam punk look with wild hair and a mustache and chops from some forgotten era, but his name comes from his home turf, the Gaslamp District in San Diego, and he's a modern DJ/producer in the electro/dubstep/mixmaster school. He left San Diego for L.A. a few years back and started making a name for himself at Low End Theory, a hipster hangout known in part for its weekly podcasts. Mix CDs followed, mostly with foreboding titles (I Spit on Your Grave, Hell and the Lake of Fire Are Waiting for You!, All Killer) although I'm sure he's a nice fellow when you get to know him. I've been listening to his latest, an EP called Death Gate out on the Flying Lotus imprint Brainfeeder. It's shot through with dark melody lines and insistent whip crack beats. Highlights include "When I'm In Awe," with a Mulatu/Ethiopique sound and distorted vocals by Gonjasufi (who is part Ethiopian), and "Shattering Inner Journeys" (featuring Computer Jay), with a stuttering drum sample and what sounds like a Theremin working the old school sci-fi soundtrack tip.
A national tour finds GK sharing stages with Alfred Darlington, aka Daedelus from Dublab, another inventive star in the remix/DJ/producer firmament. He's a smooth operator with a neo-Dandy look (more lambchop burns) and mad skills on the monome, a real-time step sequencer that looks something like a backlit Go game. Filling out the bill Saturday night at the Arcata Theatre Lounge for the World Famous show are a couple more L.A. dubsteppers, 12th Planet and Teebs.
On the hip hop front you have Cameron Jibril Thomaz, aka Wiz Khalifa, playing an AS Presents show Sunday in the Kate Buchanan Room. He's an indie rapper out of Pittsburg, a dude on the rise: already did the Rock the Bells tour and signed with one major after another. Believe it or not, he's a stickler for grammar, at least that's what he implied on a recent tweet (@realwizkhalifa): "if a chicks grammar sucks, then by default, she also sucks." Of course he left out an apostrophe, but I suppose that's OK on Twitter, where he has 409,507 followers (and counting).
The Portland band-o-the-week slot is a battle between two PDX bands that probably should be playing together instead of in different towns. In Arcata, the indie folk combo Blind Pilot plays a Saturday night set at the Jambalaya. As they note in their Facebook bio, "There's no shortage of angles to Blind Pilot's story." They've done a full tour on bicycles and released an album on iTunes that was downloaded in mass quantities. They're a new band but are already heading home after headlining a national tour that included a set at the prestigious Austin City Limits Music Festival (The Eagles were the headliners). Principal songwriter Israel Nebeker is out front strumming his guitar on songs with a gentle, friendly feel and sweet harmonies. They sound good.
Meanwhile in Eureka it's The Winebirds, a PDX indie folk/pop quintet with a male/female vocal sound vaguely reminiscent of Belle & Sebastian and hints of Fleetwood Mac. They stop off Saturday at the Li'l Red Lion on their way south for shows at the Elbo Room in S.F. and the Caspar Inn in Mendo (Blind Pilot plays the Caspar the night before).
In the mood for jam? Garaj Mahal is back in town for a Friday show at Humboldt Brews. They have a new album just about in the can -- More Mr. Nice Guy -- more jazzy East meets West jammyness with their latest drummer Sean Rickman contributing songwriting and vocals. Sample it in advance at www.garajmahaljams.com.
More jammin' at HumBrews Tuesday: Jacob Fred Jazz Odyssey is on their Fall Stay Gold tour (Stay Gold being their latest release). For those who have not seen The Fred for a while, the band is now in the post-Reed Mathis era with founder Brian Haas still on piano, claiming the split was amicable with "no drama." Chris Combs' lap steel slides the sound to new places, somehow reminding me that they come from Oklahoma. Extra bonus: Organist Joe Doria's band McTuff opens the show doing the Jimmy Smith/Jack McDuff old school Hammond B-3 thing.
For straight-ahead jazz hit the Westhaven Center for the Arts Friday where pianist Darius Brotman and sax man Francis Vanek lay down cool tunes.
Also jazzy, Out of the Blue, a SoHum combo with Andy Barnett, Beth Wells, Peter Weissman and Gene Brown playing Saturday at Old Town Coffee and Chocolates. "We've been playing together for over 20 years in various bands. We do everything from jazzy originals to Cole Porter, John Prine and Sting covers," says Andy.
On the classical side you have Borealis String Quartet back for another Eureka Chamber Music Series show on Friday at Calvary Lutheran. Currently employed as quartet-in-residence at University of British Columbia, they'll be performing works by Haydn and Grieg among others.
More classics as the HSU Symphonic Band and Jazz Orchestra join forces for a Saturday show at Fulkerson Hall, with the Symphonic Band performing a suite by Bernstein and the Jazz Orchestra playing classic tunes by Ellington and Mingus.
For the piano fans out there, young Nobuyuki Tsujii plays in HSU's Fulkerson Recital Hall Monday. At 22, he's already a Van Cliburn Gold Medalist, which is a big deal in the piano world. Needless to say, he's big in Japan (he's from there).
John Németh definitely has a lot of soul. Readers of Living Blues magazine voted him "Most Outstanding Blues Singer" of 2010 earlier this year -- and he plays a mean harp, too. As he sings in his song "Breaking Free," he sounds like he was "born into it." No, he's not from Texas or Chicago -- he's from Boise, Idaho of all places. He brings his band back to the Riverwood Inn to rock the roadhouse on Friday.
The political season brings fundraisers with it, usually with raising awareness of candidates as important as raising cash. The Gallegos campaign has something they call Women's Music Night Saturday at the Arcata Playhouse, with world soul by Vidagua, folky Lindsey Battle, blues and more soul from Courtney Weaver along with Yemaya and Friends, Rusty She Rhymes and Sik-Sa-Po (all new to me).
Meanwhile, same night in Dell'Arte's Carlo Theatre, Supe candidate/radio station owner/guitar player Patrick Cleary hosts a folksy concert with songwriter Eileen Hemphill-Haley, hot picker David Isley, storyteller/guitarist Jeff DeMark and The Pilot Rock Ramblers, plus a reunion of Wild Iris and The Weeds with Cleary, his wife Cat and fiddler Judy Hageman. There's also the promise of the proverbial "special guests."
The Dead Celebrities Ball Friday at the Arcata Theatre Lounge is another benefit, this one for Northcoast Preparatory Academy. It's a review of sorts in a quasi Johnny Carson show setting (Vinny Devaney will stand in for the late Mr. Carson). Various acts were chosen earlier this week in an open casting; some were already enlisted including Duane Flatmo, who actually appeared on The Tonight Show (expect another rendition of "Malagueña"), "The World's Oldest Juggler" and Elvis (probably just some impersonator). DJ Mantease plays music when the acts run out. And, according to the poster, "Jesus is coming." Not sure if they're promising the Second Coming will be at their event -- that would be something -- or if it's a Jesus impersonator. Incidentally, since it's a school benefit, it's an all ages event, rare now at the ATL since they bought their full liquor license. (No more Sojou.)