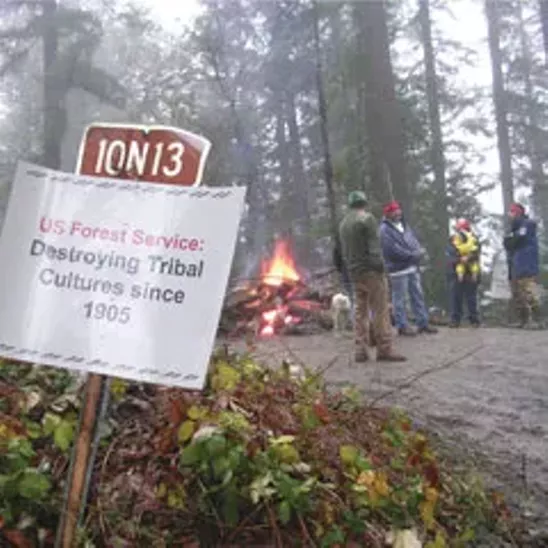 8 slides
ORLEANS -- Molli Jane had clambered up the ropes not effortlessly but quickly. But now she hung there halfway up a large Douglas fir tree and strained to make the muscular transition to descent.
Below, her coach, a veteran of many Earth First! forest actions, repeated the instructions. Molli Jane sucked in her breath, slipped her right foot into a loop and lifted her weight off the waist harness to reach the safety ropes above her. She slid them down with her left hand, then held the main rope against her right thigh. The arrangement worked and she slid gracefully down the ropes, bathed in sweat and a huge smile.
Molli Jane, a 20-something Karuk Tribe member, was scaling trees as part of a three-day training for activists sponsored by the Klamath Justice Coalition. The immediate target of her education was a Six Rivers National Forest logging operation in her community. KJC members had stopped the operation in December -- by blockading a logging road with their bodies and a pile of burning brush, and by a letter of complaint -- after it strayed from agreements the Forest Service had made with her tribe and other community members, including a promise to protect a spiritual trail used by the tribe. Despite three years of collaborative planning, they said, a major community fire protection project was looking like old-time logging in new clothes.
But what if logging resumed before the Forest Service had met the set of demands made by the Karuk Tribe and other community and regional groups? Some in the tribe, like Molli Jane, wanted to be better prepared for that event. So they were ramping their civil-disobedience-in-the-woods skill set up a notch -- up into the trees, with the guidance of tree sitters who'd developed and honed their skills during the previous era of infamous timber wars. And members of other tribes, and non-Natives, were joining them.
Many of Molli Jane's tribal relatives had shown the same resistant spirit a generation earlier when they stopped the G-O Road, a log-haul superhighway to connect Orleans with Gasquet. And it was easy enough to spot that Molli Jane was tough when she was a very young girl, growing up on the Salmon River. Neighbors 10 years her senior remember that she'd throw rocks at them when she was mad and seemed afraid of nothing. Tough and a little mischievous.
Besides that, while she might be new to the kind of tree climbing used to stop timber sales, Molli Jane was no stranger to political action to protect Karuk interests. In 2004, she went to Scotland with a group of local activists when a company there owned the dams on the Klamath River -- dams the tribes wanted removed to open fish passage. The European cameramen loved her with her photogenic looks, dressed in tribal regalia and cradling her two young children. And she could handle interviews like a media pro.
When the Scottish company sold the dams like a toxic asset to billionaire Warren Buffett, Molli Jane joined what became hajj for local activists to Buffett's yearly springtime presentation to shareholders in Omaha.
As soon as Molli Jane was safely on the ground and undoing all the climbing gear, the coach, who used only the tree-sitter nom de guerre "Farmer," shifted to the next newbie climber ready to scale the adjacent tree. Charlie Myers from Pecwan was already buckled into his harness and the safety loops were already attached to the main ascent rope.
Myers is of Yurok and Karuk descent and he comes from a family of Native American activists. His father sits on the Yurok Tribal Council and an uncle was arrested in the Fish Wars of the 1970s when Yurok were establishing their fishing rights. One of Charlie's brothers was locked up as a child during the campaign in the 1980s that stopped the G-O Road. Indians said the road would despoil sites sacred to at least four tribes.
Besides his political pedigree, Myers has the kind of muscular physique ideal for going up and down trees, but he listened attentively as Farmer went through the nine-step safety check list before he began the ascent. Farmer, who's seen much forest protection action in coastal redwood forests, was also intently focused.
Myers managed the whole process easily and promised that he'd practice more on trees in his neighbor's backyard. If there was no other way but civil disobedience to correct the Forest Service malpractice, he explained, "then it's something you have to do."
Tree climbs were only one part of the three-day KJC training camp. There were discussions of the history and effectiveness of non-violent civil disobedience and demonstrations as well as diagrams of many ways to block a log road or a timber sale. One handout was ambitiously titled "198 Methods of Nonviolent Action" and it ranged from 1) Public Speeches to 30) Rude gestures to 173) Nonviolent obstruction. This was a monkey wrench grad school.
The training was attended by members of Hupa, Karuk and Yurok tribes as well as many non-natives from neighboring communities. Leaf Hillman started the proceedings with an old story. Hillman, director of the Karuk Department of Natural Resources, has the uncommon gift of being able to tell a long story without sounding long-winded, and he held the crowd.
"In the beginning of time," he began, and he told the story of long ago when Spirit People ruled the earth and eventually transformed themselves into natural beings -- rocks, trees, fish, air, water and the rest. Some of the Spirit People even chose to be humans, he explained, but they were the worst type of spirit being because they had the shortest memories.
He said that's why Karuks have Pikyávish ceremonies, the annual world renewal. "We come together to remind ourselves and the priest goes into the mountains," Hillman said. "Why him? Humans are bad at giving thanks. That's why the priest goes on the spiritual trails."
Hillman, himself in his teens in the 1980s, was training to be a priest when he joined other tribal members to block logging at Offield Mountain near Somes Bar. That operation built haul roads through the spiritual trails near Katimin (pronounced kot-uh-meen), still a prominent ceremonial village and the center of the world in Karuk cosmology. In that case, Karuk activists camped on the Offield site and prayed until the Forest Service eventually canceled the sale.
Frankie Joe Meyers, Charlie's brother, told the crowd that the KJC began in 2002, right after the fish kill that lined the Klamath downriver with thousands of dead fish carcasses when upriver irrigators took too much water in a low-water year. The group had done many demonstrations in Scotland, Omaha and elsewhere so it was no stretch that they would now focus on a timber sale in Orleans.
Although "Farmer" was the principal presenter in the training sessions, he was joined by KJC members Chook Chook Hillman and his wife Annelia Hillman as well as a handful of veterans of many blocked timber sales.
Chook Chook, whose name means osprey in Karuk language, said non-violent direct action like tree sits and road blockades went hand-in-hand with tactics like lawsuits but he warned the crowd, "We can't wait for a mythical Greenpeace to save it for us. Spontaneous combustion is also a myth."
Annelia added, "Maybe we won't have to block a road but we'll know how. We'll have the tools for a specific plan of attack." She has the tattoo seen more and more often among tribal women: three long blue vertical stripes on her chin. She explained that hers were narrower than the wide stripes seen on many older women "because I haven't accumulated as much knowledge yet." She wore a sweatshirt that declared "USFS OUT OF INDIAN TERRITORY." It was a common slogan as well on T-shirts and signs at the training.
While Chook Chook and Annelia Hillman spoke, Leaf Hillman, playing grandpa, comforted their toddler son Ishikiihara E-Kor by chanting Karuk melodies to him in quiet monotone. The child, whose name means "green sturgeon" in Karuk language and "warrior" in Yurok, seemed happy with the serenade and remained quiet, even attentive.
And then Leaf Hillman talked about the Orleans Community Fuels Reduction project, or OCFR, whose timber sale component was the particular target of more possible blockages -- and which town clowns in the Orleans area were now calling the "OCFU."
The OCFR was developed under a piece of Bush-era legislation called the Healthy Forest Restoration Act, which called for collaboration with community stakeholders but also reduced the legal options that environmental groups have used in the past to modify or halt timber sales. The project would treat over 2,500 acres in the Orleans area, including about 1,400 acres of hand thinning and nearly 1,200 acres of commercial logging expected to deliver 6.5 million board feet of logs to the Timber Products mill in Yreka.
Leaf Hillman said that nearly a thousand of those acres fall within the Panámniik World Renewal Ceremonial District. It is an area centered in Orleans and is one of three where Karuks hold annual Pikyávish ceremonies.
The tribe had supported the concept of fuels reduction, he said, both in terms of fire protection and because removal of small diameter conifers promoted the growth of acorn-producing hardwoods, a traditional food base for local tribes.
But he was always suspicious, he said. "The buzz words change. Now it's Fuels Reduction. Community Protection. At the end of the day the Forest Service is still looking for trees to put on the back of logging trucks. OCFR was going to be the model for a new era. There were touchy-feely meetings. Most of us have done it before and been kicked in the teeth. I'd tell myself I shouldn't participate and I'd know I'd regret it."
He was not exactly a fan of the Final Environmental Impact Statement that incorporated the demands of the tribe and the collaborative group. But the product on the ground was even worse. He said agreements to protect the spiritual trails were ignored, and that the system to yard logs was switched from end-line cables to high-lead cable towers that required felling of large anchor trees adjacent to the spiritual trails. He cited the cutting of three-foot and four-foot diameter trees where the agreed limit had been six inches, of large log decks stacked on or near the ceremonial trails, and of hardwood cutting for commercial sale when hardwoods were supposed to be protected and enhanced.
Leaf Hillman said trust could only be restored if the Tribe and the collaborative group had a monitor of its own choosing "with authority to overrule or on a par with the Forest Service's sale administrator." He added that the agency should rewrite the contract because many key provisions of the FEIS never appeared in the contract that actually governs what happens in the logging. He said the problems could not be blamed on either the timber purchaser or the new Orleans District Ranger, Nolan Colegrove. Colegrove took the post after the logging had begun.
Leaf Hillman's critique is similar to that of Kimberly Baker, a participant in the OCFR Collaborative Group since the process began nearly four years ago. She labeled the logging "a tangled mess of broken assurances." She said the sale administrator had allowed the logger to enlarge logging corridors from the agreed-to 10 feet to 20-40 feet and, in the process, had targeted the largest, most fire-resistant trees. Removing larger trees allows more sun to hit the forest floor and this, in turn, promotes the growth of understory brush, which increases the intensity and spread of wildfires.
Baker is a long-time public lands advocate for Environmental Protection Information Center (EPIC) and Klamath Forest Alliance, two regional environmental groups that have not shied from litigation in the past, but she says it is premature to discuss lawsuits against OCFR.
Nonetheless, her groups -- the Karuk DNR, the Mid Klamath Watershed Council and Oregon-based KS Wild -- all signed on to a detailed five-page indictment of the problems with the project after they met with Six Rivers Forest Supervisor Tyrone Kelley in mid-December. The letter reads like a preliminary legal brief and demands that the logging contract for mechanical treatment remain stopped until differences are ironed out. The same letter encourages the agency to go ahead with manual fuel reduction.
The letter states that the complainants had "explicitly requested that Mark Crawford Logging not be used ... due to his past record in the area" and asks for details of how the Crawford outfit was selected as a subcontractor. It cites dissatisfaction with earlier Crawford logging jobs in the area.
In addition, it requests that many promised documents, actual timber volumes and maps that complainants say have been withheld still need to be shared.
In mid-December, Kelley issued a press release acknowledging that there had been discussion during the collaboration of "the type of equipment we would use to harvest these culturally sensitive areas, and it is unfortunate this didn't make it into the contract."
In a press release a week later, Kelley said, "We have not forgotten our commitment to work with the Tribe and the community collaborative group in good faith in the development and implementation of the OCFR." Specifically, he said the purchaser of the logs had agreed to a contract suspension while issues are resolved, a multi-party monitoring plan was being finalized and any felled hardwoods would be left for community wood gathering.
Kelley declined to respond to questions for this article and referred all queries to Nolan Colegrove, the newly hired District Ranger in Orleans. Colegrove was a timber manager for the Hoopa Reservation until he switched to the US Forest Service last fall.
Perhaps because of these roots, he is viewed more generously by the multi-tribal KJC than Forest Supervisor Kelley or Colegrove's predecessor Bill Rice. Leaf Hillman explains, "This Ranger [Colegrove] understands when we say the trail is a spiritual trail. He doesn't say, 'Why don't you just move it?' If some hardwoods are destroyed, he gets why hardwoods are important."
Colegrove said there was a way to incorporate into the logging contract the features in the original environmental documents. He said any modifications would require agreement between the USFS and Timber Products, the purchaser.
"I wasn't here to see what happened during the [three years of OCFR planning]," Colegrove said, but he offered several paths for remedy. These included a tribal representative to monitor cultural resources; a method to resolve disagreements between this monitor and the Forest Service; additional review by a USFS archaeologist; working with the tribe to repair any damage already done to cultural areas; and a pre-work review of each logging unit between the agency, the collaborative monitor, the purchaser and a tribal rep.
Colegrove said he hoped that these measures, coupled with working together, would help the situation and added, "Building trust is going to take time, but we feel that from here forward our actions will help us get there."
Jeremy Wuerfel, a forester/log buyer for Timber Products, said his mill had no other operations going to occupy the crew and that the 6.5 million board feet scheduled for harvest was a sizeable part of the 60 million milled each year at his Yreka mill.
"I assume we'll go back. We're counting on that," he said. He said his crews were just trying to follow the contract and that he thought the completed project would better protect the town of Orleans from wildfires.
He said that it was not a standard timber sale because there was so much removal of non-merchantable wood as fuels reduction that costs would far exceed the revenues. The approach, called stewardship, was a good one for the Forest Service, in Wuerfel's opinion, and he said his mill has already done one on Forest Service land closer to Yreka.
Colegrove said nearly a million dollars was allocated to the Orleans project by the Regional Office that covers all of California.
The loggers "are just laid off and getting by on unemployment," according to Cade Crawford, from Crawford Logging.
Bill Rice, who was the Forest Service's main officer in the planning of OCFR and Colegrove's predecessor, has now transferred to the Lower Trinity Ranger District where he is working on another thinning and fuels-reduction project in the Waterman Ridge area northeast of Willow Creek. He did not respond to questions by telephone and e-mail for this article.
By dinner of the second day the numbers at the training had grown to nearly 40 locals -- Indian and non-Indian alike. Molli Jane and Annelia, aided by many volunteers, were expertly slicing and roasting a small glacier of fresh meat. Dania Rose Colegrove from Hoopa, a veteran of many KJC actions and a distant relative of the new Orleans District Ranger, said the meat, and the steelhead from the night before, were contributed by KJC supporters "on the Rez."
When it was suggested that the diners could have both the fish and the meat at the same meal, Charlie Myers smiled and said, "Of course, you could eat both at once but it isn't done. It would be too boastful."
Before eating, a blessing was recited in Yurok language, and the students, exhausted from a day of knot tying and rope climbing, settled into their tables. They traded war stories of the demonstrations they had attended and the room filled with the geography of Klamath country and beyond. If there were tensions between the members of different tribes or between Indians and non-Indians, they were not in evidence. Children played and laughed. A few of them worked intently to complete the picket signs they had begun in the afternoon. There were babies and they were passed from lap to lap.
A film was shown about the tribal campaigns over the Go-Road and at Offield Mountain and when footage came on of Leaf Hillman in his teens, the crowd chuckled. There was a short discussion of whether to continue into the night and KJC veterans asked for a thumbs-up/thumbs-down vote. Time to quit won by a landslide. Tree-climb school is exhausting stuff.
Day three began with a breakfast of biscuits and gravy and juicy steaks. There was enough for seconds but the diner might not want that extra load climbing up a tall Douglas fir.
Farmer, the guest lecturer, started a discussion of blocking roads including stick-figure drawings on a flip chart of structures with varying levels of sophistication. The audience sat in rapt attention as he spoke.
One wall of slash is okay as a road block, he said, but is that as good as strewing miles of a road with debris? "Loggers don't like driving two miles an hour clearing a road," he said. "Or they bring in the road grader and then maybe you can block the road with bodies. So the grader operator has to get out of the grader and yell, 'Hey, you fucking hippies. Get out of the way.'"
He discussed communications used in past actions. A red alert, for instance, meant sheriff deputies were on the way "or some psycho vigilante."
He touched on pulling surveyors' stakes and flags and painting over logging marks but reminded his class that some activities are against the law. "Earth First!," he said, "doesn't do property damage." And he shrugged.
Farmer, who confesses that even that invented name has become too well known for his comfort, said that there would be a role play for confronting police and practice structure building later but said it was often useful, even in civil disobedience actions, to avoid arrest. "Some people call it cat-and mouse," he said. "I call it outreach."
Malcolm Terence worked several years out of the U.S. Forest Service Station in Orleans in the mid-1980s as a timber cruiser. He helped prepare logging sales on National Forest land.