Photo by Mark McKenna
The youngest members of the Humboldt County Lao Dancers perform traditional dance.
Just after 9 in the morning on April 21 in the Humboldt Grange parking lot, a handful of people are unloading covered foil trays from cars as a low droning of voices drifts from the sound system inside. While the food is spirited to the kitchen, one of a trio of Buddhist monks on stage, all in tangerine robes, speaks into a microphone to the small group of Lao families gathered on mats, their shoes lined up at the edges. To the side of the stage stand a couple of bare trees in planters, the leaves on their branches replaced with ribbons and folded dollar bills.
Soon the room will be packed with somewhere between 200 and 300 people to celebrate Lao New Year, and the tables in back will be laden with enough traditional delicacies to feed them all. In Laos, the small, mountainous Southeast Asian nation stretching between Thailand and Vietnam, the festivities run from April 14 through 16. But in Northern California, the celebration stretches to a month to accommodate the limited number of monks who have to travel from community to community to deliver the blessings. With a number of elders moving out of the area, passing away or no longer able to organize, the festival, the only annual communitywide gathering, has gone dormant in the past, once for nearly a decade. But for the past several years, it's been thriving, drawing attendees from all over Humboldt and neighboring counties, Lao people and their families who come to celebrate a shared culture and pay respect to their ancestors.
Back in the grange hall's kitchen, Penny Senamaatry wears an apron over her purple and gold raw silk sinh, a traditional Lao dress with an embroidered sash. Her hair is tucked up with a sparkly clip as she quickly peels a green papaya with a knife. She and her friend Joy Vonphachant, whose jade green sinh is also covered by an apron, spent the last three days prepping and cooking ingredients from Oakland's Chinatown, turning out the stacked containers of food on the counter. They were up until 11 the night before packing up preserved fish with orange roe, homemade beef jerky, rustic sausages, home-fried pork rinds and bunches of basil and bok choy to sell. And they'll spend the whole day making more. Senamaatry taps a pack of ground pork with curls of pork skin. "Sour," she says, turning to help Vonphachant find a spot for a large steaming aluminum pot coming off the stove.
Photos by Jennifer Fumiko Cahill
Joy Vonphachant and Penny Senamaatry cook up a storm in the Humboldt Grange kitchen.
Asked about the patties she's frying, Vonphachant twists her mouth a little and waves Bruce Chan over. Chan drove the monks up from Wat Lao Saysettha, a Buddhist temple in Santa Rosa. He translates, explaining they're patties of jasmine rice with lemongrass, egg and spices, adding that she's putting tangerines and banana leaf-wrapped pouches of rice into an ornate gold pedestal bowl, an om, as an offering before the monks. Vonphachant keeps talking, eyes on the patties she's turning in the bubbling oil, not giving Chan much time to catch up, but he goes with it. Later, he says, the monks will chant prayers, inviting each deceased loved one's spirit to partake in the meal. Some families will put food on a tray with a lit candle and a slip of paper bearing the name of the departed for the monks to read aloud. Others bring their offerings in oms, bowing their heads "with their name in our hearts," says Chan, patting his chest. "That's how we feed them. You have to say the name in your heart."
Two long tables are now covered with foil trays, plastic containers and pots for the buffet lunch after the prayers. A handful of women in bright sinhs flit like hummingbirds from dish to dish, scooping a little from each to fill dozens of glass bowls, placing them on katoke, low rattan tables that will be carried up to the monks with a sampling of the feast. Once the food has been blessed and the monks have eaten, the food on the katoke will come back to to be shared.
Photo by Jennifer Fumiko Cahill
Dishing out Lao specialties onto katoke tables for the monks.
Oneta Sayavong, her waist-length hair pulled back tight, circles the main table, lifting foil coverings and rattling off what's on the menu. "Some of the dishes I've never even seen," she says with a laugh. Another woman nods in agreement. Even though they've grown up on Lao cooking, people bring food from their own regions, villages and households. There's steamed fish in bamboo leaves, an army of fried spring rolls, tart sausage made with pigs feet and pork skin and a large fish fried whole and cut into five sections. "The head is the best part," says Sayavong, who sighs when reminded how often it's thrown away in the U.S. There are several variations of laap, a tart and fragrant spiced salad similar to Thai larb. There's laap with beef and tripe, pork and clams harvested from local beaches. Over a pan of Vinai Mannorind's fried noodles, she says, "This is like chow mein, like, fried noodles." Mannorind, who whipped up five trays of food for the day, leans in to add with an arched brow, "But Lao fried noodles."
Sayavong stirs a container of tapioca balls, strips of jelly and fruit in coconut milk and gives a sly smile. "It's pretty much pure sugar," she says, explaining how pieces of sugar cane are cooked in the coconut milk. (Later, when the crowd runs out of bowls, some resourceful folks rinse out drinking cups to get a helping of the sweet stuff.)
Viengkeo Rattanavong comes by with a grandchild on her hip to inspect the chicken and coconut curry she made, along with a coconut jelly dessert sprinkled with corn. Her daughter Ellen Syvoravong, who recently moved to Vallejo to pursue a law degree but drove back with her kids for the celebration, says Lao cuisine is overshadowed by and sometimes confused with Thai food in the U.S. but it's very different. For one thing, Laos is "a Third World country [often] with no electricity," which changes how you prepare food. Laap, for example, preserves meats, fish and vegetables, and can be served at room temperature, scooped up with a pinch of sticky rice. The flavors are distinct, as well, with less mixing of sweet and salty, more dark sauces, raw greens and mountain vegetables. "Lao food is more country," Ellen Syvoravong says. There was a Lao restaurant in Eureka once, Hue, run by her mother where Raliberto's now stands on Fourth Street. "I guess people weren't interested," she says. In a few minutes, the monks strike a small gong and the prayer begins.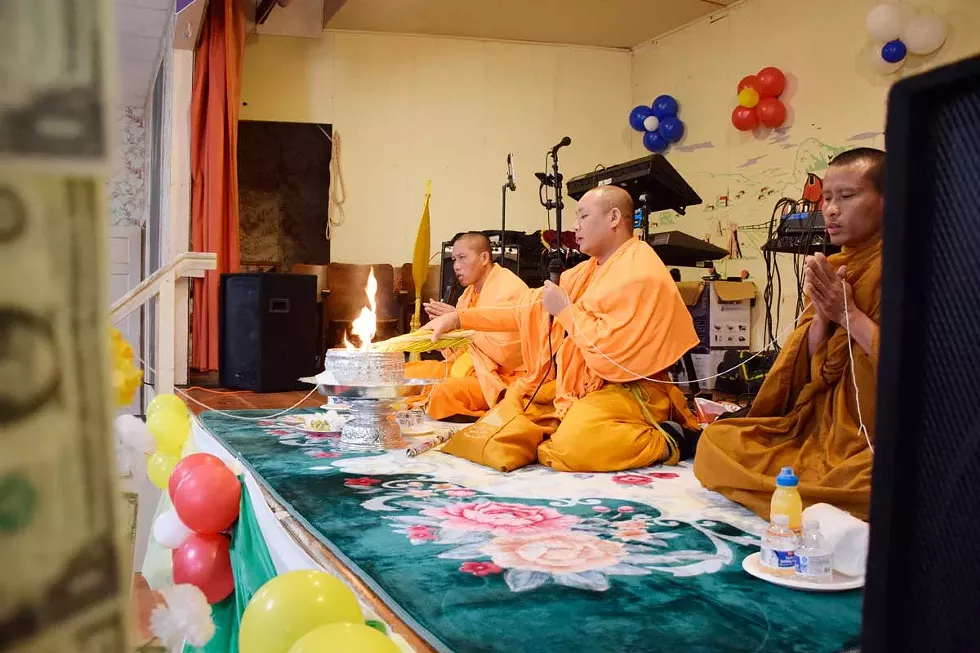 Photos by Jennifer Fumiko Cahill
Monks from Wat Lao Saysettha, a Buddhist temple in Santa Rosa, deliver the New Year blessings and prayers.
By 11 a.m. the main room has filled with families clustered together on mats with baskets and bags like a very friendly mass picnic. Small children wriggle on laps in their fancy clothes. There are men in suits with checked pei sashes, others in sweats and pristine Air Jordans. One young man with a shock of white hair and a button-down shirt tailored within an inch of its life scurries in, stashes his iPhone and pulls a child onto his lap. Aunties are cutting up bunches of finger bananas and stuffing oms with offerings that run the gamut from pouches of rice to packs of popcorn and Hostess cakes. One om holds a tiny rice basket and a shiny metal cocktail shaker. A man up front in a light suit is singing a prayer into a microphone and everyone clasps their hands, heads bowed.
A row of older men sit in the theater seats along the back wall, some with eyes closed, some mouthing along with the chant. A smooth-headed man in his 60s mutters something to his neighbor in a windbreaker and the two chuckle quietly.
Kerry Achane kneels by the doorway to the kitchen with his eyes closed and his hands in prayer. Raised Baptist in Louisiana, he says he doesn't follow a religion but enjoys the morning prayer as a meditation. He's been helping out with the event for a decade with his partner Ampha Mannorind, and today his daughter Ne'kosha is performing with the Humboldt Lao Dancers. Achane says his partner's father, Khamsane Mannorind, a former captain in the Laotian Civil War and a respected community member who helped organize annual celebrations until he died in 2012, didn't care that he was black, only who he was inside. "For me to be accepted, it's a big deal for them," says Achane. It's been a big deal for him, too, learning about Lao culture and seeing how especially young people are making the community multicultural. "They showed me something different."
Most of the Lao elders here share similar immigration stories, coming to the U.S. as refugees from a communist regime between the mid 1970s and the late 1980s, like the ethnically distinct Hmong people, often by way of refugee camps in Thailand. When Ampha Mannorind's parents came to the U.S. in 1987, they came to Eureka because they knew people from the Thai refugee camp they stayed in who'd settled there. Some of the families here first met in ESL classes more than 25 years ago.
52 slides
After the prayer, families and groups of friends gather their offerings in their arms and line up to add them to the row of bowls at the foot of the stage — an open hand raised perpendicular to the forehead, a small bow of the head, a moment of gratitude and remembrance. There are more rites, with the monks blessing the kneeling crowd with sprinkled water, the remains of which are then poured into the ground beneath trees and bushes outside for prosperity and as another offering to ancestors.
Then it's time to eat. The crowd forms a line and piles plates full of food to bring back to their spots on the mats in the other room, chatting as they go about who made what and what looks good. Predictably, the fried fish head is gone in minutes. Nathan Phetsouphanh, in black-rimmed glasses and a flat-billed baseball hat, marvels at his plate. Since his mother passed away, this is his big Lao meal of the year. "This is where the elders show off their skills," he says, gesturing at the table.
The guy in the Jordans, his shiny black hair pulled into a bun, points to the last curl of a tiny fried fish and looks around. "Ain't nobody gonna' eat that fish?" The 20-somethings next to him shake their heads. "I'll take that shit," he says, swiping it with his fingers and drawing a laugh from the group.
Suraphan "John" Worasen, president of the Lao Community Association, is still moving briskly between the monks on stage and other organizers. He wears a purple and blue pei and his sunbrowned face splits into a big smile as he tells how the meal came together. "Some people cook from their house, bring together," he says, pulling at the air with his arms and nodding. His wife, Thongvanh Worasen, who also goes by Emily, was one of those cooks, along with half a dozen or so women who gathered in their kitchen. She touches her forehead and takes a quick breath. "We cook Wednesday, Thursday and Friday," she says. "Last night I'm go to bed 1:30 ... woke up at 4." She says she's exhausted but she's still working the room, and once she's done tearing down, she'll rest an hour or two and come right back for a dance that will likely go until midnight.
Photo by Jennifer Fumiko Cahill
Suraphan "John" Worasen, president of the Lao Community Association.
A few elders sit on a mat flattening bills and putting them in a pile. So far, John Worasen estimates they've raised between $1,500 and $1,800, some of which will go to the monks, who don't charge a fee for their services, and some will fund next year's event. The money comes from donation boxes, organizers collecting cash in oms and the sale of lucky necklaces of ribbon and tightly folded crepe paper with dollar bills stapled at the top to bring prosperity. Tina Bravo and a few other women have been making them for weeks. "I'm Christian but I try to be in the culture," she says, adding that the festival is vital for bringing the community — Lao, Thai, everyone — together.
The floor clears for the Humboldt County Lao Dancers. The youngest girls, matching red and gold sihn, their hair pulled tight into fat topknots, cease their fidgeting and form a V, their hands in nop position, as if praying. Once synth strings, flute and drumbeat come blaring from the portable speaker, they step their bare feet lightly side to side, flexing and waving their hands and fingers in unison. Now and again they peek at one another to catch a step. An older man in a suit and sunglasses comes up to place a folded bill in one girl's hand. The dance ends with a bow and hearty applause.
The girls — some of whom are part Lao, Korean, Hmong — and their mothers have been meeting at the Adorni Center on Sundays to practice. Oneta Sayavong, Ampha and Vinai Mannorind and Ellen Syvoravong danced as kids growing up in Humboldt, and since their teachers have all moved out of the area or retired, they took up teaching themselves. They go on memory, what they learn from dancers out of the area and YouTube videos. "When we were in high school," Ampha Mannorind says, "the older girls taught us and now we're teaching the younger girls." Since performing the traditional Lao New Year dance at last year's celebration, they've added more numbers to the repetoire. With the help of Bao and Lucky Syphanthong and Vong Leach, the group established the nonprofit NorCal Lao Foundation to preserve and share Lao culture locally. For now, it funds the dance troupe but the board hopes to grow and eventually help with the New Year celebration and other cultural activities.
Photo by Mark McKenna
Members of the Humboldt County Lao Dancers perform traditional dance.
The older girls do a more complex dance, a little more assured. When one girl's wrist catches on a gold chain hanging across her sash, she shakes it loose and carries on, smiling. In the audience, a sea of cell phones are held aloft, taking video and pictures. When the girls take their final bow, they line up for photos and gifts. Once they're in place, Ampha Mannorind holds the mic away and softly reminds them to say thank you. The adults, led by the fellow in the suit and shades, queue up with folded money, paper necklaces and rainbow leis. Then everyone's invited to join in, dancing in a circle in their stocking feet.
By 2 p.m., people are packing up and slipping on their shoes, rolling up the mats they've been camped out on all day. Emily and John Worasen's daughter Mary Worasen holds her sleeping toddler Donovan against her shoulder. Not even the keyboardist warming up for tonight's dance wakes him. She's tired, too, having been up cooking all night with her mom and up again at 5 a.m. to help set up. "There's always help. One family's never doing something alone," she says. She's living in Merced now but came back for the celebration. She's still a little awed by how her parents managed in the early days. The Worasens immigrated as refugees from Laos in 1979, first to Texas, working at "whatever job they could find," says Mary, adding, "It was hard for them with the language, honestly." They're retired now — John from the kitchen at Blue Lake Casino and Emily from working a sewing machine for Kokotat. Mary sways with her sleeping boy and says she often thinks of how her mother didn't yet speak English when she gave birth to her in a Texas hospital. But here in Humboldt, Mary remembers growing up in a tight community, with everyone caring for one another's kids. "Everybody knows everybody," she says. "I come back here and it's like family."
Jennifer Fumiko Cahill is the arts and features editor at the Journal. Reach her at 442-1400, extension 320, or Jennifer@northcoastjournal.com. Follow her on Twitter @JFumikoCahill.