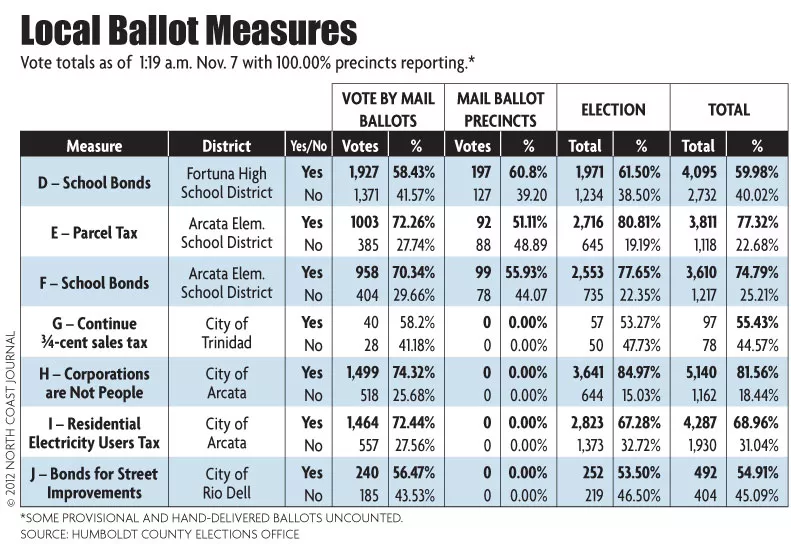 North Coast Journal
Local Ballot Measures
Arcata could be starting something big.
Its anti-grow electricity tax is being watched as a pioneering model for not just the city of Eureka but for all of unincorporated Humboldt County.
Arcata voters were strongly backing the tax, by 69 percent to 31 percent, in the latest counts Wednesday morning, with only a majority vote needed for approval. Some provisional and hand-delivered mail-in ballots remained to be tallied.
And while the last votes for Measure I are added up, everyone will be watching.
For Eureka, whose city council voted unanimously in September to study a similar tax for a 2014 vote, Arcata can be a living laboratory.
If there are legal challenges over privacy or other issues, Eureka can see how they are sorted out, while being still poised to prevent a "domino effect," said Eureka Councilwoman Linda Atkins. She brought the issue to her city earlier this fall, worried that unless Eureka acted defensively, growers pinched by the tax would abandon Arcata and resettle to the south.
Or they could head north -- maybe to McKinleyville, or other unincorporated areas?
That's one reason Humboldt County should at least think about a similar tax for the entire unincorporated area it oversees, said Supervisor Mark Lovelace, who plans to ask fellow board members to hear a presentation on what Arcata's doing.
So far, Lovelace hasn't been hearing from people worried that their communities will have to absorb Arcata's rejects -- but he is hearing that a hefty tax might just be a good idea.
"This measure is not a sin tax on marijuana at all. If it's a sin tax, it's a sin tax on excessive energy consumption," Lovelace said. "To see people being so wasteful and doing such abuse of electricity consumption is frustrating."
With Arcata paving the way, some have speculated that Eureka and Humboldt might be able to impose a new tax with lower startup costs. Pacific Gas and Electric Co. estimated it would charge Arcata around $600,000 to create a system for collecting the tax. It's too early to say whether that would be cheaper for other jurisdictions once the groundwork has been laid for Arcata, said PG&E spokeswoman Brittany McKannay.
If the final count confirms that Arcata's tax has passed, it would go into effect as soon as PG&E is able to collect it. Arcata Mayor Michael Winkler figures that will take about six months.
The tax would only affect the heftiest of power users -- those who use six times the "baseline" amount that utility regulators have long established as a way to keep rates low for light electricity users. (Baseline consumption costs less per kilowatt hour, and after that electric rates go up in tiers, higher and higher as use increases.)
On top of that tiered system, Arcata will slap a 45 percent tax on all electricity use above 600 percent of the baseline, which fluctuates by season, by region, and by whether a house is heated with gas or electricity.
As soon as the results are final, Winkler said, the council will sit down with the city's budget director to allocate funds for startup costs. Then comes the fun part -- the council gets to start talking about how to spend the money.
Back when it was considering the tax, PG&E told Arcata that about 600 of the 10,000 electric meters in Arcata rack up enough to be taxed, and unless those people cut their consumption -- or just up and move -- revenue could be around $1.2 million annually.
"The city's budget is on the order of $30 million, so it's not a huge fraction of the budget. But a lot of the money is really locked in," Winkler said, so this could be a pretty good discretionary chunk.
The vote came as no surprise to Winkler, who'd been hearing from constituents that they were eager to find new tools against people who wrested houses from their normal uses.
A poll overseen by Humboldt State University professor Mark Larson in late October found Arcata's Measure I was well ahead, favored by 62.6 percent of likely voters, with 23.2 percent against and 15.2 percent undecided. The poll had a margin of error of plus or minus 4.5 percentage points, Larson said, giving the tax a comfortable lead.
The anti-grow sentiments also ring strong beyond Arcata.
While Eureka councilwoman Atkins supports medical marijuana use, she says she's disgusted with growers who fill a house with plants, wrecking homes, disrupting neighborhoods and driving up rents.
"In Eureka, our Victorian houses are priceless, and having them turn into firetraps is not good," she said.