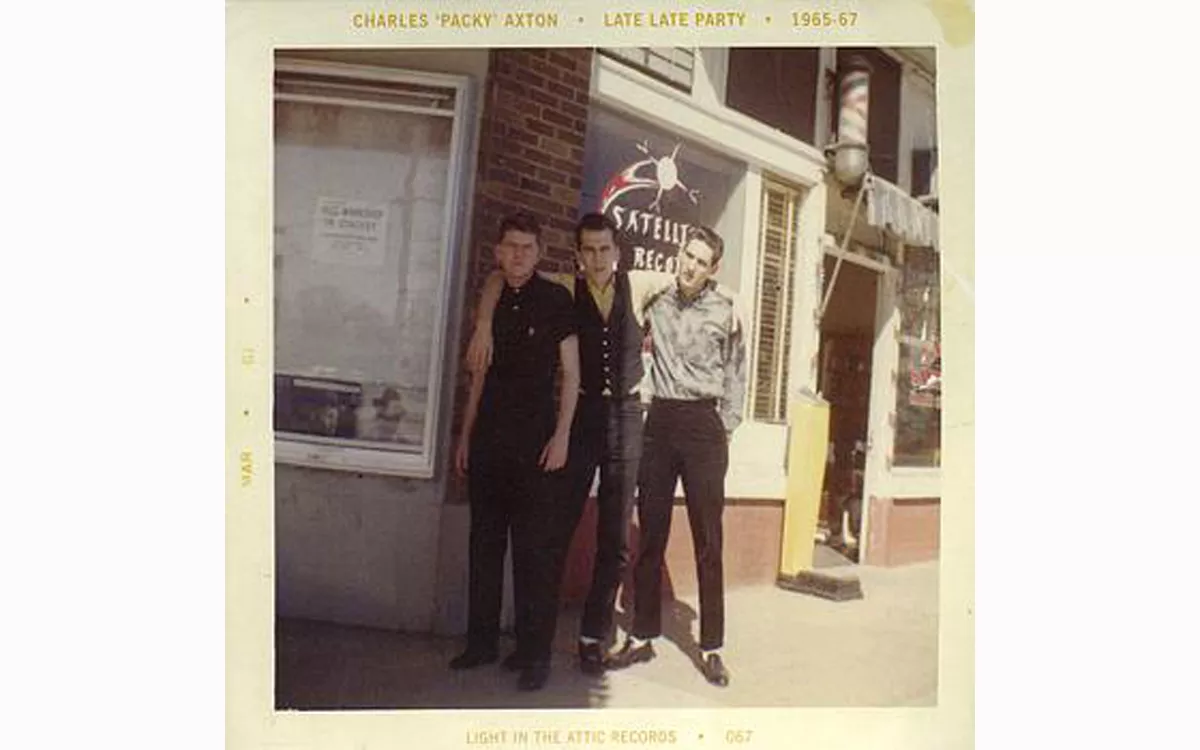 By Charles "Packy" Axton - Light in the Attic
Late Late Party 1965-67
Charles "Packy" Axton, son of Estelle Axton, co-founder of Memphis' Stax Records, may have been a lost minor -- yet key -- figure in the city's rich history of soul and R&B music. He was a sax player, hustler, producer and songwriter - always in search of the next hit single. And, he had the support of some of the finest musicians who built Memphis' reputation for deep-fried soul. Thanks to Seattle-based label Light in the Attic, Packy Axton may be finally receiving his due credit, with this excellent collection of singles (and several un-released acetates), Late Late Party. And the album lives up to its title.
From the opening cut, "Holiday Cheer," pitchers of drinks are pouring, folks are laughing and the funk kicks in. Late Late Party proves to be a musical reflection of Axton's personality: eccentric, enthusiastic, driven, soulful and fueled (literally). From the diligent work of compilers Scott Bomar and Andrea Lisle, who cherry-picked Axton's soul party compositions and arrangements, you get an insight into Paxton's genius at late-night, juke-joint soul groove working with some of Memphis' best, including Booker T. & The MG's, unsung Memphis guitarist Lee Baker and the Hi Rhythm Section, guitarist "Teenie" Hodges, his bassist brother Leroy and keyboardist "Hubbie" Turner.
Axton figured early in Memphis' burgeoning R&B and soul scene, playing sax in late '50s party bands. He later joined The Mar-Keys, which included Steve Cropper and "Duck" Dunn. Falling out of favor during Stax's heyday, mostly due to his heavy drinking, "Packy" was persistent in penning, putting together and releasing mostly instrumental singles, under a variety of group names, such as The Pac-Keys, The Martinis and The Packers.
The obvious thread running through these singles is the hard funk accentuated by hip-shaking rhythm with eccentric instrumentation. From Carl Cunningham's opening drum riff on The Pac-Keys' "Stone Fox," to Booker T. Jones' piano riff in the R&B-charting "Hole in the Wall" (by The Packers), or Lee Baker's chunky rhythm guitar on the previously unreleased Martinis gem, "Key Chain," Axton's method was to leave the "late late" sessions loose, while bringing in non-traditional elements, such congas, 12-string electric guitar and in one case, a kazoo solo (The Pac-Keys' "Hip Pocket"). Notably, Late Late Party also offers a superb slice of Baker's versatile guitar playing. As a teen, Baker toured with Jimmy Reed; he then played with a spectrum of Memphis luminaries, from Alex Chilton to Jim Dickinson's Mud Boy and The Neutrons.
With Light in the Attic's superb packaging and Memphis writer and music historian Andrea Lisle's detailed liner notes, Late Late Party faithfully pays tribute to Axton's legacy (Packy died days shy of his 33rd birthday). Most importantly, it's a party that you'll be happy to attend.